First of all, a huge Thank You to everyone who participated during the first ZEscape closed alpha!
All your input, feedback and bug-reports are extremely helpful and something I consider an essential part of making ZEscape into a great game.


I had only a few GB of disk space, but managed to record a little bit during the closed alpha!
There are still many placeholders to be worked on, but the main focus so far has been the core game mechanics, balance and network performance. (Note that you can sign up to join the alpha/beta tests on www.ZEscape.net)
I discovered a few key-issues during the closed alpha, some were expected, some were not. I did, for example know that the client hosted listen-server system was never a fit for ZEscape, but it was the only solution available at that time and worked decently well for testing purposes.
It was, however a known issue that the game match would be dependent on the host keeping the server online for the duration. Since matches in ZEscape can be lengthy this could be a bit of a hassle.

I've worked day and night for the last few months and I am extremely glad to announce that I've finally successfully rehauled the entire online sub-system and network functionality with full dedicated server support that also lists correctly on the Steam master servers!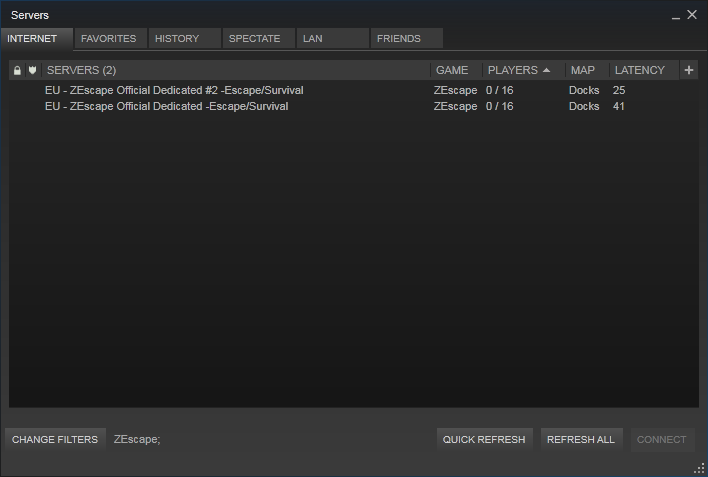 So beautiful..

There are still some implementations to be done at this point such as VAC/authentication, but the core functionality is done and they run like clockwork!

I've also taken some time to finally update one of the earliest Escape levels in the game, Docks, with new graphics and improved lighting!
Other changes include the jumpy-boat sections which looked more placeholder then my eyes could handle. Another new addition to these sections are wooden planks connecting some of the boats to make it easier for the ZEDs to make it to the other side and not get cheap shot down as easily. (no pics of the planks thou, sry)

Improvements were done to the lightning as well by bumping up the intensity of the global illumination pass, providing more even contrast between dark and light areas. This makes the map easier to navigate while still keeping the dark night atmosphere of the docks.
Also, I finally replaced my old prototype crates which have honestly been just a simple mesh I threw together some 3 years ago while prototyping.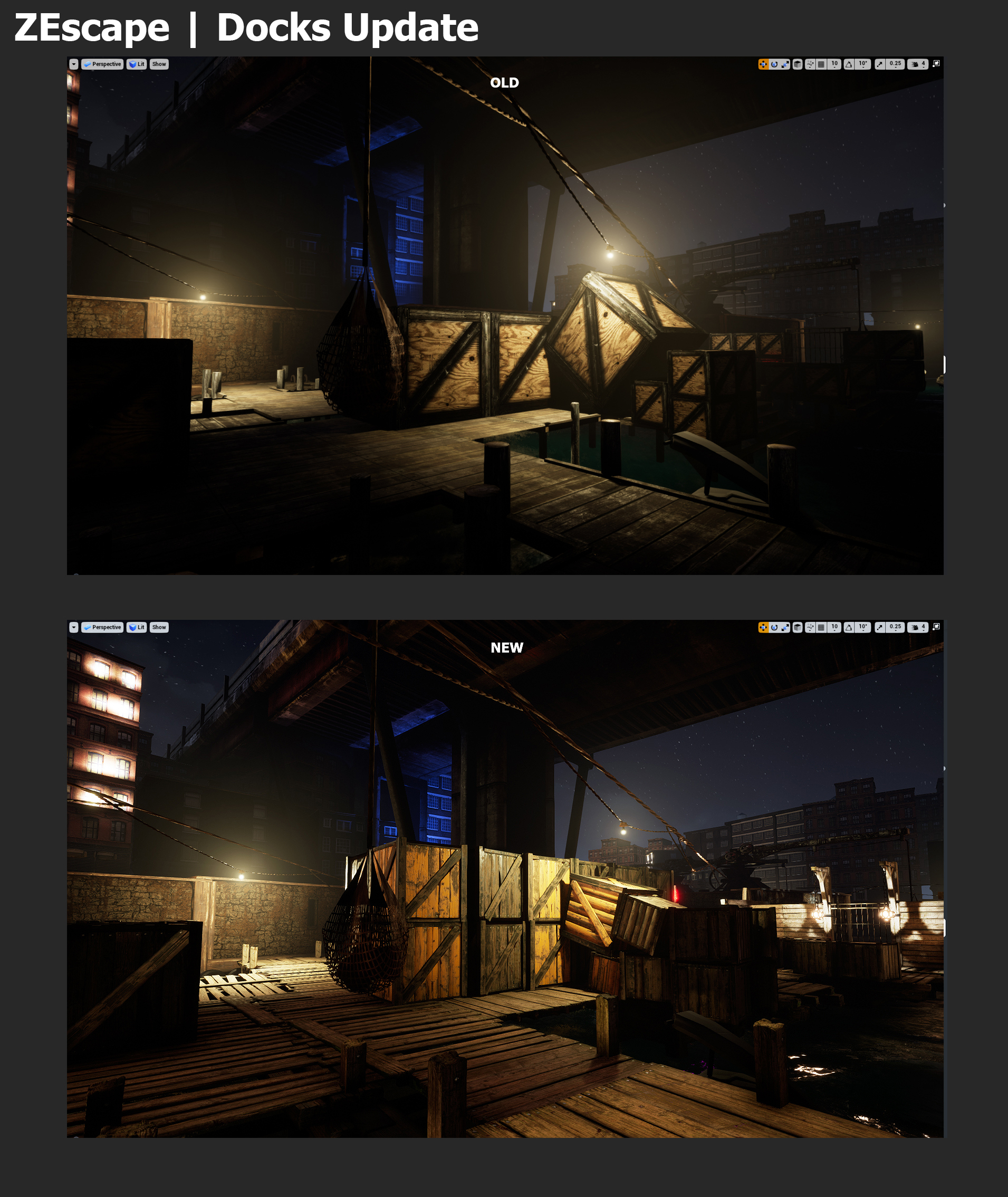 That's better. Note that there are now yellow boxes/planks/features across the level indicating which direction to take while making your escape through the docks. This will be implemented further in the other stages as well to help guide players without annoying arrows/indicators all over the screen like in some other games..

I've received a lot of questions about when the next closed alpha test will take place and currently I estimate that it will be around this month of February. I still have a lot of work to do before then, so I'm unable to be more specific with the time and date at this moment, but it's looking pretty promising.
ZEscape has in the opinion of many already been ready for Early Access for a long time, but I've been hesitant to release it to the public yet. A major milestone towards this goal has been the implementation of dedicated servers and many other tweaks and improvements to the game balance.
I'm even more hesitant to declare any date for the Early Access release as of yet, but I would roughly estimate it to hit Steam sometime during March this year.

Again, Thank You so much everyone who joined up on the official ZEscape Discord and the closed alpha test! Working alone on creating and developing this game has been a huge undertaking and I'll continue to work hard to deliver a high quality game. All your feedback and support is amazing and helps me stay motivated to this task that most others would say is impossible.

If you want to help out and support ZEscape, make sure to follow and subscribe below, and tell everyone you know what's going down!

Youtube.com
Facebook.com
Twitter.com
ZEscape.net

Have a MAD day!
/foxifox