Culture and Technology:
I admit that i got a little bit bored of adding in provinces, so i decided to tweak at the culture and technology files of the game. For those that don't know, culture in EU4 is categorized, for instance Welsh, Scottish, American would be categorized under "English" and Danish, Finnish, Swedish would be categorized under "Scandinavian." Anyways, for my mod i have Greenskins (goblins, Orcs) then Humans (Imperial, Tilean, Estalian) Of course this will change a little bit as Balancing will become an issue.
I havn't done too much with technology as it requires a lot of modifying to make it work, But i plan on having them tie up pretty much with the countries respected culture.
I added all the orc and Goblin tribes for the Badlands. I also edited the terrain on the Eastern Coast. The terrain looks very boring as it's mostly flat, and the terrain in Warhammer is supposed to be arid, but the closest thing i can do is make the Badlands a desert as there's no actual arid texture.
I'm only here again because i wanted to show off some new provinces i added. It's hard to see, but i added roughly 10 provinces for Kislev. Sadly however, this would take too long when modding, so i would like to keep the number of provinces per country around 4-7. I may add more if people believe that more should be added.
---
Norsca: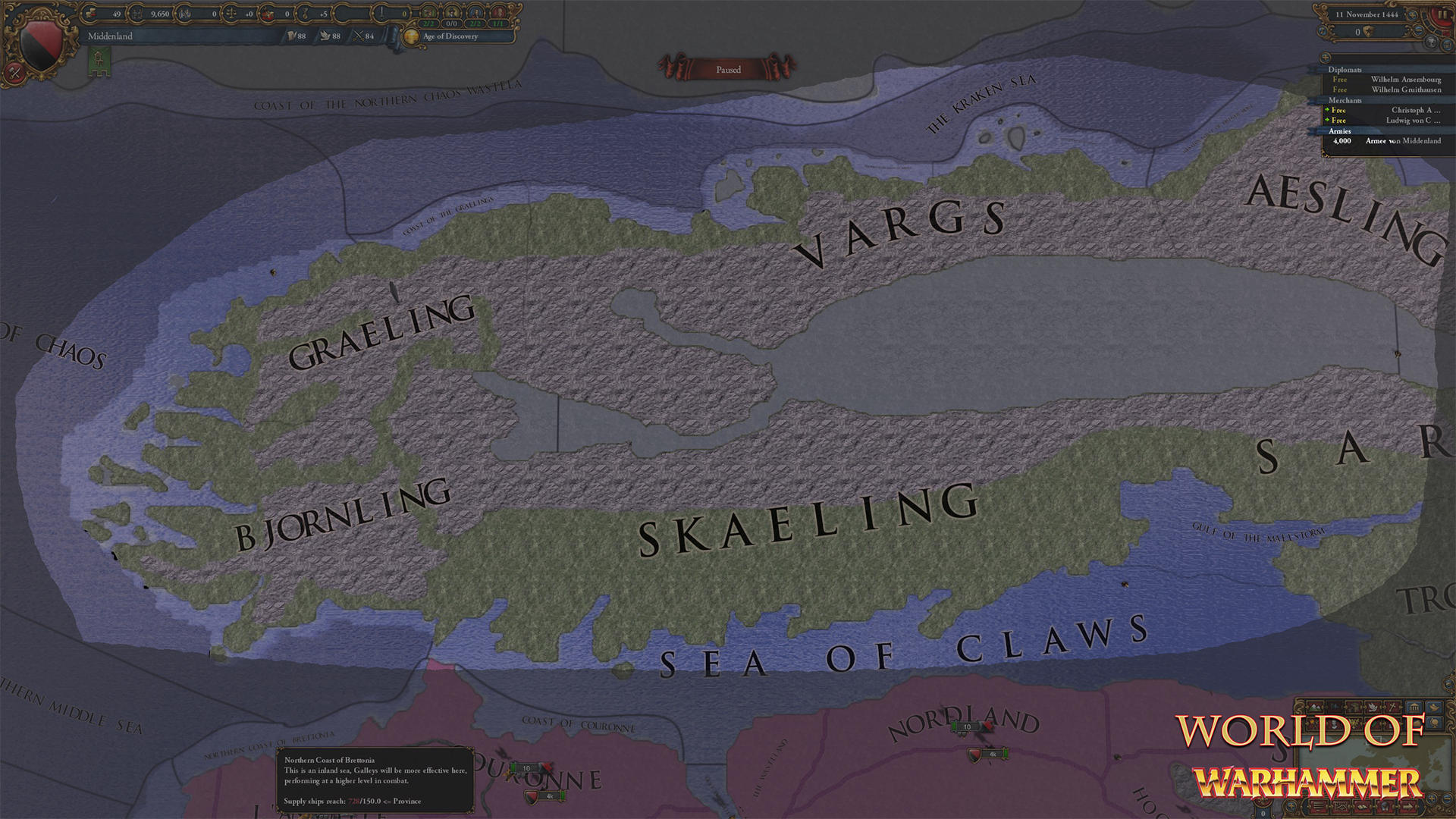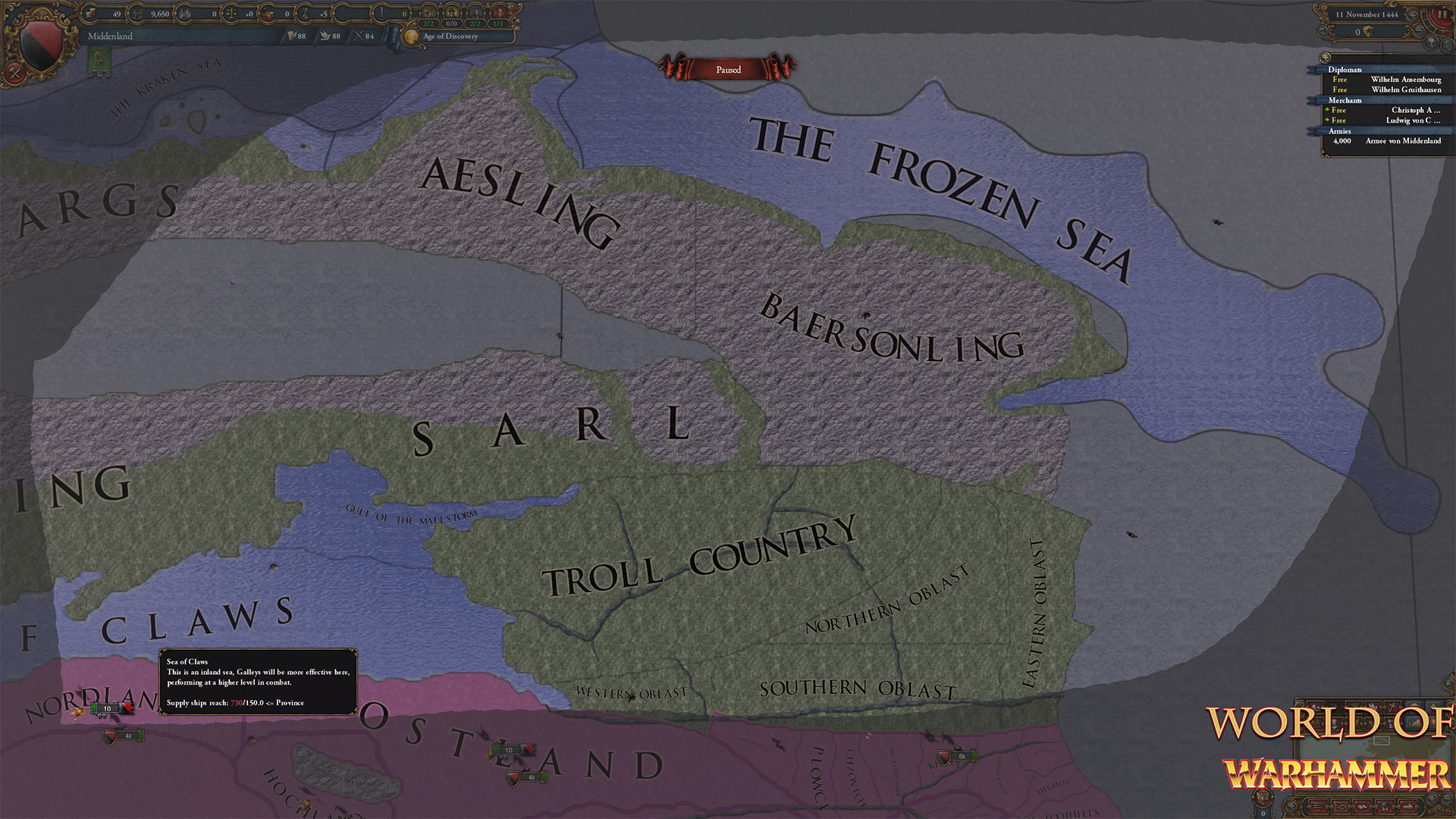 I added some entry points into the mountains to allow for more free range when invading around Norsca. I also heavily eddied the coast line around the continent.
---
Sea Provinces: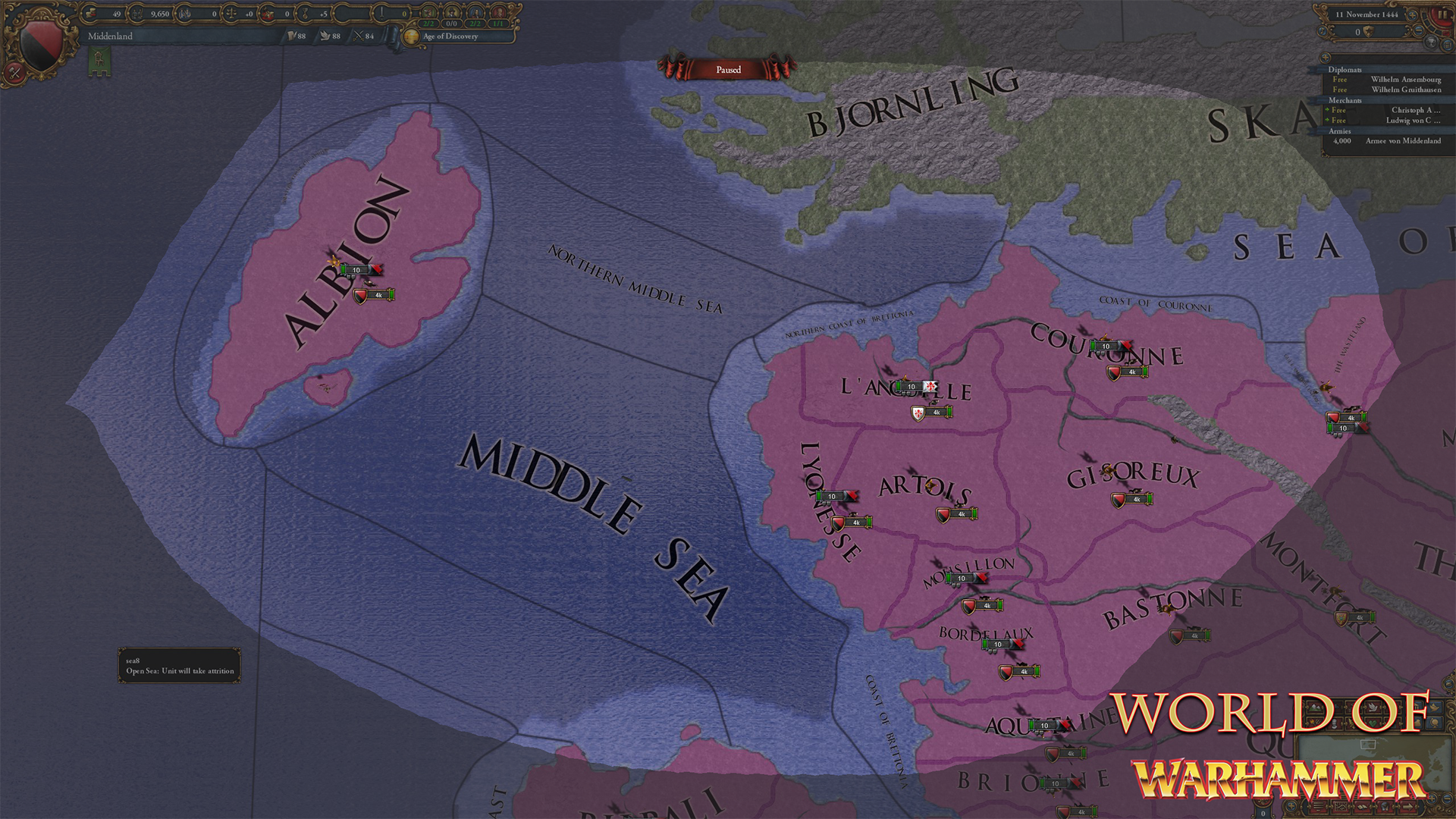 I will mark up the provinces a bit to look more interesting and less straight. I of course will add more sea provinces, but this is just a small overview.
According to Warhammer lore, the Border Princes are made up of multiple smaller states to form a larger government, i could potentially use the HRE to do this, but i would rather save that for The Empire, since you can only have one HRE in game. I did what Total War did and just simply split them up in two. I'll also randomize relations between the two similar to what eu4 does with Castile and Aragon. This should allow for some more diverse campaign in which you and the other border princes are friend or foe.
stay tuned for my next dev diary!
---
Links:
ModPage: Moddb.com
YouTube Channel: Youtube.com
Twitter: Twitter.com
Instagram: Instagram.com
(Most active on my Instagram)