Greetings friends, and welcome to your regularly-scheduled Dev Blog, chronicling another week in the development of CardLife. For those of you who haven't met me online already, my name is Sam, and I'm the new Community Manager for the game - I've been in the studio for a few days now, and I couldn't be more excited to be a part of the CardLife journey.
Now, there may be a fair few RoboCraft players amongst you, wondering just what the heck is this mysterious title which has shown up in-game. Just to bring you up to speed, I've prepared a brief primer before we go any further. So, without further ado…
CardLife: An Introduction
So in case you haven't guessed, CardLife is the latest game from the creators of Robocraft, Freejam Games. We've been steadily working away on this science fantasy survival title for a couple of years now, and we're beginning to show it off to the world a little more. We're coming at the game with a philosophy heavily geared towards User Generated Content (UGC).
Now, UGC has always been central to the ethos of Freejam's games - Robocraft draws great strength from the creativity and passion of its players - but with CardLife, we're looking to take that one step further. We want the entire game world to be influenced and shaped by its population, whether that be through building and crafting with the tools we provide, or through good old-fashioned modding. We're serious about making CardLife as collaborative a platform as possible between the players and the development team here, and we're honestly so excited to see what you can come up with. If you've got a great idea for a mod, or even if you just want to show off what you've created in-game so far, be sure to share it with us, as we love to see it.
Ultimately, we're looking to build a world which spans genres and ages - a towering mech battling a rampaging dragon, a ship full of adventurers journeying to a far-off island to slay goblins, and fully-formed, bustling cities teeming with life are just some of the scenarios we want to see. We'll only be able to do this with the help of our players, so please, please don't be shy with your feedback, and share your best creations with us wherever you can - links to our various channels are at the foot of this blog. We're at the very genesis of the world right now, but as it grows and develops, you're going to be a key part of it.
Getting Started With CardLife
So you've registered on the website, downloaded the game and find yourself at the main menu of CardLife. How do we get going?
First up, you can choose to play in an entirely single player PVE environment, but to really see the creativity on show, you'll want to meet other players. Choose 'Play Online', and head into a server to start your CardLife adventure.
You'll find yourself able to create your player character with our 'Connect the Dots' crafting system - simply draw a shape between the highlighted dots, using the scissor tool for cutting out anything you wish to make, such as eyes, a mouth, etc, then jump in.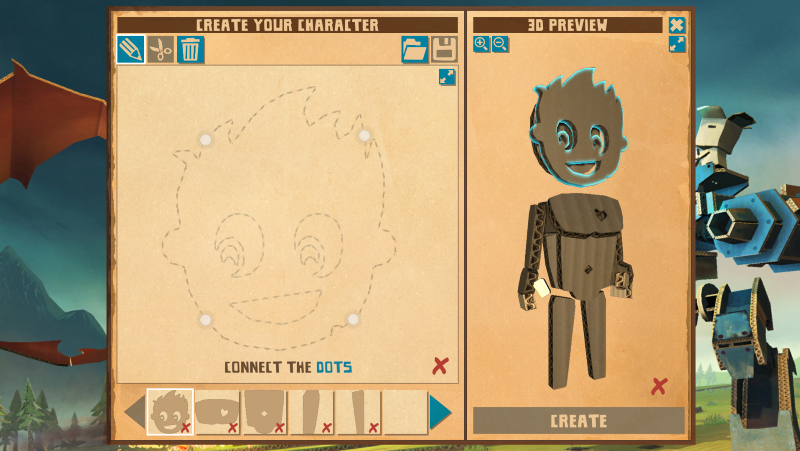 At first, you'll just have your two hands, so you're going to want to harvest some material and craft some tools. You can dig in the dirt with your hands, as well as harvest berries (essential for survival) and slowly bring down trees. Collect enough raw materials, and you'll be able to start creating tools. An axe, for example, will speed up the tree-felling process significantly. You can customise most of these through the same crafting system, so let your ideas run wild!
Once you've gathered materials, hit 'I' to open your inventory, drag harvested items from your inventory to the crafting screen, and choose what you want to create. Scoop up enough wood or stone, and it'll be time to start building your very first homestead. Simply select your new wall or floor from your inventory and drop it into the world to begin your dwelling. Here's one I prepared earlier;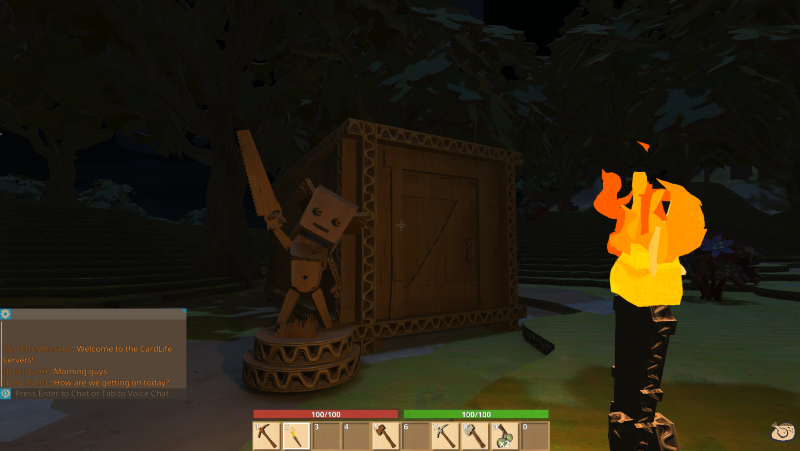 It'll be a mighty stronghold, feared across the land one day, mark my words. From here, the best thing to do is… explore. I don't want to dictate what to do, as the world is your (cardboard) oyster - explore a mine, climb that distant mountain, go hunting for wolves, whatever you want to do, it's your call!
Now, what have the guys been working on this week…
Ongoing Work: Shared Building
Cian's been hard at work on the shared ownership of buildings, which is currently undergoing some polish. The design concept is in place, allowing each exclusion zone to allow a single ownership console, from where roles can be assigned. This is a feature I'm really keen on, and I can't wait to see what whole groups of players can whip up together!
Ongoing Work: New Creatures
Mike has been working away on the Goblin, introduced in the last entry of this DevBlog, and we're getting close to a final look for this vicious little chap, including a stylish loincloth/earring combination which gives it real character;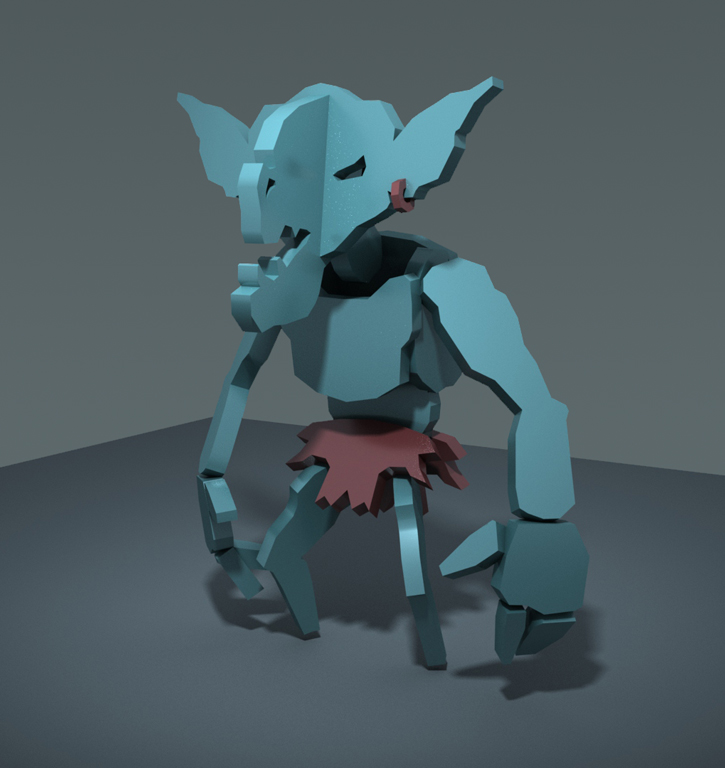 The Goblin's been receiving some animation treatment from Thor too, with various movements including a run cycle, an idle animation, and an attack all being polished. This creature should really shake up the ecosystem in CardLife when he gets implemented, and we're all really excited to see him arrive.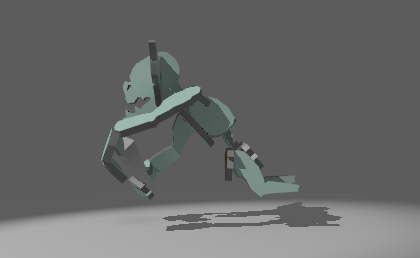 In addition to this, Mike's started work on yet another creature in the queue - the Raptor. It's very early days on this critter, but it's sure to be a serious threat when it arrives in-game, making those wolves look like cuddly labrador puppies in comparison. Best get crafting a better sword folks…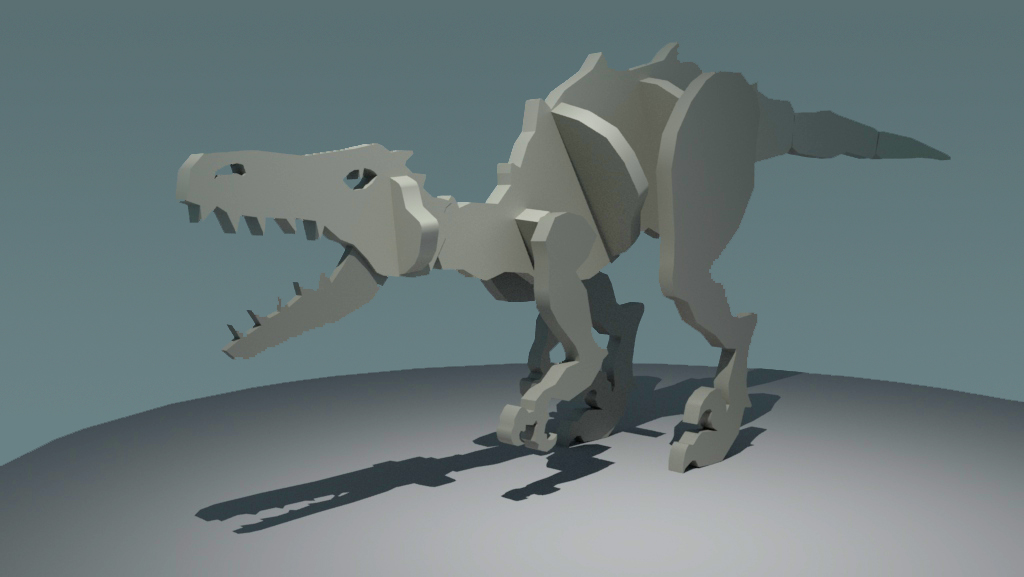 -----------------------------------------------------------------
As always if you have any feedback, questions or comments please feel free to contact us at any of our social portals: Facebook, Twitter, Reddit, Discord, and our very own Forums.
Cheers,
Sam, Community Manager