I just hired two excellent guys to help polish the game and bring up the quality over the next few months! Also, new Gameplay tweaks.
Building a Dev Team
In my Last Update I wrote about the grueling process of finding good modelers and writers, but the effort is finally starting to pay off! Danny Homan, the new narrative designer, already began reviewing the plot and marking some changes, with an overall positive impression of what is there so far.
On the artstyle side, I've been talking with the new 3D Modeler Rafael Morais and big visual improvements are coming. Here's some prototyping of a new asset to give you a taste:

But the most encouraging thing is: both really liked the alpha of the game and got even more excited to jump onboard after playing :)
New Gameplay Features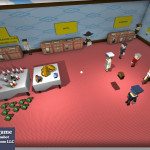 Debug Room with all items and characters for quick testing!
While I've been busy preparing all the materials for the new devs (such as gathering reference photos, updating outdated design docs and character bios, adding debug rooms and cheat codes etc.), I got a chance to add a few new tweaks and features based on the alpha tests so far.
First is a context-sensitive crosshair, which hints about how you can interact with the world. Take items, view objects, speak to characters or others. Very subtle, but crucial detail that subconsciously helps make sense of the world.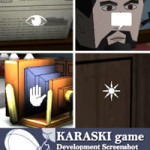 New context-sensitive crosshairs!
I also managed to add (optional) "Plot Clue!" indicators when viewing certain objects to distinguish between plot-critical stuff and fluff. Some testers felt overwhelmed by the amount of viewables in-game, so this should help a lot! And the purists can disable it in settings :)
Lastly, a map screen is in. After finding a map in the world, you can now refer to it at any time rather than having to backtrack to look at it again. I was against this change initially (IMMERSHUN!!!) but hearing tester feedback and realizing how much I've been relaying on maps in games like Bioshock or Pathologic, I realized it's a pretty useful feature.
This Week's Plan
I'm waiting on some new 3D artwork from the modeler and chatting with my writer about the plot later this week. I'll also be working on the remaining tweaks from the alpha test, mainly minor bug fixes, level design adjustments and usability tweaks. If I have the time I might also delve into some non-critical but fun features I want to add into the game, like achievements or more collectibles!