Pardon the Silence
Those of you who have been following my DevBlog (yes, all 3 of you) might have noticed I have been awfully quiet since May last year, and the last post left on an ominous tone. So what happened?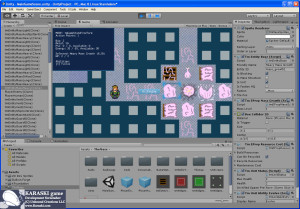 Prototype for a SciFi procedural strategy game
Long story short, I stopped working on the game for 4 months. A combination of burning myself out (lesson not yet learned from my first game), as well as personal matters I'd rather not get into. But after easing back into the development, I am now back to full productivity! January alone, I clocked over 80hrs, now officially more than my part time WebDev job! So things are moving again.
(As a side note, the break wasn't completely unproductive and I spent some time prototyping another game idea - screenie to the side!)
What's New?
While I might have been quiet, a LOT has been done. The break let me come back to the project refreshed and re-focused on what I really want the game to be about. Since resuming work, I have: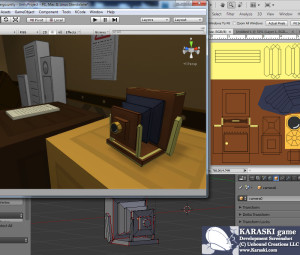 Modeling new props for a sidequest
Refactored my Engine after studying various RPG game editors. Much sanity has been saved since.
Reworked the whole story arc with a clearer focus/themes and added new side quests
Added tons of gameplay features (NPCs confronting player, tutorial messages, new tools, in-game online bug reporting etc.)
Added game Saving and Loading
Completely re-wrote most conversations
Implemented Audio (Music and SFX)
Added lots of ingame background texts/ viewables (newspapers, propaganda posters, etc.)
Upgraded numerous 3D Models and Levels to higher quality & detail
New Website, Gameplay Trailer, and launched Greenlight
There's a ton more tiny details I'm omitting here, but the point is - the game officially reached a feature-complete Alpha state, woot!
What's Next?
With the tentative release date of September 2015, here's what my rough, rough timeline looks like:
February - squeeze in a few last critical bugfixes/tweaks
March - GDC and private Alpha-Testing
April - Hire artists and kick into full production cycle
June - Beta milestone, Beta Testing
August - Release Candidate 1 Milestone
September - Actual Release
The schedule is pretty tight, but deadlines motive me better. It actually quite closely follows the development of my first game which worked out pretty well. And frankly I don't think I should spend more time on Karaski than this, at least not without running out of budget, getting tunnel-visioned, or risking personal burnout like after Postmortem.
The beauty of agile iterative development is that the game is already technically "done," so there is no need to fret about missing stuff. From this point on it's all about improving and expanding what is already there . Next few months will focus on bringing the quality up (with artistic help), fixing bugs, testing and squeezing as much extra non-essential content as my manic mind can muster.
Oh, and get back in the habit of regular dev blog posts, for all you 3 reading this :p