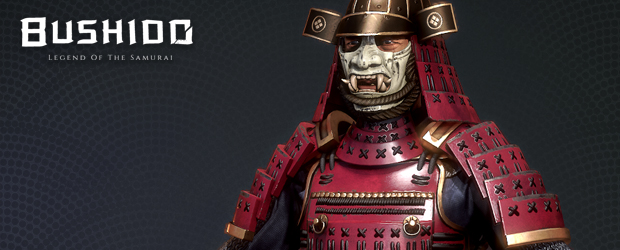 In this blog post, we're going to look at some of the latest assets the team has been working on over the past couple of month. We've also got some exciting news in terms of developments in gameplay - with the Katana and Character customisation feature newly finished.
First things first, we just wanted to say a big thank you to all our fans who have supported us and continued to show interest in the project, despite the fact that we haven't posted many developments over the last couple of months. Without your continual support and enthusiasm - we wouldn't be able to keep doing what we're doing. THANKS!
Art Assets
Onto the juicy stuff - Kieran (our lead artist) has been doing an amazing job designing a brand new customisation pipeline that will allow us to produce a huge number of variations on our characters designs.
This means that when our players enter the world of Bushido and design their own Samurai - they'll be able to choose from a massive range of colours, armour styles, details and additional props.
A 'Red' variant of the Samurai (high res)
Here's a bit more information from Kieran:
"The Samurai has been re-designed from the ground up with customization in mind. Many parts of his armour can be swapped out, allowing us to provide a huge variation of style and colour options. We can change the colour of just about everything and some parts will even offer completely different materials, such as removing the paint from the metal entirely, or even changing the sode (shoulder plates) to be a completely different shape. We're also experimenting with customizable Clan Mons, which will help you identify your friends (Puu.sh)."
We can't wait to see what you guys come up with; from shabby Ronin to regal looking Samurai - even to Warrior Monks and armoured Ninja. The possibilities will be vast!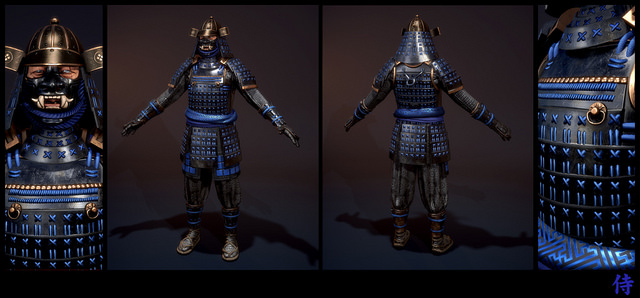 A 'Blue' variant of the Samurai (high res)
In additional to the above, Jay (our lead programmer) has also been making strides in terms of coding the customisation feature! He's actually started with the slightly simpler 'Katana Customisation' feature, that allows you to design and build your very own iconic samurai weapon.
We'll be doing an update specifically focusing on this in the very near future (possibly a video update) - so stay tuned on that front.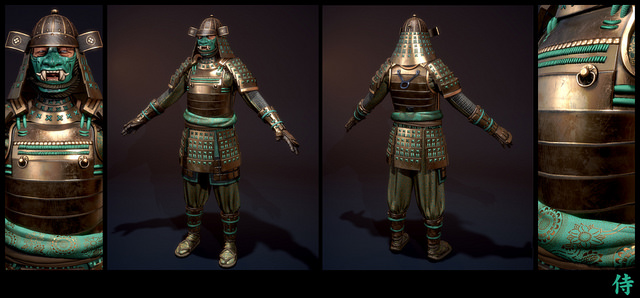 A 'Jade' variant of the Samurai (high res)
Other news
We've been a busy bunch recently - Patrik (our Audio Lead) has been churning out a whole bunch of tasty samples as he experiments with different Japanese instruments and themes. They all sound pretty awesome, so expect a special update just on that soon.
As for myself, I've been busy rigging Kieran's new character and making a few tweaks to the animations (there is a bit of clipping between here and there which I didn't account for). I'm hoping that we'll be done by the end of the week - which is exciting as it means I can start showing you guys some of the latest animations.
That's it for now - we've got heaps more stuff to show off but the struggle now is finding the time to write it all up! As always you can follow us on Twitter or Facebook to stay up-to-date with all the latest developments as and when they happen!