Well, I've had this profile up for a few weeks now, so figured it's time to write something meaningful!
Project History:
Apathy Goat is a one man project that has technically been in development for 12 months as of writing. Initially I was planning to make it a casual arcade Facebook game and it was pretty much complete, but after spending a few months abroad in South-East Asia I came back to work with a grand new vision for it, so there was a total reboot last December!
Troubles with Design:
The design phase of this project has been particularly hard, as typing mechanics are a pretty delicate thing to work with. I'm acutely aware that just a splash too much typing would turn the game into into a chore, and stripping too much away would just make it a not-very-good adventure game. It's a real challenge trying to think up inventive ways to work in mechanics!
The Interesting Parts:
But I *did* think up interesting ways, and now we have a game. In the last 6 weeks I've been actively developing it full-time. The initial prototypes of the driving & sidescrolling levels were completed within one week each, and since then I've mainly been working on assets and mechanics, as well as having fleshed out a general level & story plan.
I'm working entirely on the first level of the game (a sidescroller in the desert) at the moment. I think the level in itself is about 70% complete now, but I haven't done any real end-to-end gameplay testing (haven't finished hooking in stuff like score, death, checkpoints or the UI).
But here's some of what I *have* achieved in the last couple of weeks:
New Effect: Apathy Goat now smokes while idle and while walking
Apathy Goat never got the memo about lung cancer. Like all self-respecting anarchist goats he can't read anyway. Reading is tied too closely with ambition, and ambition is dangerous territory when you live day to day.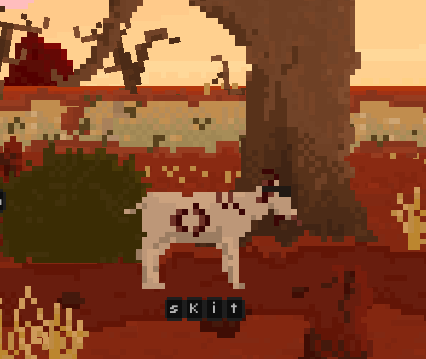 New Enemy: Eastern brown snake!
No-brainer. Comes at you. Type it before it gets to you. I also think I'll open the level with a sequence a bit like this, camera tracking a snake.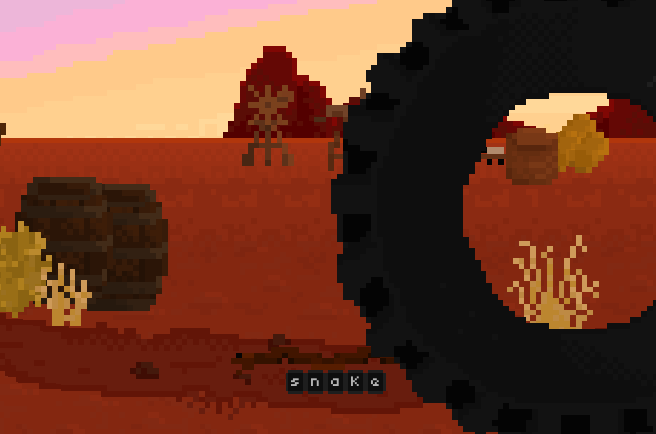 New Enemy: Flaming sheep! + New Mechanic: TNT
When aliens invade, the sheep are always the first to go. This particular guy isn't typable and he runs just slightly faster than Apathy Goat, so the play will need to work out that they have to go back past the TNT barrel and use it to blow him up. >=) Not that the sheep is evil or naything, he's just panicking and likely to start some serious bush fires.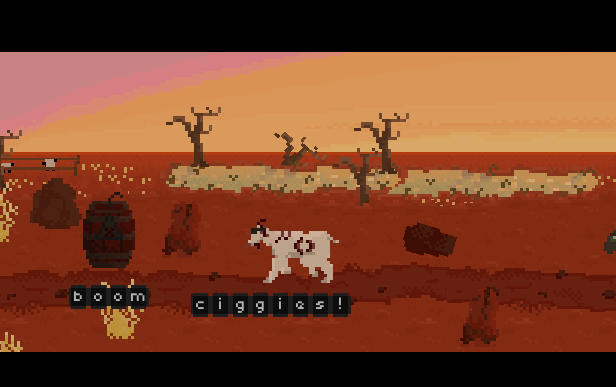 New Enemy: Dropbear!
Oh, it looks like I broke the dropbear's falling code when I implemented a new pathing system. And he's in the wrong layer. Hmm.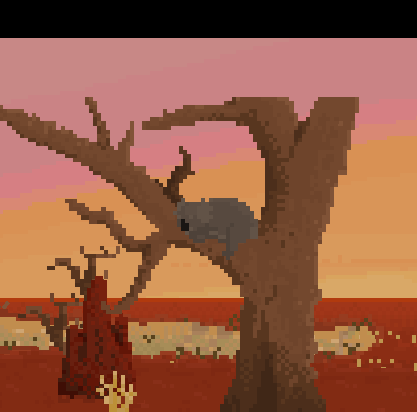 Seriously, drop bear. You had one job. You can't even drop properly? What even...
New Obstacle: Molly, the formerly living cow!
Molly. Even in death, she was still in the fucking way. What is it about cows and roads? As he stepped daintily through her remains, Apathy Goat wondered what had killed her...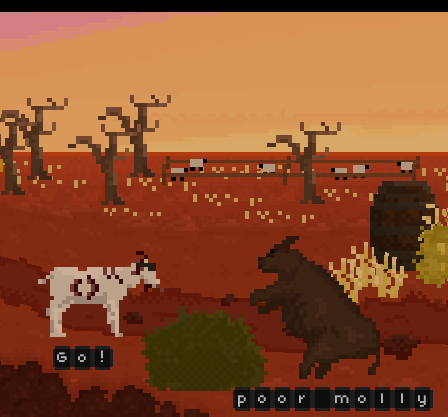 New Mechanics: Wireless Signal Detector & Pizza
Still working on it, but the idea is that the mouse cursor controls your keyboard's wireless signal receiver, and you can use it to detect typable objects in the level (in this case a very obvious barrel).
Here the barrel contains pizza, which Apathy Goat's owner dangles from a fishing rod on the far side of the screen, motivating the goat to run faster!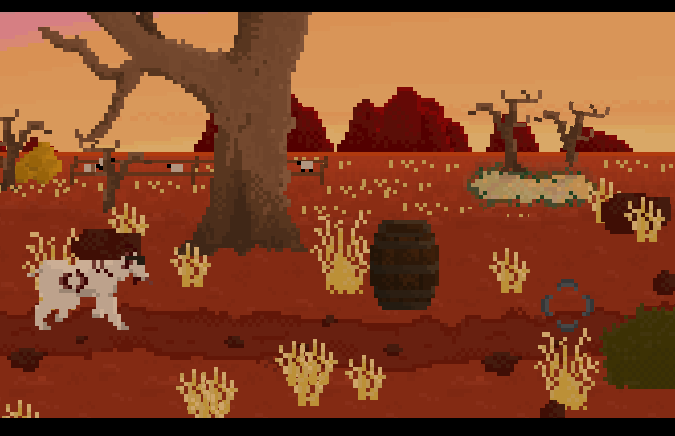 New Mechanic: Edible Stuff
Some obstacles such as beer, ashtrays and school children will cause Apathy Goat to stop and eat them rather than just being bumped. You'll have to stop and watch him eat and chew while you wait (and as a time-based game, this sucks for you). So, ideally, you'll get rid of 'em before he gets to them.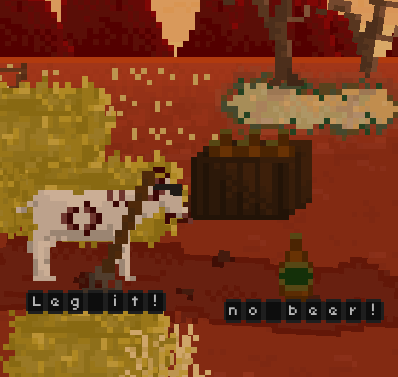 Other new stuff:
Destructible rocks, logs, barrels,
Added rippling lakes & trees to the background
Added hay bales, pitch forks & truck tyres to the foreground
Added rocky hills to the level (previously it was entirely flat, which is actually realistic for the desert, but uninteresting for a game)
Improved visual separation of foreground & background layers by adding a rough lip to the top of the foreground
Improved the quality of the dirt textures (both foreground & background)
Improved the bases of the termite mounds
Revisited the graphics of the background windmill & watertank
Adjusted the tree colour palette, but still not totally happy; think I need to improve the shading on it. But I don't know if I will. >=)