Build&Defend v1.0.11 was released just before last Christmas.
Today was the release of the version 1.0.30.
In between, the game play of B&D has changed a lot:
New bosses and new monsters have been added, a fluid and mechanic engines have been created, the characters (PNJ) are far more cleverer, and so on, and so on...
This news will present (with a lot of pictures) all the cool new features, new game-play elements and game improvement of these last 9 months!
Enjoy :)!
The Workers
The biggest (and also less) visible improvement of these last 9 months have been the work done for the "Workers" artificial intelligence.
Workers are little bear-like creature that will help you to keep your fortress alive.
They can fight, they can craft, they can build stuffs, they can cultivate, they can carry stuffs, etc.
However, they are very fragile, they need to eat, they need to sleep, and monsters tend to try to eat them.
Making good artificial intelligences is hard, that is why these last game months I worked on making them more reactive, better to handle tasks together and better to act in bad situations.
You can learn more about the workers at Buildanddefend.com.
PvP Mode
Fighting monsters is nice, but fighting player is completely unique.
Build&Defend includes a special PvP mode where you can fight your friend in a destructible castle full of secret passages.
If you loved Quake3, you will love the special PvP mode! For your pleasure, here are some screen shot for you.
Piston and lever
The key of making fortress is to build traps, secret passages, bridges, water pumps, etc.
And for that, you need to build mechanisms. With a bit of imagination, you can do pretty amazing stuffs.
Here are some few examples of mechanisms you can do :)
You can learn more about mechanisms at Buildanddefend.com
Fluids (water and gas)
Water and gas are very important in Build&Defend.
Water is your best friend and your worst enemy: Water is the key for agriculture, but it is easy to drown if you don't pay attention.
You can use mechanic to build complex hydraulic systems and carry water where you need it.
Gas is more tricky and will probably be a problem for your - especially when exalted by monsters in narrow corridor inside of dark dungeons.
Here are some examples of mechanic you can do with water.
Achievement
I generally love achievement systems - I don't play for the achievement, but I like challenging them.
Recently I created one for Build&Defend :).
You will find easy and natural achievements like "Killing 10 zombies with a sword", but also more tricky and complex achievements like "Getting to Day 24 without drinking any Health Potions".
You can see your achievements and the achievements of all the other players at Buildanddefend.com. Of course, one of the best achievements is the "Debugger" achievement that you can only get if you send a bug report to the developer (me) :)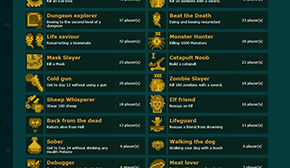 List of achivements
(click to enlarge)
And a lot more
Those are just few examples of the very last features of Build&Defend, and if you play the game, there are a lot more for you to discover (trust me).
Build&Defend is a game that I built with passion during my free time (and continues to build).
The development is slow but continuous.
Ultimately, my goal is to create a game that you will enjoy playing, and that will always surprise you.
I have a lot of ideas for the news versions - from the smallest, to the craziest.
I hope you guy enjoy it, and I will continue to make it for you :)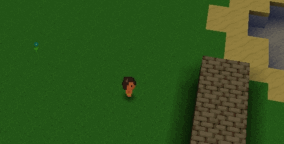 Surprise!!!
And of course, you can download and play Build&Defend at Buildanddefend.com.
Cheers,
Achoum
Ps: If you liked this article, and if you want to write some more, dont' forget to vote for Build&Defend :)