Hello everyone! Molten Armor is going through some reeeeally boring times. Like pending registration for Steamworks, filling in lots of official papers to get access to the next set of papers to fill. This eats up a nice part of our time. The development itself is going on as well, but with not so much to show - game polishing, bug-hunting, testing and retesting levels and mechanics. We post on twitter from time to time to keep people informed with things like localisation progress and stuff.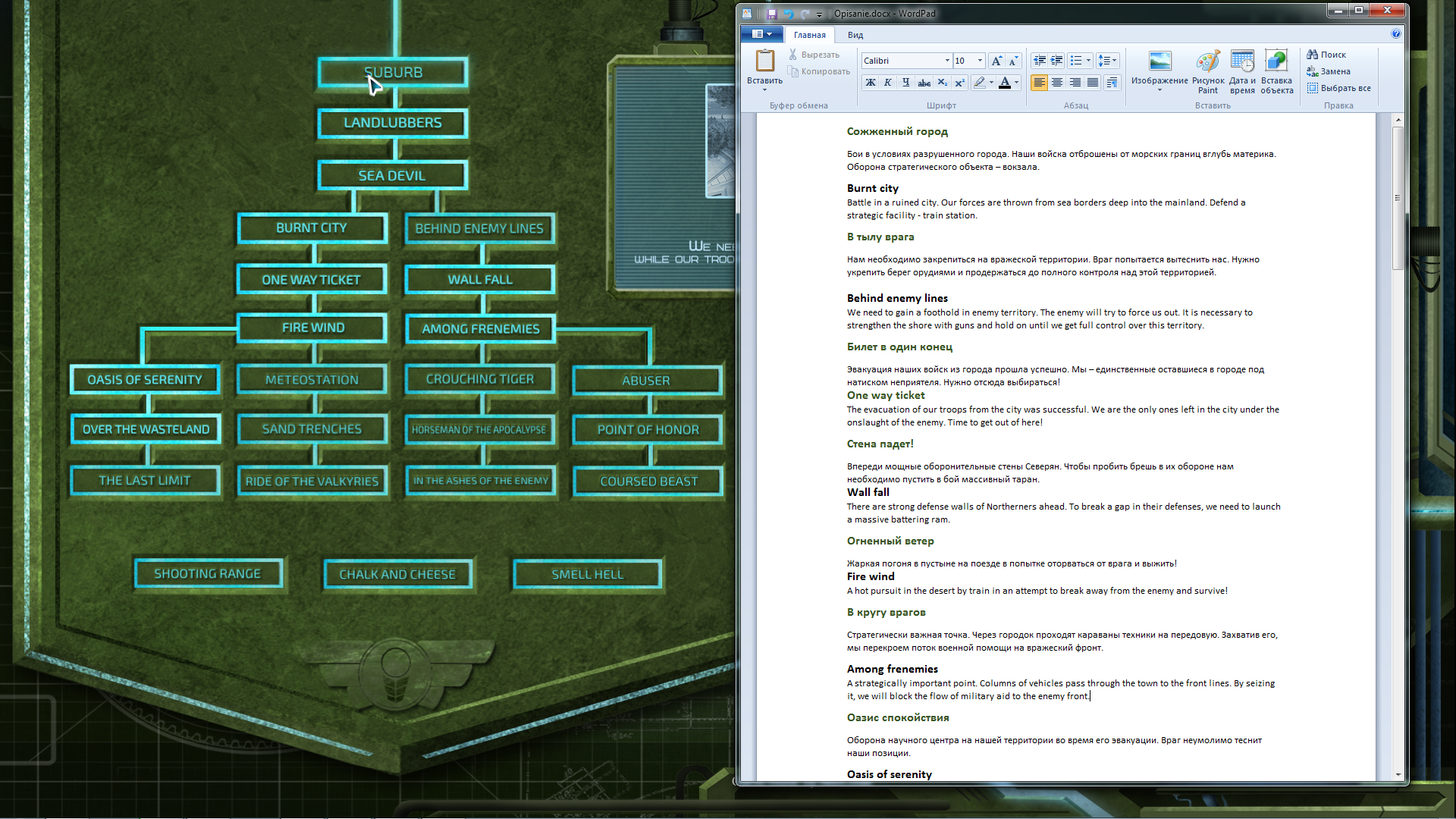 At this kind of repetitive moment we were lucky enough to be invited to Starcon in St.Petersburg! It's a big science fiction festival filled with cosplayers, books, movies, food and indie games. Apart from being a breath of fresh air, it was a great opportunity to show our game to people, get some valuable feedback and make new friends. We were kind of nervous, because it was our first showcase ever. And none ( aside from a limited amount of testers ) has seen the full version of our game.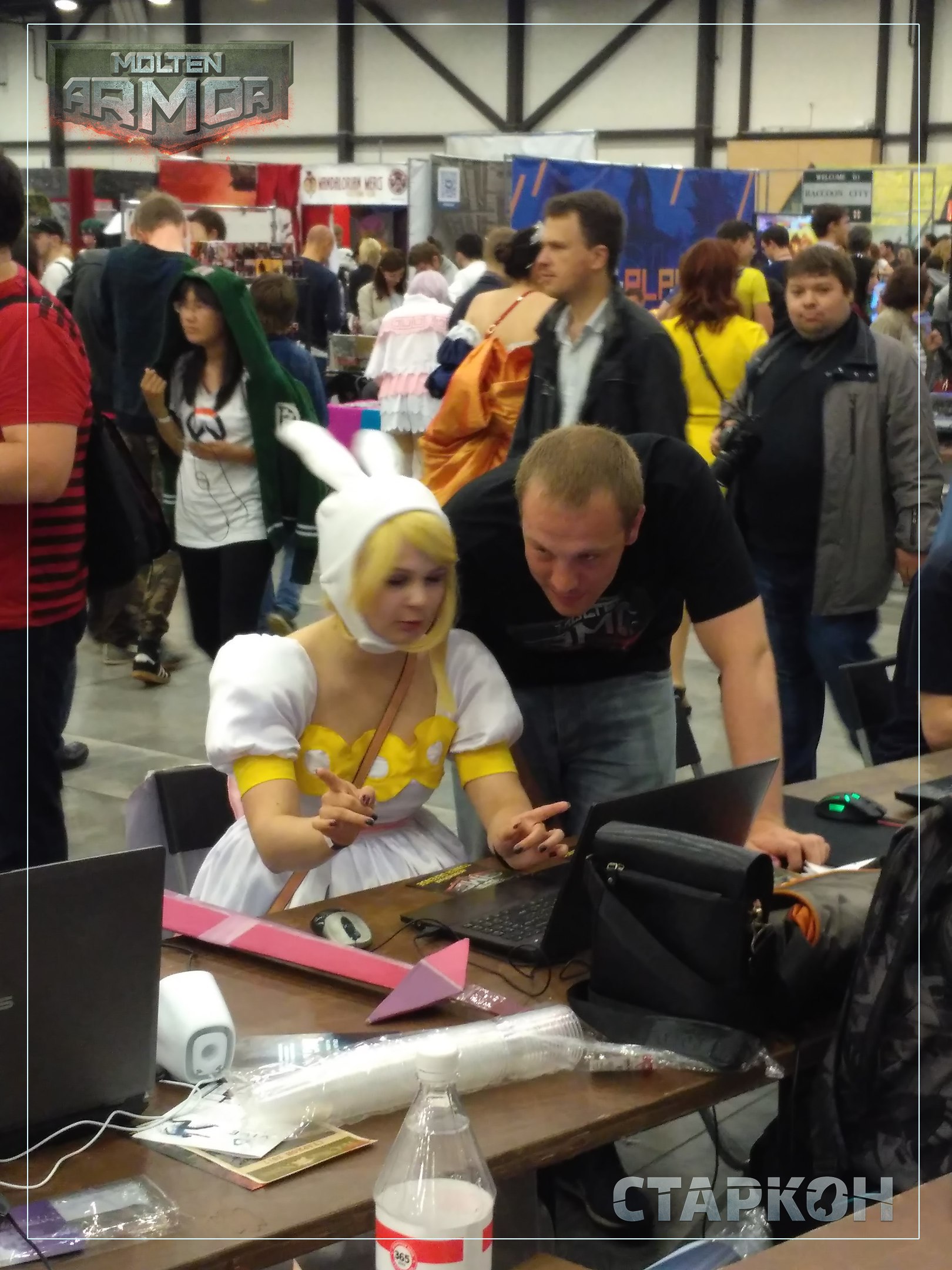 Let's skip the boring part of 24 hours trip to Starcon. Like true indies, we bought the cheapest tickets possible, eating fast-food all way long and slept inside rail station. Being limited by our current burger-flipping jobs, we could only attend 2 of 3 days, but that was enough.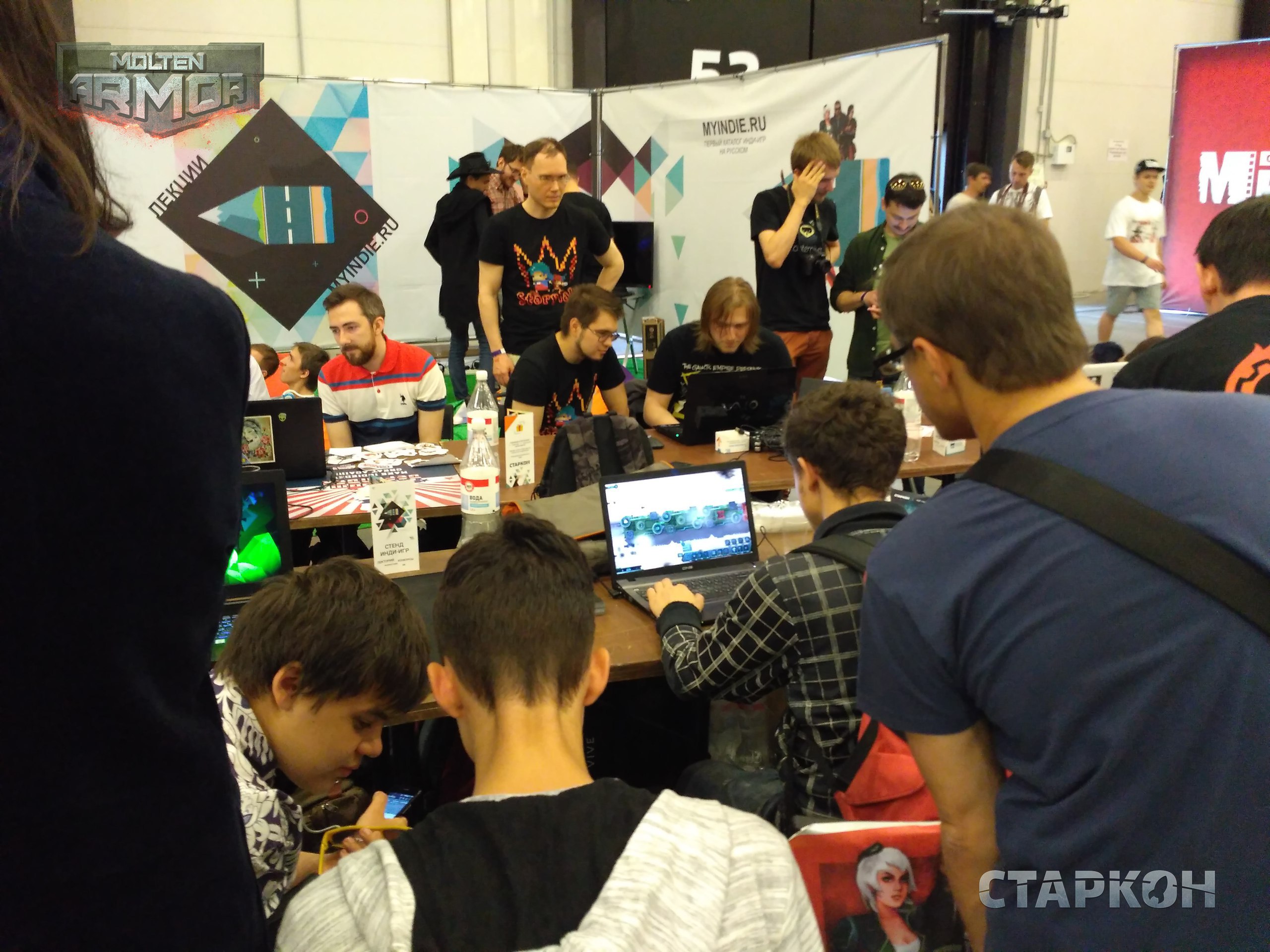 Our game was played by both gamers and game developers, and we managed to get some really nice feedback and useful advices.

First of all - players. Everyone who tried our game liked it. Even those who are not so much into tower defense. This made us really happy :) We watched closely on HOW do people play our game, given limited time. In-game tutorial helped a lot, btw. Most of the mechanics are intuitive just as planned, with some room to make it even better ( like adding some variations for pings on screen, to attract player's attention ).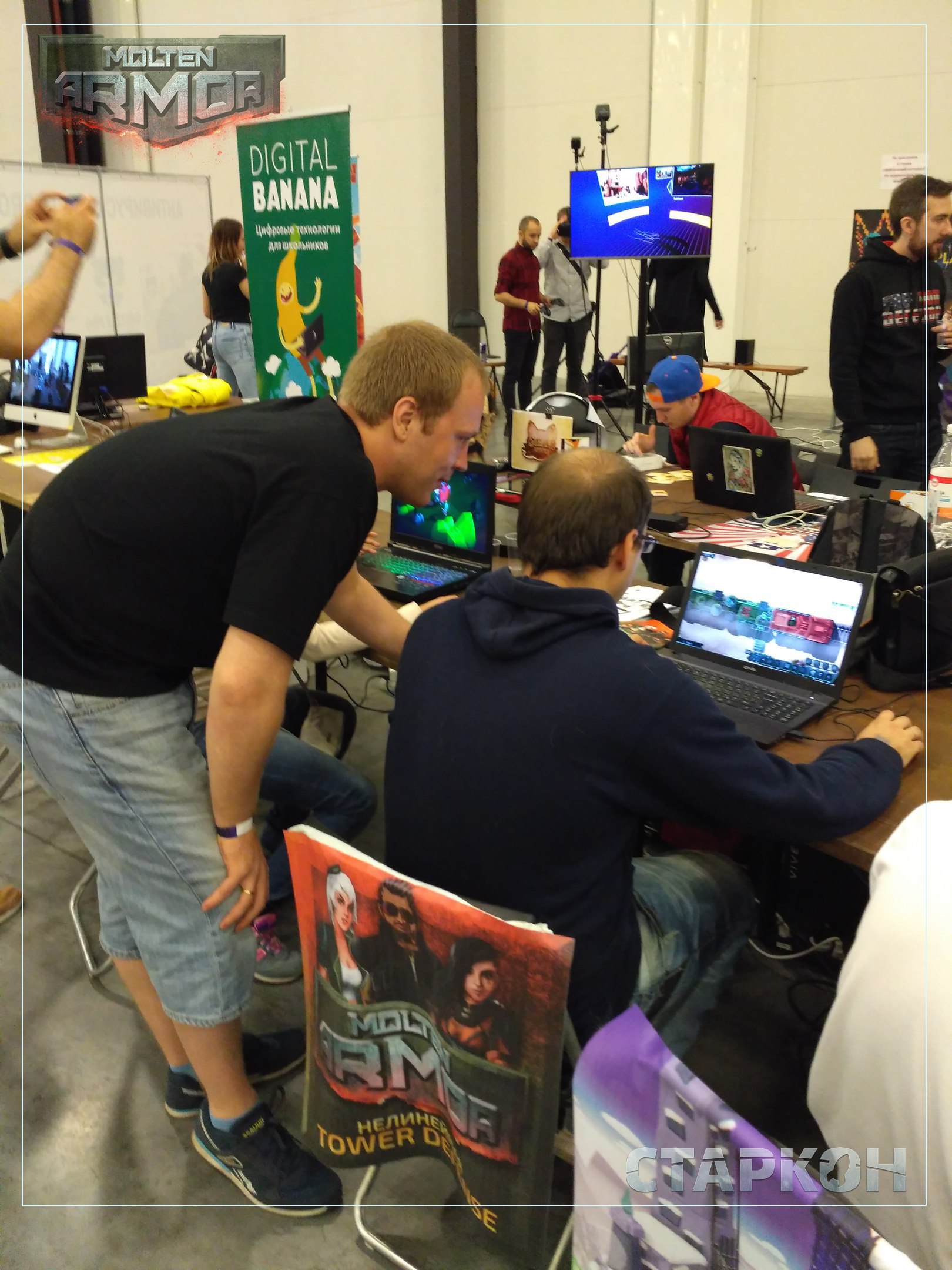 Molten Armor was designed to be a hardcore game. We implemented "casual" difficulty later, for testing purposes mostly. But the showcase helped us to see that there is a considerable amount of players ( around 40% ) who are actually interested in the story line ( which is nonlinear, with several endings in our game ) and don't care so much about the battle raging on screen. So, we will add a "story mode" level of difficulty, where enemies will perish much faster and won't bother you much on your way.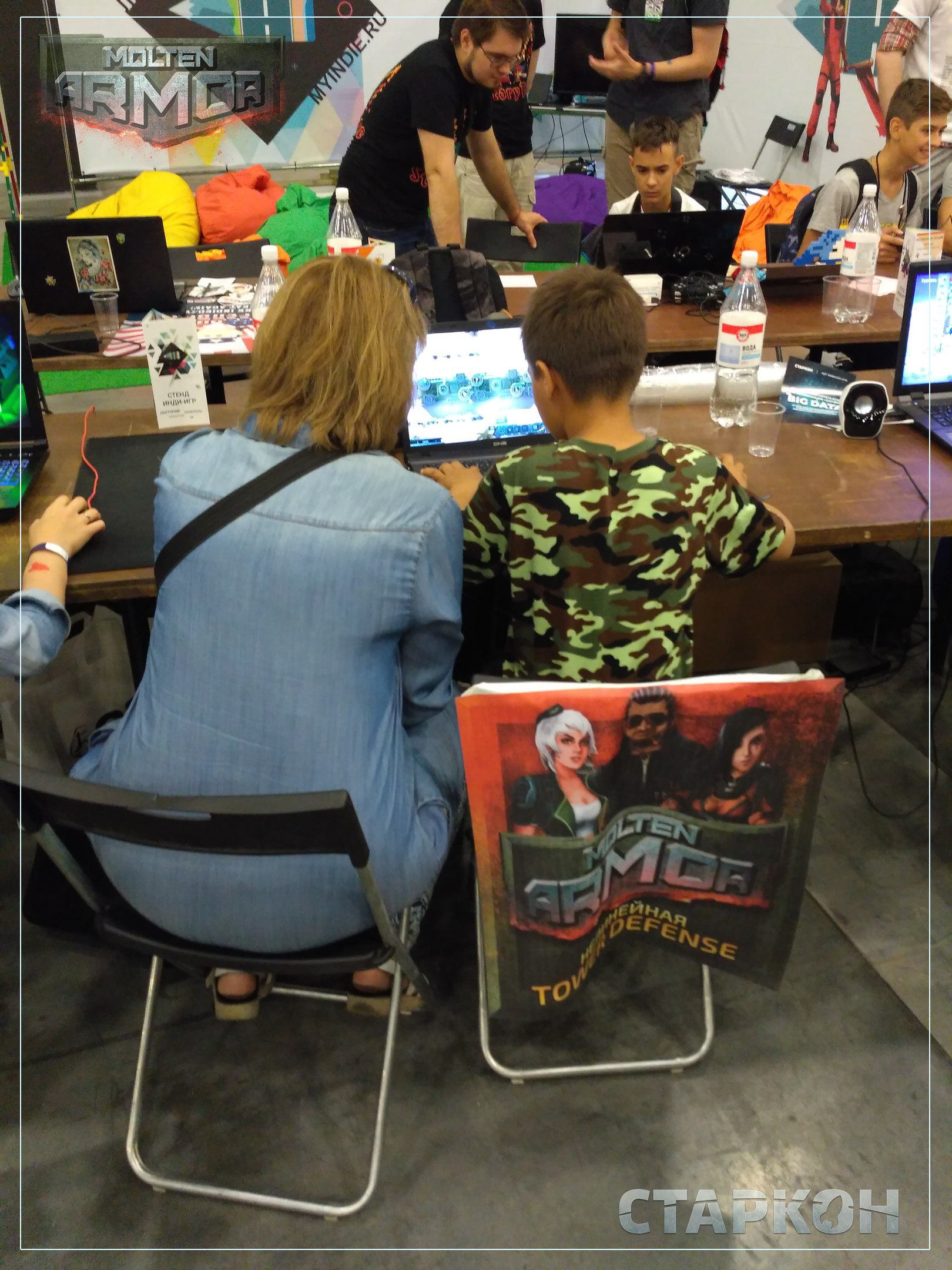 Our game has no blood and gore in it - so it was safe to allow younger players give it a try.
Also, other developers. The ones we had a chance to talk to were the creators of Catmaze, Freedom Defender, Lanternium, The StoryTale, Stremnaya Igra and a bit of HoCWars. We could get some awesome technical advices on how to improve game's usability and performance. And a couple of how-to avoid common mistakes.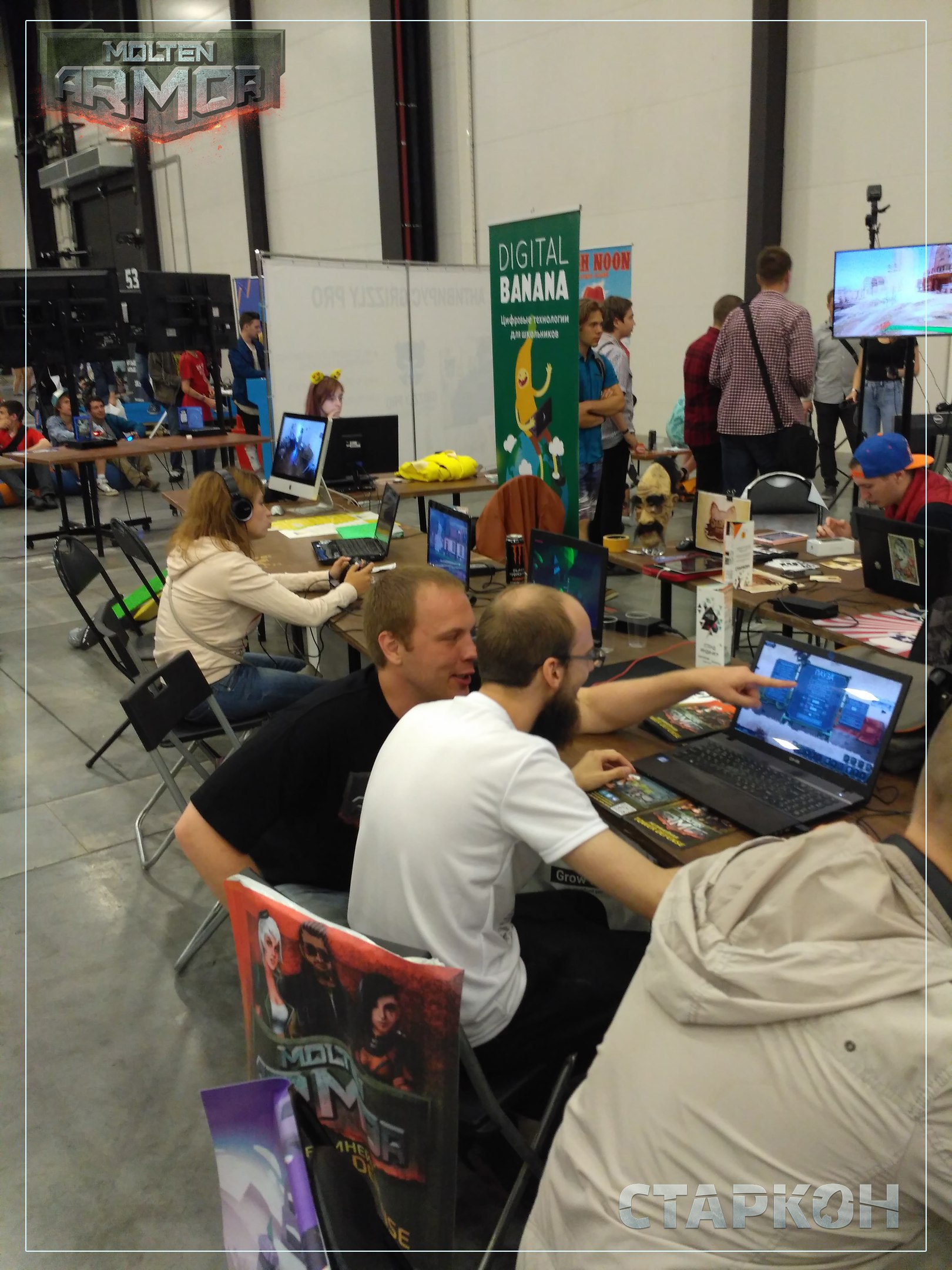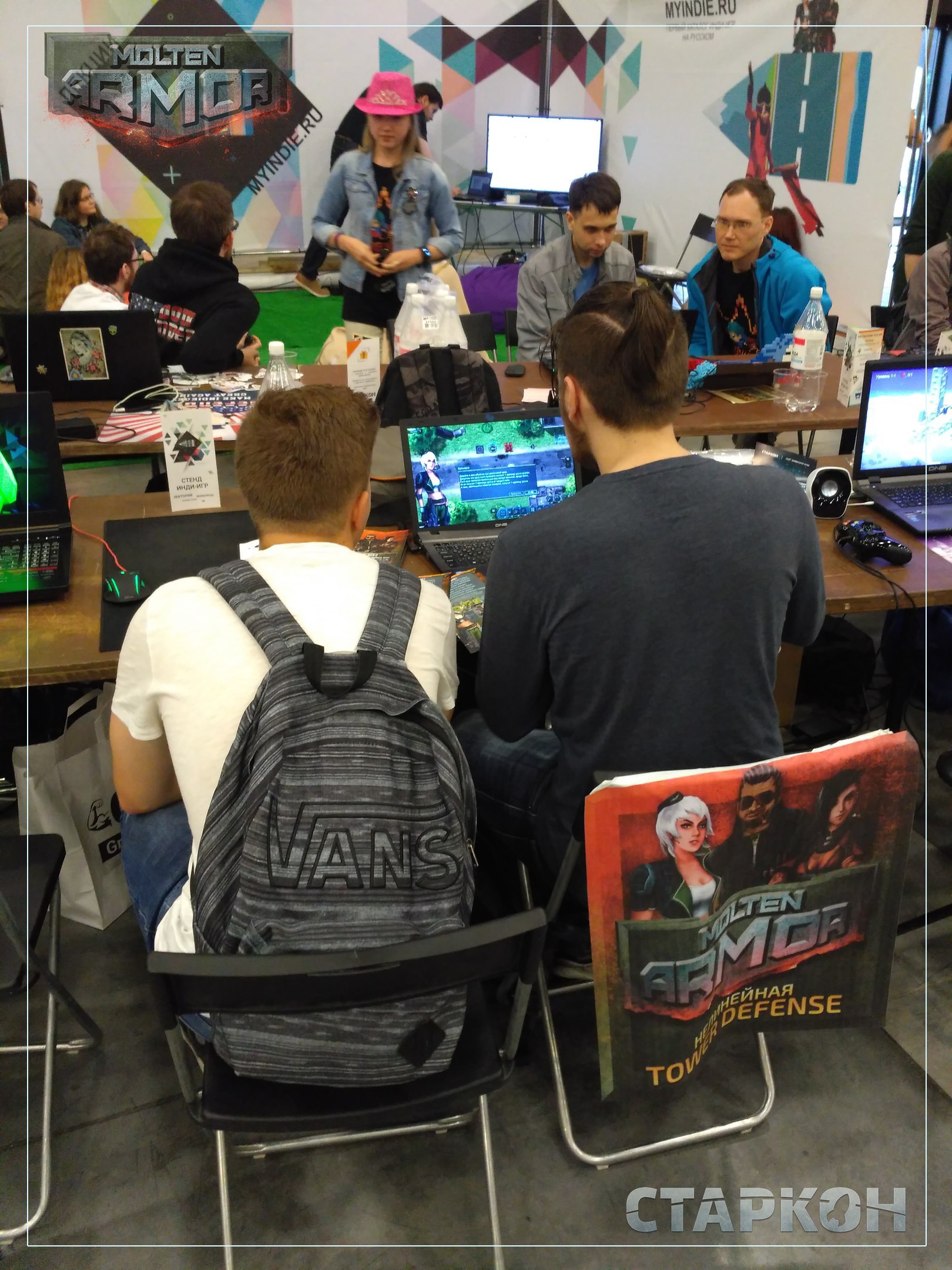 Since our game has a blend of several game mechanics pushing the player to be more active during gameplay we were a little afraid that it can push people away instead. But it turned out to be all ok in the end. After a defeat or two, players tend to say "aha, got it now" and start to rush through levels as expected. One guy even managed to get through 3 levels of a hardcore game, asking for no tips from us.
In the end we would like to kindly remind, that there are only two of us making this game ( with some of our friends helping with testing ) and it was our first showcase ever so don't be too harsh on us. We are trying our best to make this game better and better everyday, and visiting Starcon was a great step forward for us.

Best regards, and hope to see you on Steam soon!