Hi folks, I'm [TWDEV] Franky and I'm an artist on the Traction Wars team. I would like to present to you this developer blog as a bit of a retrospective.Some of the imagery illustrates my most recent assets, whereas other screenshots give a more polished look at some older work. I felt it was worth re-visiting some of these pieces in order to showcase improvements that have been made specifically to shaders, materials and also lighting.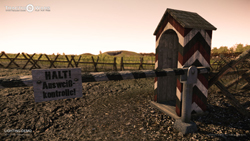 Lighting
To start off, you can see how important lighting can be. Of course it is an incredibly complex topic and I don't intend to go in-depth on the subject, but different moods can be created with a few simple tweaks. Time of Day is handled dynamically by the engine itself, which makes our job a lot easier (and fun).
Since experimentation feels so intuitive and straightforward, a specific look can be achieved fairly quickly. You can see how the sun's position influences the length of shadows that are being cast, making a scene feel more or less dramatic. Add to this colour filtering to achieve a sepia feel, height fog, sky colour, depth of field to focus on close or far away objects and you'll probably agree that it is easy to fill a book with information on lighting alone. What's great is that with the advances in software complexity we can emulate techniques used in film and photography and see immediate results since everything is rendered in real-time.
Materials
Outside of vegetation and characters, the environments consist mainly of 3 categories of materials. Stone, wood and metal materials. They each have their own visual properties which we try to emulate by setting up correct shaders and applying them to the models. Those shaders determine the appearance of materials and how the textures interact with the lighting. By controlling the shiny, glossy and bumpy properties, we give the textures the right feel to them.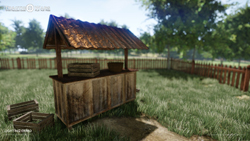 I hope you enjoyed this devblog, but that's it for this time, if you have liked what you have seen and would like to share your thoughts about the game or just get involved in the community you can visit our forums. You can also keep up-to-date with current development and news via the social networking links below.