Good afternoon all,
It's been a few days since our last blog, sorry about that. We are all busy working away on the demo level stuff, and its looking good! So what have I been doing to contribute to this demo level? Rigging and animation of character 1.
What is rigging?
Rigging is the process of assigning a character model bones, and muscle groups to make it work for animation. For me I have been doing this via 3DS Max's biped system that creates a human skeleton with a simple drag and drop.
Biped's in 3DS Max - Standard & Customised
This is only a base rig, and futher improvements are needed to make it work with our characters such as adjusting heights, bone joints and functionality. Once all that is done, applying a skin modifier to the model and checking out the weights of the model is the next process.
Weighting:
Weight is probably the slowest part of the rigging process, as its something you cant rush if you want good results. In a nutshell weighting is the influence each bone has on poly's. To make it good, small adjustments and correctly weighting vertex's between 0 - 1 is needed. Having to much influence on poly's will cause them to warp, while have to little, may not let them move with the bone at all, resulting in some strange animation movement.
Weighting of the leg - red areas are 100% affected while blue is barely affected & Overlook of all weighting
Animation:
The last step in this process is the animation. Due to our time constrains, we have opted to using a service called Mixamo. Which provides animations instantly at a price. Doing this way not only saves us hundreads of hours of work in the entire project, it also provides a great services I know other artists and teams use for their own projects. Once we have the animations we need, its then imported into unity. Using its humaniod system and animation controller, I can prepare a package with animations and transistions that can then be saved and passed onto the programmers to use.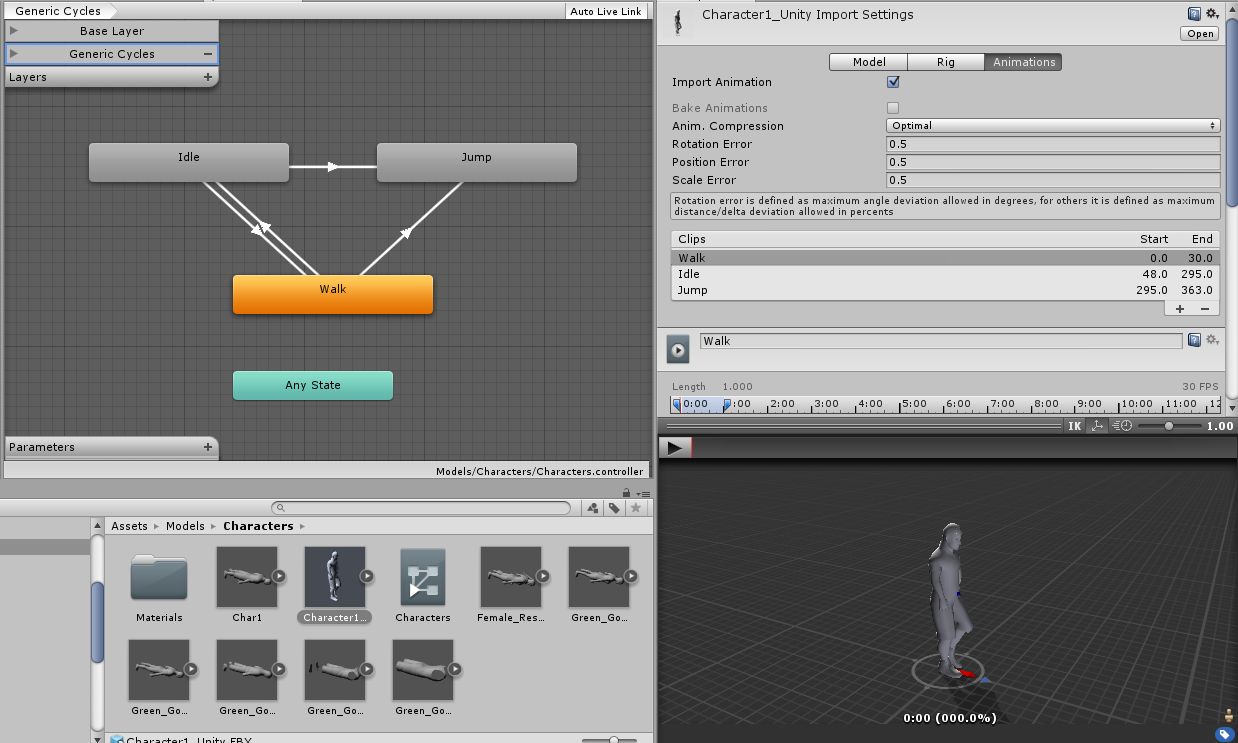 Animations and controller in Unity.
Whats Next?
I have briefly explained how the rigging and animations are done for this project. The image at the very top showcases the rig and animations effect on the character model. As you can probably see there are still parts that dont sit correctly, or are showing when they are not suppose to. This means doing a second pass on the weighting to correctly fix all the affected areas.
If you have any questions or advice regarding any of these processes, feel free to bring it up within our community forum.
Regards,
Nathan