First of all, thank you for visiting the Destination Earth IndieDB page!
There is a website and steam greenlight page on the way, which we will highlight closer to the time.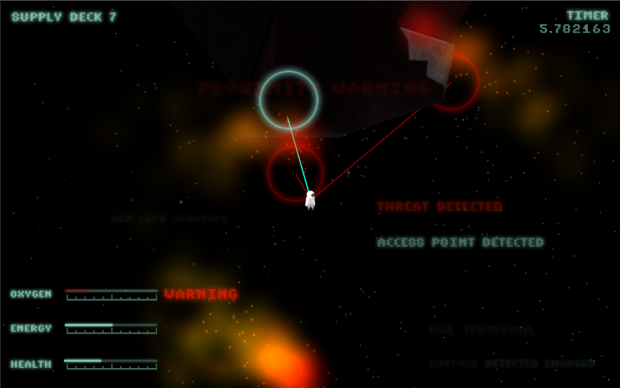 A quick summary of Gameplay :
You play as a survivor of a deep space disaster, your stranded with nothing but your suit reserves, and the remains of the large starship you were on board of. Your suit provides you with Oxygen, Energy, and Health.
Your Oxygen reserve is constantly dropping, (unless you find an area of the ship that still has air pressure), and once your Oxygen level reaches 0, you will begin to loose Health instead.
Energy is consumed by using the boosters on your suit. Drift through areas of the ship or engage your surface boots to conserve your Energy.
Health, as mentioned above, will start to drop if your Oxygen reserve bottoms out. You can also loose substantial amounts of Health by either coming into to contact with fire or an explosion, not to mention by hitting debris at pace.
Perma-death! If your Health drops to zero, you drift to far from the debris field, or your suit reserves leave you stranded - you will be "Lost to the depths of space" and will have to start from the beginning again. This gives the game a heightened tension adding to the survival experience.
We are hoping to add a level of randomisation so that replays or having to start again, wont mean playing through the exact same experience again.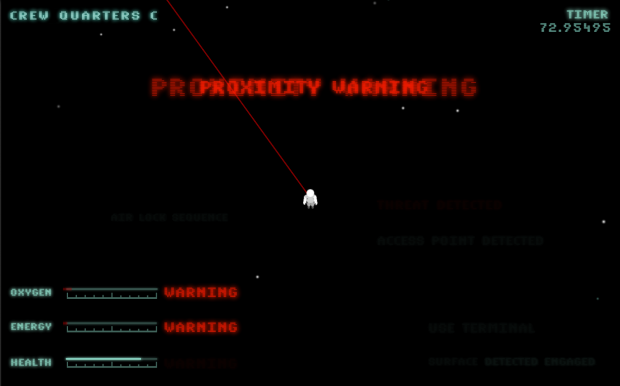 Development :
The game has a lot of its base mechanics already - Character Movement, Suit Vitals, Terminals (for refilling vitals), doors, airlocks, spawn points, saving and loading. Some of these mechanics are further in development than others and will be featured in more detail in future updates.
We are currently working on in-game footage for a teaser trailer as well as the level randomisation mentioned above.
Thanks again for visiting our indieDB page, we look forward to bringing you more information on Destination Earth soon!