Hello and welcome back to another Forgotten Hope 2 update.
Today we are showing off some playermodels. Eagle eyed viewers may have seen them already in our recent Dev Stream of Pegasus Bridge, but for those of you who missed it, they are of course the British Airbourne.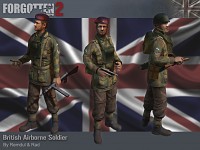 The first British airborne units were formed in 1940 at the request of Churchill, who was impressed by the success of German airborne operations in the Battle of France. The 1st Airborne Division was formed in 1941 and followed by the 6th in 1943. While the 1st Division fought in Italy and at Arhnem, it was the 6th Division that would land behind the beachheads on D-Day.
Perhaps the most visible difference between the airborne and the normal infantry was the Denison smock. This camouflaged jacket was intended to be worn over a parachutist's equipment to stop it snagging. Our Airborne models were modified from Rad's original African models by Remdul.
---
Our winners for this week's screenshot competition is Roughbeak. You can view the winning submission here.
We are now accepting entries for the week of May 25th. If you think you have the best FH2 screenshot, post them here.
---
That's all for this week, but be sure to come back next time for another update. Until then, feel free to visit our IRC channel, our public forums, and/or our Twitter and Facebook pages to discuss this update and other news.