Dead Synchronicity: Tomorrow Comes Today, the game we have been working on for so
long... is finally out!
The game is the first installment of the two-parts Dead Synchronicity story, and it was
published on April 10th on Steam, GOG, Humble Store, and other digital stores, for Windows, Mac and Linux.

Dead Synchronicity: Tomorrow Comes Today on Steam (10% off until April 17th)


Dead Synchronicity: Tomorrow Comes Today on GOG (10% off + set of wallpapers)
Let us celebrate the release with you with our new trailer, which we feel transmits the "mood" of the game in very accurate way.
We are very excited about the players and media early feedback. At the time, the game has a score of 81 on Metacritic, and 7.6 on the users side. Besides, there are plenty of positive votes both on Steam and GOG.
Back when we started the development, the most important thing for us was that players enjoyed our adventure and felt moved by the mature, dark story the game tells... and it feels like they are doing!
Plus... there are also retail editions of the game in specific territories like Germany and Spain. For "old school" players like us that's really cool! We used to buy video games on cassette tapes for our Spectrum and Amstrad, so seeing our own game on the mall's shelves is amazing.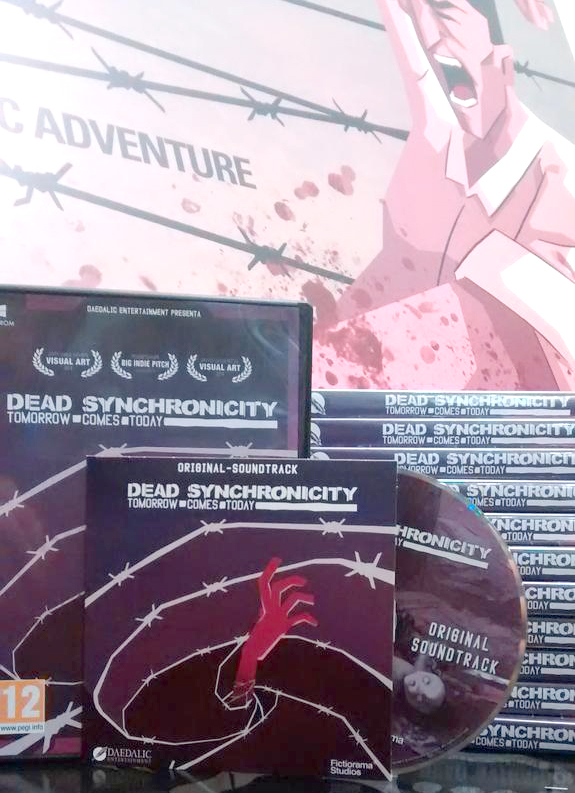 Now the game is out there... it's all yours! Thanks so much to all of you who's helped us with our first project!
Cheers,
Luis