Hi DCG users!
Version 3.5 is available for download now!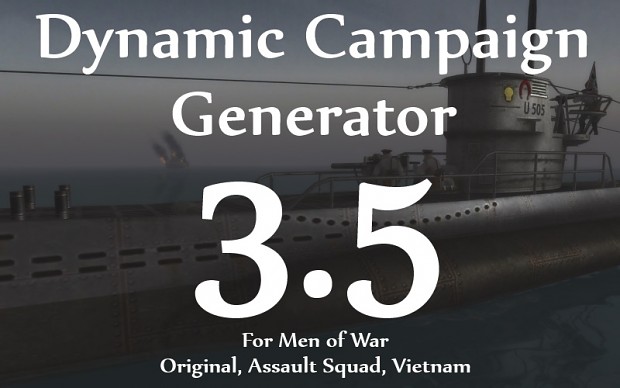 If you have problems downloading it, be aware that moddb was having trouble with GameFront's recent policy change in certain countries. [Update] In the comments section under each file, people have now posted the alternate moddb links.
Please note that the setup instructions have changed slightly. In particular, DCG now requires XNA 3.1 (instead of XNA 3.0, which Microsoft dropped the link for). The new link is in the readme.txt or setup.htm files included in the package. DCG works great in Windows 8, but may require an extra setup step of activating the .NET 3.5 framework. A link to the instructions for doing this is in the readme.txt or setup.htm files as well.
New features include the ability to give temporary orders to allied units when they are not engaged in combat, and new one-map operations that we call "transit missions" that you get when you switch regions (for example, if you change from North Africa to Western Europe). Please note that these missions which take place on ships or trains are new and are not as polished as the rest of DCG yet. We think they are fun and increase the sense of role-playing with your unit, but if you wish to "turn them off", you can do so by deleting the two files starting with "Transit" in the operations folder. Most other new features are listed in the readme.txt.
(If you get a U-Boat during a transit mission, note that you should never fire the torpedoes when moving!)
[Update] The Realism mod has been updated for DCG 3.5.
About a year and a half has passed since the last release, but we expect a shorter interval before the next one.
Have fun!
The DCG Team
[Update] I have replaced the main downloads to remove a menu music file.
[Update] The hotfix for Assault Squad ONLY has been re-uploaded with one more map fix included.
---
Most people are running DCG without trouble, but some users are asking for help with errors (which is good), but not giving us enough information to troubleshoot (which is not so good)... so I made a form below that you can fill out if you wish to report a problem which will help us respond more quickly.
Just copy the form below into your post and and fill it out, in addition to describing the problem:
1) Which version of DCG are you using (original, Assault Squad, or Vietnam)?
2) Which version of Windows are you using?
3) Where is your Men of War game installed (eg. C:\Games\1C Company\Men of War. Assault Squad)?
4) What were you doing when you encountered the error?
5) What is the text of the error message you see, if any?