D Series Off Road Simulation New Update!
D Series is an off road driving simulation with custom track editor built into the Steam Workshop. It was originally released in 2015 and completely rebuilt for 2017 with all new vehicles and a custom track editor. The simple in-game track editor will allow you to create custom Race Tracks, Rock Crawling Rubicons and Off Road Fun Parks in minutes and even share them on the Steam Workshop. So sit down, strap in and see if you have what it takes to tame these wild off road machines. Built for today's high tech Force Feedback steering systems and Available for Windows, Mac and Linux.

Visit D Series Steam Store: Goo.gl
Like us on Facebook: Goo.gl
Homepage: Devotid.com
Twitter: Twitter.com
devotid website: Devotid.com
Indie DB: Goo.gl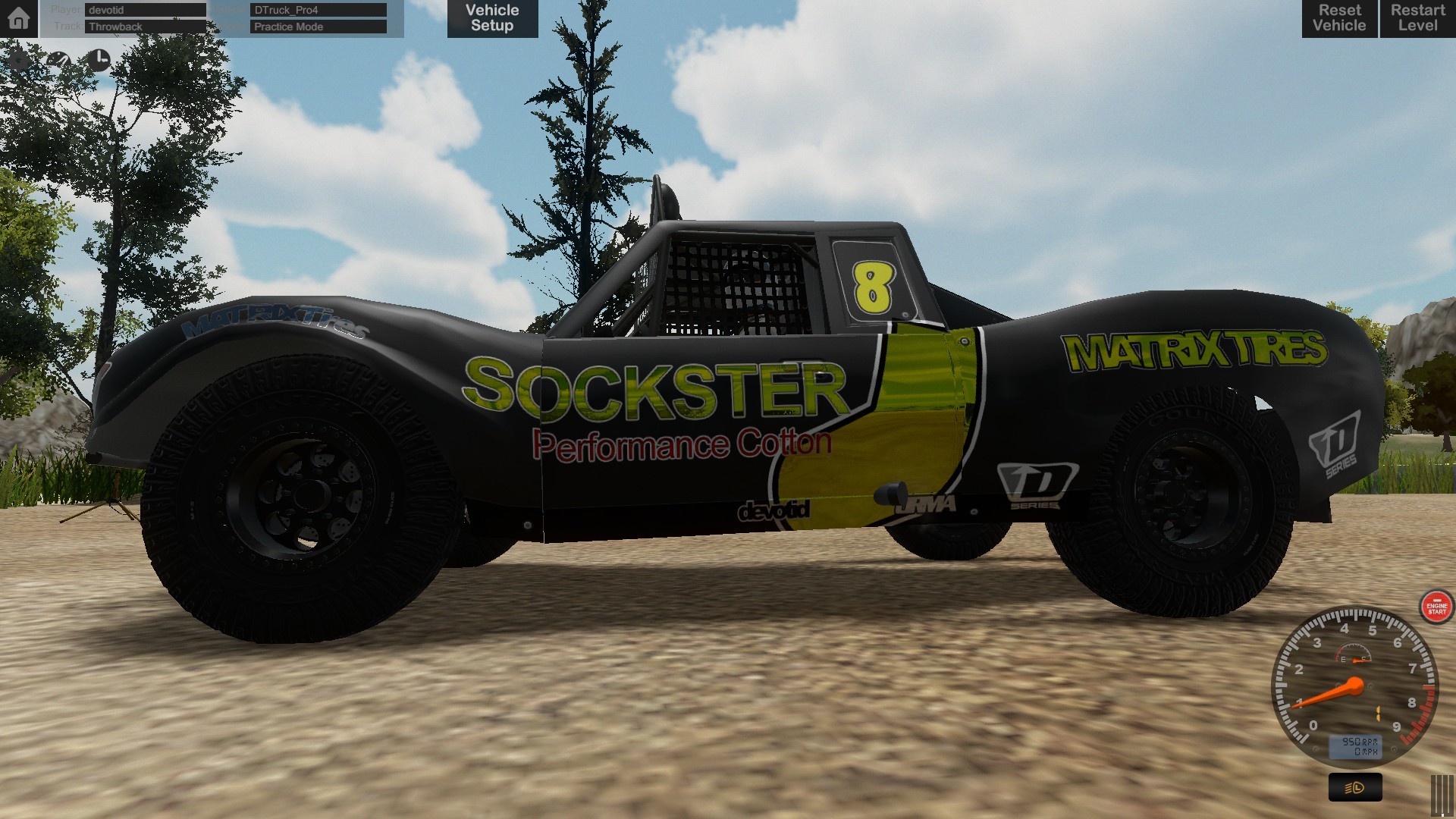 New Off Road Track Editor UNDO/REDO Buttons, Traction/Friction Levels, Camera Controls and Menu Updates
February 20th, 2017 Update

New Off Road Track Editor with new UNDO & REDO buttons, New Track Editor Camera controls and Menu updates.

I focused on making the track editor easier to use in this update. The UNDO and REDO buttons were something I should have had since day one. The ability to easily jump forward and backward in steps should make the creative process a little smoother and less stressful.

Thank you very much for the support. I look forward to seeing your creations in the D Series Track Map Workshop and trying them all out.

devotid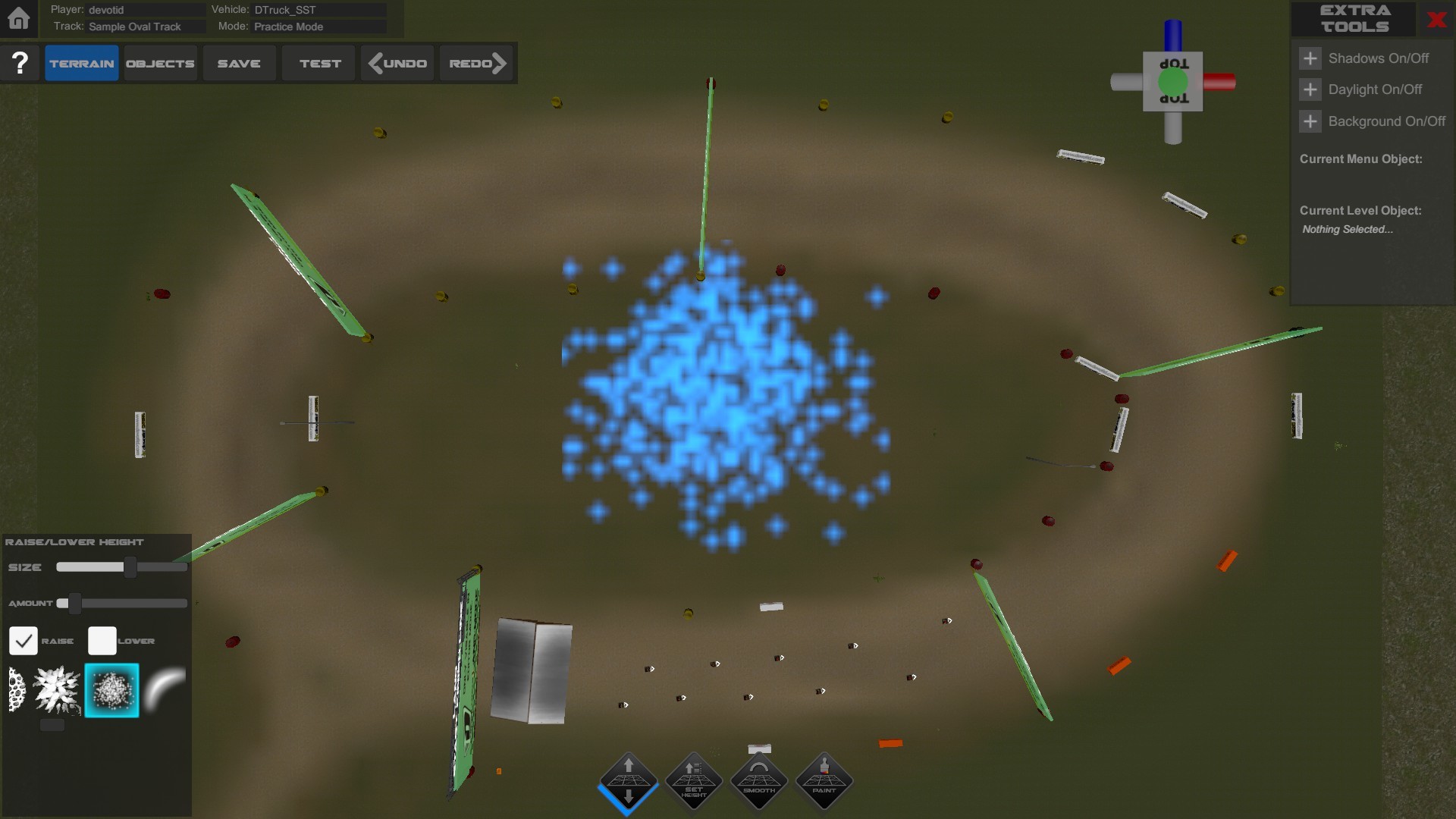 Track Editor Updates:
- Added a UNDO and REDO button in the Track Editor. This will remove the stress of messing up your creation and will give you the ability to be more creative.

- Added a Camera Axis "GIZMO" in the track editor screen to switch viewing angles. You can click on any axis on it and go to Top View, Side View...etc. This can be useful for overhead painting and viewing things when lining them up in rows or straight lines. Just click on any of its exposed axis to go to that camera angle.

- Rebuilt the Track Editors camera controller to be simpler to move around. You can now Right click and "move" the camera to look around. You can hold Alt to rotate the camera around an object or point in space. You can press the middle mouse button to Pan around. (Hold shift to 10x Pan speed). The center Mouse wheel is still zoom.

- Rebuilt the "Focus on object" feature to better center the camera and update the zoom as well. "F"Key by default. You can also zoom on the terrain when you dont have an in scene object selected by hitting the F Key. This is another way to jump around quickly in the scene.

- Added a "Find Object" button. Whatever object you have selected in the track editor menu it will find each instance of that and cycle through them. This will help you find objects in the map much easier. It can also be used for finding tough to see objects.

- Added a button in the Extra Tools menu that will Show or Hide the surrounding terrain so you can adjust the track to work better with the generic surrounding terrain.

- Fixed some small bugs that would move the camera around or turn on the layout Grid when typing in the Save Custom Track Menu.

- Added the Names, Traction Levels, Rolling Friction and the Static Friction to the Texture Images in the Track editor. This will make it easier to tell what textures do what and make it easier to choose the right texture for the job.