Crystal Grave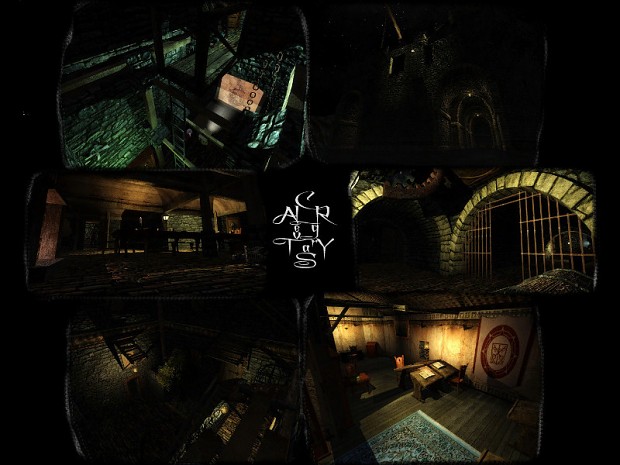 ERH+ originally released his mission "Kryształowy Grób" in his native Polish language. Those who ventured to try it were thrilled to find such an accomplished mission from outside the regular stable of authors. The arrival of this mission was amidst the turmoil that Tels had begun with the process to make The Dark Mod friendly to mufti-lingual support. It affirmed the value of having a good translation framework where converting missions to other languages benefits all involved.
Bikerdude, in his usual fashion, decided to evaluate the mission for possible optimizations and help out with the translation tasks. Now we are graced with a larger, more beautiful, and translated version which is quickly gaining accolades from mappers and players alike.
---
Intro:

"East of the Rahen Mountain, there is a swampy area, a
backwater of river Rahna. Approximately twenty years ago the Inventors
Guild began their effort to secure the rights to the land and presented
the construction projects of water dams and locks in endeavour to create
a water trails for flat-bottomed vessels.
The prospect of increased economic exchange between the plains and the
mountain settlements prevailed over the objections of displeased
neighbours and just five years later the water level in ponds allowed
for flow of barges.
Good mood of the local lord diminished though, as more and more crops
and farms disappeared under the water, wells began to stink, and
dysentery started to collect a heavy toll.
Guild excuses that thawing and hardship of communication with lock's
staff was to blame didn't resolve the crisis. What did, was a
compensation - a one-off shipment of nearly half a ton of rock crystals.
This aroused comments among people not normally interested in the
Inventors and their dealings.
People like me.
The trail leads to one of inaccessible facilities of the bulkhead
oversight in the network of ponds, where, the crystals are mined,
pre-processed and sorted out.
Several months later...
Crossing the flooded and deserted five furlongs in one-man boat was
risky enough, but I took my chances and tried to take the boat through
the lock, to be closer to the guardhouse. The bulkhead mechanism was too
complicated for one person to operate though.
Now I don't have the means to go back and water scattered my equipment
all over the pond. And with no boat the only way back is a walk along
the causeway towards the mountains, but for that I will need to get a
good supply of food and water, so not to loose my strength carrying the
loot."
---
Description:
Break in into castle infested by undead.
---
Known issues:
Low performance in few spots. Game sometimes freeze a bit in area around building.
---
Thanks:
TDM Team for great tool and their dedication in improving it.
Bikerdude for working out all bugs, optimisation, improving graphics and readables details.
Caer (from Polish Thief forum) for translating.
Testers: AluminumHaste, Baddcog, lowenz, nbohr1more, adriannn (PTF), Nivellen (PTF).
---
Other updates:
Old Habits and The Builder Roads
Powerhouse newcomer Obsttorte has released two excellent missions back to back. They are both well designed, visually appealing, and oozing with clever inspiration. Obsttorte's agility with Doom 3 scripting and his assistance with bug-fixing the Dark Radiant editor have landed him a Team Member role. We couldn't have been more fortunate to gain such a talented contributor.
---
Business as Usual v3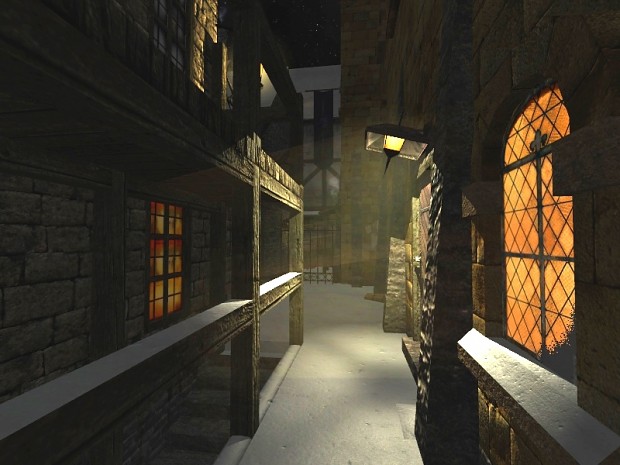 Bikerdude has been in the process of updating all his missions for 1.08. The first mission to go through this process was Business as Usual. He has transformed the mission into a winter theme and added winter touches learned and inspired by Grayman's "In the North". The mission is larger still than it's second iteration and features additional ambient music, expanded story details, improved AI and gameplay.
---