Creating the Battle Arena Base
Hi I'm Will Parker, one of the artists working on Creature Battle Lab. During my first month on CBL, I have worked on several areas including the battle arena theme sets, conducting stress tests and also working on the main battle arena. The arena is where the main battling takes place and it was my job to create the in game model.We decided that the battle arena would be loosely based on the shape of a gladiator coliseum.
So based of the concept work by Lawrence Williams, I set to work designing in such a way that the one model could have different themes. This battle arena base could then reflect the different character types and playing styles by adding extra models on top to fit the different themes.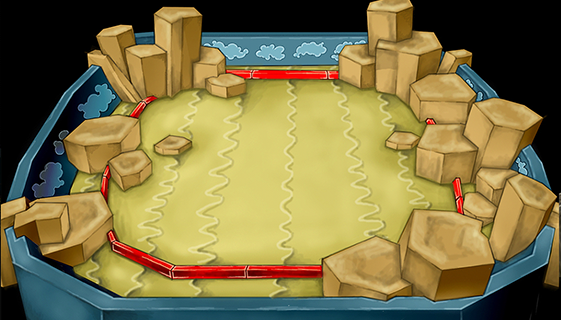 This is discussed briefly in an earlier blog from Lawrence Williams here
Battle Arena Base
After modelling the battle arena base I then moved to unwrapping the model and briefly moved onto modelling the theme sets that you can see decorating the arena in the concepts.
We wanted the player to have many different environments to battle their creature creations in and explore, so next time we will talk more specifically on the different themed sets and how they affect play for your battling creatures.