I've been hard at work lately, creating brand new units for you to wage war with in the Crazy Mod. This has led to the rise of three new GLA units, and one new GLA structure in record time, two days! First up is the GLA Demo Duster, for the Demolitions General: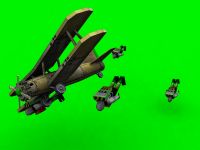 Carrying four terrorists under its wings, the Demo Duster carpet bombs enemy soldiers with its high explosive payload. It also features strong armor, at the expense of speed. Next up is the GLA Airfield, for all GLA Factions: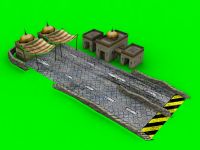 In order to build air units, you need an Airfield. That is exactly why this has been added to the Crazy Mod, in order to give the GLA a place to construct its air armadas. Original model by TheHonestyFishZ. Next up is the Demo Double Decker, for the Demolitions General: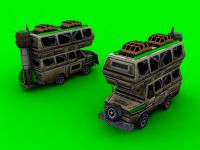 The Demo Double Decker is stronger than the original, and costs $200 more. However, it has gained the ability to deploy demo traps, via that mini Scud missile launcher on the back. It can deploy one once every 25 seconds. Saving the best for last, here is the Demolition General's Super Unit, the Demo Ballista: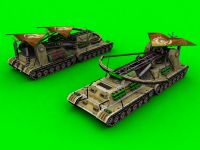 A new method of deploying Terrorists onto the battlefield, the Demo Ballista fires them into the skies via a propeller-powered hang glider. These gliders allow them to home in on any target, infantry or vehicle, and destroy it with their dynamite. Costs $3000 and has a build limit of one.
Stay tuned for more updates,
-Jordan