I have to apologize for being inactive so long. I was getting caught up in other activities, such as exams, getting a learner's permit, learning how to drive a manual transmission, hanging out with friends, go-karting, and other activities.
But, I've finally gotten back into modding Zero Hour again, and I have two new units rendered. The first is the GLA Bendy Battle Bus: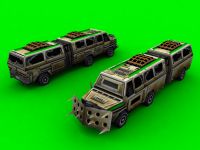 The Bendy Battle Bus is a replacement for the Battle Bus for standard GLA players, which can hold 10 soldiers inside. It is more armored than a normal Battle Bus, but costs a little more, and needs a bit more space to turn.
The other, and a bit more exciting new unit is the GLA Stalker Tank, for the Stealth General: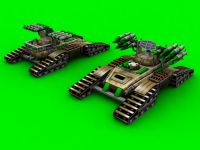 The Stalker Tank is the Stealth General's super unit, capable of barraging enemies with eight highly explosive rockets, or up to 12 once fully salvaged. It also can crush enemy units beneath its treads. Like all super units, it costs $3000 and has a build limit of one. The original model was made by Stalker, modified by me.
By the way, this mod's profile now has its own small forum. You can post any ideas or suggestions you have for the mod there. Click here.
Stay tuned for more updates,
-Jordan