We have released the Cookie Apocalypse Open Beta!!! Thanks for all the Support of the Team. We have been working countless nights for the past 2 weeks with Unity to put all the core features in the game. Basically at this stage of the beta we have most of the Core Features that will be in the game, 5 weapons, and one enemy. In the next update to the Beta we will be having new textures, more sound effects, and more features. I would like to personally thank the entire team for all their hard work. We hope you like the game and give it a good rating on our page. The more good ratings we get the more we are excited to work on the game. So go give us some good ratings.
Now I would like to talk about what will be in the Full Game. We will have multiple vehicles that you get for having large numbers of kills, we will have music, we will have proper textures, more enemies, we will also have one special ability that we will talk about later, and even more weapons. Yes that was a long list, but we have great ambitions for the game. At this point we might decide to give out the full game for free and you can buy map packs for a very low price of about a dollar a map as we create them.
We also would like anyone who likes the game and has a twitter account to please follow our twitter. We update that more often than we do this site so it would be greatly appreciated. Come on all you have to do is click the button below.

You may want to know what exactly your getting into by downloading the beta. Here is a few sample photos of what there is in the beta: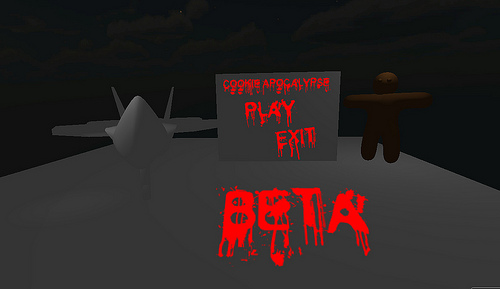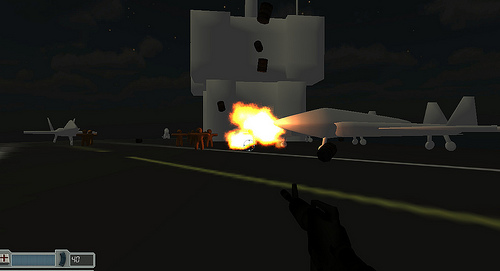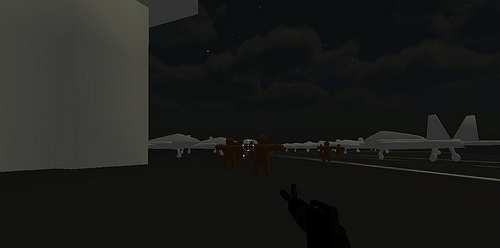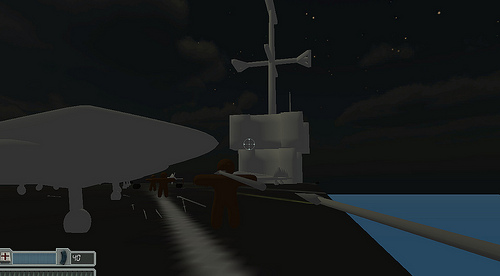 So now its time. Now its time for you to go download the Beta. Most of the team is using Mac so we have to release that version. But we are not prejudice against Windows so their is also a version for you. So go download it.
Cookie Apocalypse Mac Version
Cookie Apocalypse Windows Version
For all the people who like our Dev Bugs. Here is episode 2. We seem to be killing ourselves quite a bit in this one.
Well its time for me to sign off, now go download the beta. For all who think this idea is insane for a game i have but one thing to say to you: "Insanity is relative. It depends on who has who locked in what cage." -Ray Bradbury