Hey
Contest No3. The New Splash Screen.
Yes another SFAW contest. For those who dont know, a Splash Screen is the first screen that opens when the mod starts. Right now its this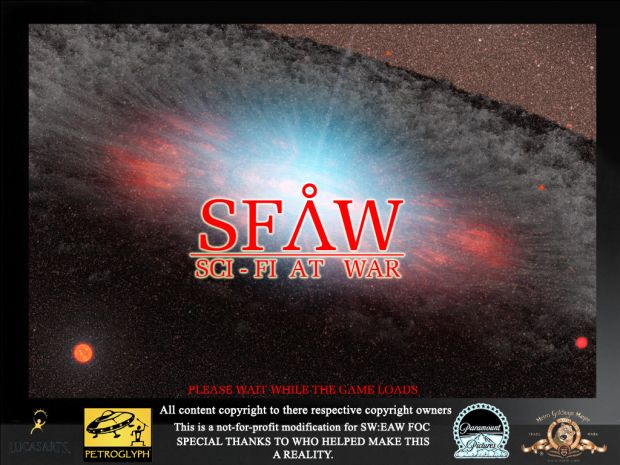 Dont worry this ones fairly easy all you need is an image editing program like GIMP and your good to go.
Rules
1 - Most importantly the image must be a minimum of 800x600 (preferably 1280x800). It has to be the same size as a screen resolution. You can find these sizes by going to the video settings in the game. You will see number1 x number2. Thats the width x hight of the window. The image needs to beo ne of those or itll be distroted and look horible.
2- You need to include the SFAW Logo somewhere im the image (preferably near the middle, so people know what they are playing)
3 - You need to include the logos for Lucasarts, Petroglph, Paramount, Columbia Tristar, MGM and Universal.
4 - You must include a disclaimer, similar in content to the one in the above image. basically saying
"All content copyright to there respective copyright owners
This is a not-for-profit modification of Star Wars: Empire At War - Fore of Corruption
Special thanks to all those who helped me make this a reality"
5 - Must also include a "Please wait, mod loading" notice somewhere. It doesn't have to be to big, but noticable enough.
6 - You CANNOT use screen shots from the orignal shows or movies. I cant emphisise this enough. Screen shots of the mod is ok, just not stuff from the shows.
To submit your image just post a link in the comments, and ill add it below.
Entries close on Tuesday the 8th of June. Ill make a list of the most popular and then do a general vote.
Winning entry will be made into the new Splash for the mod, and that person will be given internal access.
Finally, all logos can be downloaded from here - Gamefront.com
Good luck to all, and if i remember sometihng i forgot to say here ill let u know.
ENTRY LINKS
ODST_General - I758.photobucket.com
jernex65 - Flickr.com