Conratulations ODST General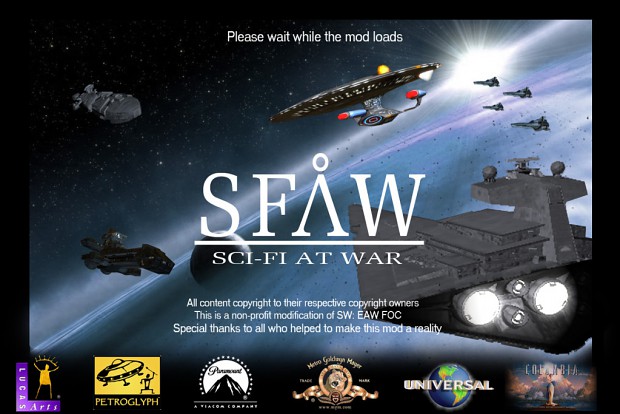 This is the winning image by about 5 votes or something, last i looked. It was a close race, but we all knew either no1 or no3 was going to win it. Ive actually got a confession to make. The entry by McgGyver, was actually by me lol. I just wanted to cover that up until now so that people weren't biased lol.
But anyway this is the new SFW splash screen for the next version of the mod. Expect a PM ODST, ur in lol
Moving on
This weel i promised something big. Something not related to this contest...
...and that thing is the final reveal of the final BSG faction...
Yes i know, its not as big as i made it out to be. Or at least thats how it seems. But you will not be saying that once you've red this whole thing. So here we go. Week one of the BSG reveal.
BSG Faction
Light Fighter - Viper 2 / Old Cylon Raider
Heavy Fighter - Viper 7 / New Raider
Light Bomber - Raptor Bomber
Heavy Bomber - Heavy Raider
Tier 1 - Cygnus Class
Tier 2 - Tiger Class
Tier 3 - Max Class
Tier 4 - Talos Class
Tier 4s - Defender Class
Tier 5 - Minerva Class
Tier 6 - Attackstar
Tier 7 - Valkyrie
Tier 8 - Avark
Tier 8s - Columbia Class Battlestar
Tier 9 - Bezerk
Tier 10 - Hades Class Basestar
Tier 11 - Mercury Class Battlestar
Tier 12 - New Basestar
Hero Tier 0 - Laura Roslin - Faction Leader
Hero Tier 1 - Starbuck - Blackbird
Hero Tier 2 - Scar - New Raider
Hero Tier 3 - Apollo - Cygnus Class
Hero Tier 4 - Kendra - Valkyrie Class
Hero Tier 5 - Adama - Columbia Class
Hero Tier 6 - Cain - Mercury Class
Hero Tier 7 - Joohn - New Basestar
Now some of those you wont know.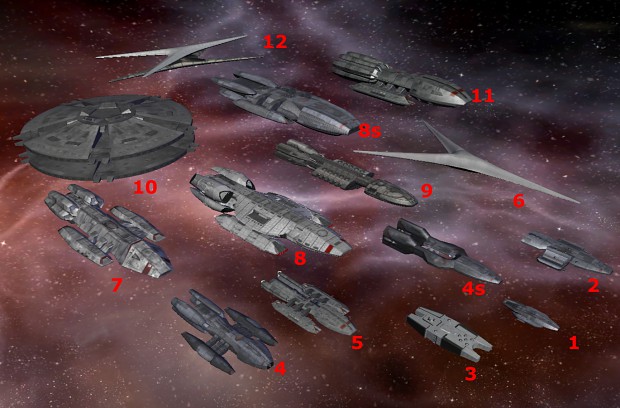 Ok, sorry for the delay with adding these details. But its more to do with the fact that my keyboard semi died when typing out the main news and i had to get a new one in order to reslove that issue.
Anyway there are three new BSG units in the above list, Number 5, 6 and 8.
Number 5 is the Minerva Class - In Fannon (fan canon) its sort of like Pegasus cross Galactica. Its meant to be around the size of the Valkyrie in this image 7, and Valkyrie is meant to be smaller. But since theres no official scale for those ship i just used the hanger enteries for scale.
The details in the mod read "The Minerva class is a small destroyer class battlestar. It is designed to replace the old Talos class. It has more superior firepower and is smaller. It also has two twin hangers, allowing for more Viper support, up to four squads at a time. Due to its size it is also crewed by less people. Meaning more relative room for internal Viper hangers."
So thats the roll i gave it. Its outside fannon i know, but im sure youll get over it once u c it ingame and kicking butt.
Number 6 is the Cylon Attackstar - Basically its jsut the top half a cylon basestar. It has only about a half dozen missile launchers and hold two cylon raider squads. I needed a mid-range ship, and since the cylon ships are few and far between i made this vairance of the basestar to fill that gap.
The details in the mod read "Attackstars are support ships for basestars. The Attackstar might be only half the size of a Basestar, but it still has the capacity to fire large numbers of missiles. They have one small hanger type area that hold two squads of raiders."
Number 8 is the Avark Class - Basically i was planning on taking out the old Columbia class. Basically because Galacticas meant to be the last one as all the older ones have been decomisioned or destroyed (i know theres on at scorpia at the time of its destruction, but still...). In the end the columbia as well as the defender were put into the supergate, as i was planning on putting some more cylon units in there but never found any cool ones. So the the spot opened up for its replacment, the Avark Class. The think i like about the avark is that it has the cool turtle shell like plateing on its back allowing for more firepower, while still defending the flight pods.
The details for it read "Introduced as a suppliment to The Valkyrie Class, and designed to replace the aging Columbia Class, The Arvak Class is larger and has a large shield type plate located on its back designed to protect the flight pods from damamge. "
So thats the details on those ships and the reasons for placing them where they are...
More to come next week...
Spino