List of weapons so far:
Sweatcannon
Rusty Revolver
Anicent Ripper
19th Century Railgun
Tar Rifle
Minicannon
Rifle
Minigun
The last two weapons... have been inspired by the Unreal Tournament mod Food Fight. They are the Peanut Gun and the Toastantor.
The Peanut Gun is a machine gun which fires Peanuts at high speeds and the Toastantor uses bread as explosive ammo. I don't like the idea that it uses just bread, maybe mouldy bread since it would be a genius reason to make it be placed into a gun.
The Toastnator is a great edition I think. It speaks out for the Rocket Launcher in the original Unreal Gold line up. Instead of the infamous six rockets being loaded, it will only launch up to two but would be a bit more powerful but that's because I want the backwards kind of thinking on the weapons I've designed. It also allow me to tweak the gameplay during matches while keeping trying to keep an Unreal Gold feel to it. Also what's great about the weapon is I had to add some code to make the player respond to when the Toastnastor will reload if it has fired out one of two weapons. I just need to sort the animations out because there's noticeable flaws at the moment, as seen in the video.
Geometry wise, they aren't the original style from Food Fight because I would like them to be my own but after I release my mod, I will try to push forward that there should be a Food Fight release for Unreal Gold if that's okay with the original creator and start making the weapons for that and tweak some of the design elements, so I'm in talk with the original creator how he wants his design to be done. That's coming soon.
I wouldn't exactly say I ran out of ideas. I think because I had that time and skill to make the weapons for a game that very primitive in it's nature and I can do anything with it and I'm pursuing so in a business sense, I would cross the line if I just abandoned what I've left here after releasing a mod but then Fight Food for UT is close to what I'm going for with this release. If you would want to see the original weapons designs and you have a copy of Unreal Tournament, which I'm not going to post a video off, you can download the mod from the original page: Moddb.com
We live in a fair world but I actually think because no one has make a mod in a primate form like myself and there's something like Food Fight should could have an expansion, I think I'm getting where I would like, it would be rather greedy if I did complete what I wanted and simply move on and not give that skill around. Besides I personality like the first generation Unreal games. I see them like an entirely unique art form with how the engine is rendered and I want more. That's the point of my project. It's meant to show that there's so much life in the First generation Unreal Engine.
... before I ditch and run away from this website, I think if I could make a mod featuring set of weapons that completely transforms the gameplay in Unreal Gold, then why not do that again but because I've done my work and there's (unlimited) space to make another set and you all like to download the files and try them out and get something more then just playing them (well I have), then it's worth spending my time doing another project like this nature.
Food Fight was released in 2015. It is a mod for Unreal Tournament however I think the mod could be a bit better but at least they managed to make 10 completely different weapons that changes Unreal Tournament's gameplay. Also idea wise, it is what I am looking for. I like that backwards thought when making a mod.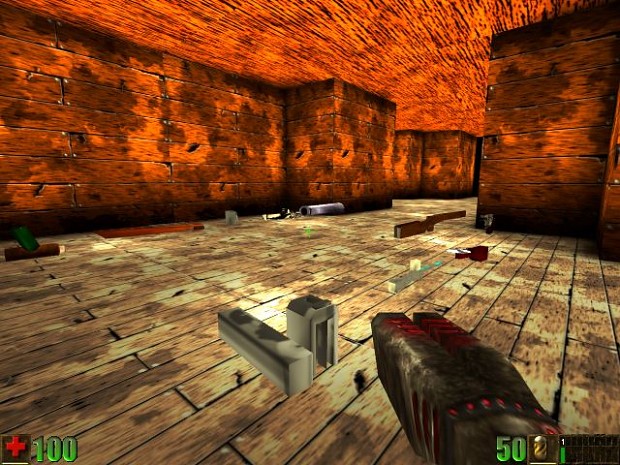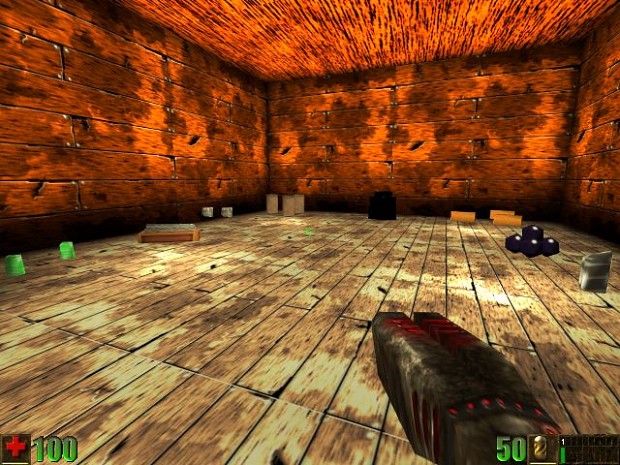 Also here's what the complete set of weapons and ammo for those weapons look like. It looks like a collection and I like it. So I'm making my way to get them finished. More still to come later. Very slow maybe but I'm just a one man army at the moment thinking about what should be made and released but it feel soooo great seeing them all in easy, now it's the easy part, animating and texturing them but it takes very long. Even when I tried to find quick ways, it's tough.
... you could thank Food Fight's release for keeping me around to make more stuff in the future because if Food Fight didn't get released, I would have just ditched this community and quickly moved on my other project which I'm trying to get onto Steam.
There's no limit here on how many mods I could be made and upload here on ModDB.com and no resistance (unlike Steam has with Steam Direct making people pay to get onto the marketplace). At least Moddb.com actually gives me the kind of space I want to improve mods and I have reacted to news in the past that also me to improve quality of my mods. Then I wonder why can't I get these weapons in the original Unreal Gold game to give someone a completely different play-through? I hadn't thought about it until I made these weapons and maybe I should.
Also, I've released some files of the models on the geometries, if anyone wants to see them in action in Unreal Gold before it's release, so feel free to download: