Good afternoon everyone!
I bring to you today news about our new combat changes. I know a lot of you have heard that 2.3 will sport a new system of attack and defense and have been itching to know how it will work!
One of the major changes to 2.3 combat is the blocking system. In 2.2, you select one of four directions to block and if the opponent attacks in the corresponding direction you'll be able to perfect parry and counter-attack. This has become quite an issue, as there are only a few players who can perform these blocks on a consistent basis, making it aggravating for the rest!
The new system is similar in the fact that there are still four directions of block and attack, but in 2.3 the block direction is chosen based on the attack direction of your nearest opponent. In other words, if a player is coming at you with an overhead chop and you hold the block button, your weapon will block in the overhead position.
I know what some of you are thinking already, but let me spell out what this does for the average player. When you're not confined to choosing the direction of attack yourself, based on movement, it opens up a much broader range of motion for defense. Tight quarters near gaping holes are no longer death traps for the player trying to block in the direction of the hole! The new system is also easier to pick up for the beginner, but still leaves enough room for mastery (believe me, some of the testers still kick my butt!)
Now, to counter-balance the increase in defensive strategy that the new blocking system allows for, we've added an incentive to those who choose to go on the offense. You are all familiar with the charge bar for weapons and how it increases damage the more charged the weapon is. Well in 2.3, a fully charged attack will also be able to go through a perfect block - eliminating the perfect parry, causing some damage and pushing the opponent back a step. The charge will not remain full for very long, there will be only a window of opportunity. This gives each weapon a timing to master, as each one has different attack speeds. Players who excel in the game right now will still be able to master techniques, but without the utter annihilation of newer players that is the current system!
We've also eliminated the 2 second stuns from being parried. We found them annoying and reduced them down to a small effect to show you've been parried. Blocking in the wrong direction has a chance to cause a small stun, though these stuns are nowhere near as annoying as the ones in 2.2.
In other news, it's my pleasure to introduce you guys to a new Pirate-themed energy drink called RootJack. RootJack has all the kick you need from an energy drink, plus the awesomeness that is Orange flavored Root-Beer. Not only that, but it's sporting one of the coolest logos on its back label!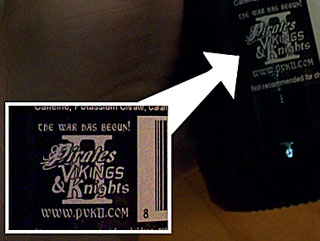 So if ye' be dyin' of the scurvy, head on over to RootJack.com and find out how to get yourself some of this tasty beverage.
We're also currently looking for more artists to fill out our ranks and help us get updates out the door. Check out our Recruitment Page to see if you've got the skills and interest that we're looking for. Whether you're looking for a great addition to your resume, or have a passion for making games and want your work to be seen by thousands, now's a great time to get your foot in the door as we'll be releasing with Steamworks come 2.3!
That's all for now. Join us next time where we'll shed some light on other combat changes - Shield Bashing and Blocking, the mechanics of the Spear and Javelin and some new moves given to the Skirmisher! You don't want to miss it so be sure to check our forums and site regularly!