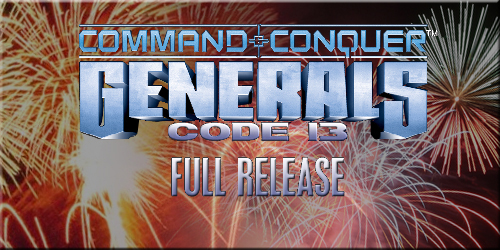 Welcome back General!
The time has finally arrived, the Full release of Code 13 is ready for download!
New Toys, General Powers, Maps and World Builder Objects are waiting for you to be explored, used and blown up! This is a good way to start the new Year with a big blast!
You can download the Mod from MODDB
or alternatively from here: Download from MegaUpload
Like it has been said before, this is the final release of Code 13. The Mod has come a long way and was started many years ago, initially it was ment to be a non-public C&C Mod. But thanks to the fans and alot of People from the nice C&C Community, Code 13 has become so much more.
So at this point I would like to thank everyone that was involved with the Mod's Development.
Thank you people!
Alpha Zerox Headquarters wishes everyone out there a Happy New Year.
Live long General. May you be victorious on the battlefield.