Hi all!
Finally there is a news post after quite a long pause. The focus of this post is concentrated almost entirely onto the new weapon - the Gehehr 41(W). Secondly, there is also some development commentary info.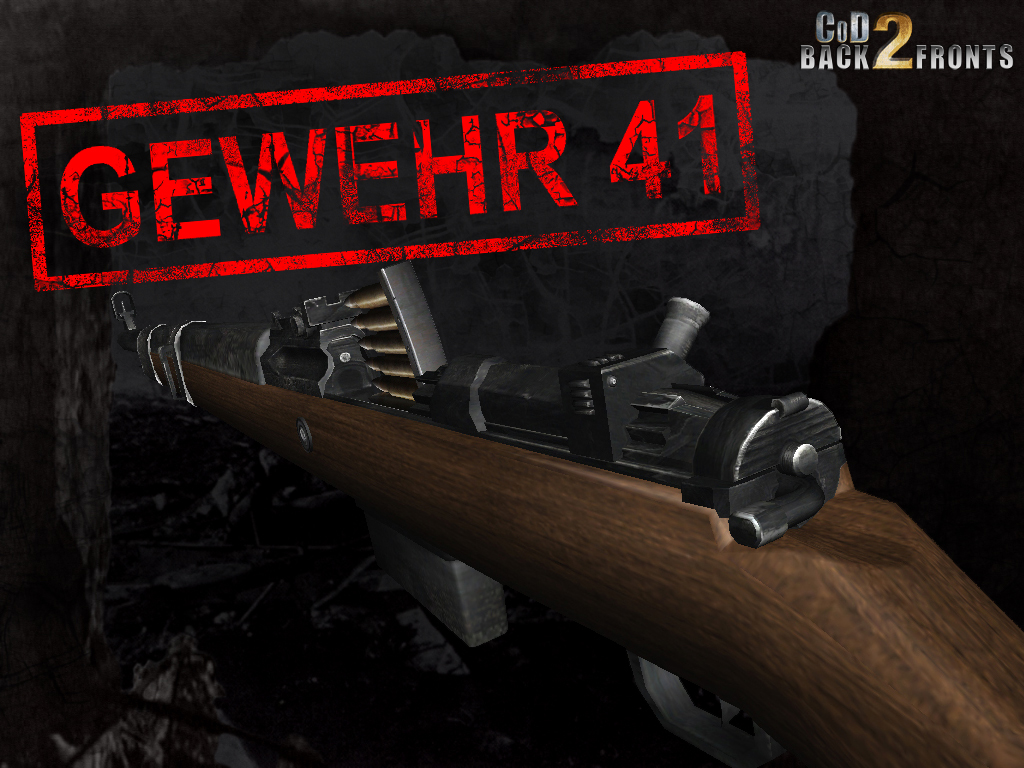 Modelling & animation
Gewehr 41(W)
I must admit that this weapon was in fact created just by a coincidence. I had a talk with a friend of mine (Perun58) about creating a G-41(W) for CoD2. The initial signal was like - how about combining the K98k and G-43 into a single model to make it look like G-41(W). The idea seem pretty great so I decided to put it into life.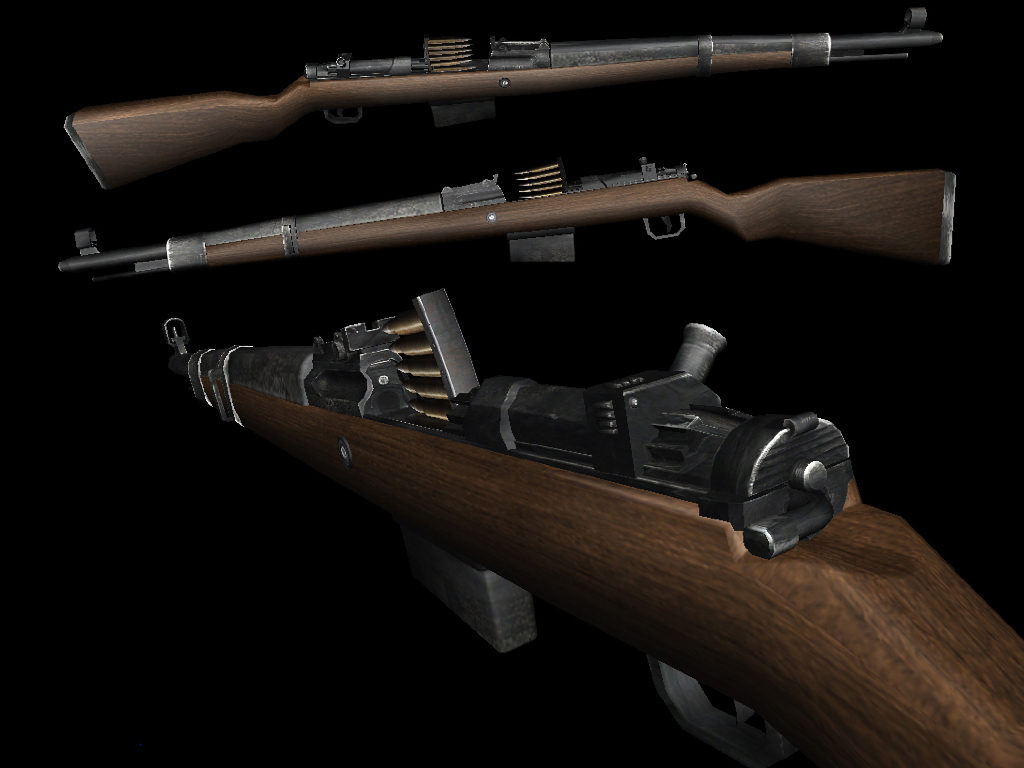 Anyway, here is some construction info: the wood and forearm are patterned over the K98k, the receiver, bolt, sights, butt end and trigger are patterned over the G-43. The internal magazine, strippers and ammo are brand new. Whole model uses the G-43 texture. The built time for the model was around 3days. The animation is all new and custom. The idea for it was taken from Lee-Enfield because it is also reloaded twice with a 5-rounder stripper. The built time for the animation was so far circa 5days.
Finished animations: idle, ads_up, ads_down, fire, lastshot, ads_fire, ads_lastshot, putaway, putaway_fast, pullout, pullout_fast, reload, reload_start, reload_loop, reload_end, melee.
Unfinished animations: partial reload, bayonet.
When I was making this stuff, I kept in mind maximal realism and sense for detail. So as a result when operating this gun, you can see the cycle of a round during firing, lastshot and reloading (see the videos or screnshots). For example, when a shot is fired - the spent round is ejected by the bolt outside of the gun, a new round pops out from the magazine and with the bolt closing it is inserted into the barrel. Same thing with reloading. In empty reload - when the last round is fired, it is then ejected from the gun and the magazine is empty, player then grabs 2 full stripper clips into his right hand, he inserts the first one, then he inserts the second one (the clip remains visible in the magazine), after the bolt is released it is clearly visible how the first new round comes from the magazine into the barrel.
Weapon appearance
Since quite a lot of new weapons were added, there are some changes in the weapon appearance throughout the game:
G-41(W) replaces the G-43 in Africa and Russia for historical accuracy (all missions are before or at the break of year 1942/43 so no G-43s were available at this time). G-41(W) can be additionally found also in Normandy.
G-43 (plus its scoped variant) can be found only in Normandy.
MP-44 (plus its scoped variant) can be found only in Normandy.
MP-38 replaces the MP-40 in Africa and Russia because it was much more common in these areas than the later manufactured MP-40. MP-38 is not present in Normandy.
MP-40 can be found only in Normandy.
Stengun and its silenced version can be found both in Africa and Normandy.
Stengun latewar is present only in Normandy.
Panzerschreck early replaces the latewar Panzerschreck in Africa and Russia for historical accuracy. Panzerschreck early can be additionally found also in Normandy. It is sometimes carried by Allies too (temporary solution until PTRS-41 is ready).
Panzerschreck late can be found only in Normandy.
Thompson (20rounder) can be found both in British and American hands in Africa and/or Normandy.
Thompson latewar (30rounder) can be found only in American hands in Normandy.
Panzerfaust can be found only in Normandy, sometimes even in Allied hands (temporary solution until Bazooka is ready).
Springfields (unscoped/scoped), Colt, M1 Garand (unscoped/scoped), BARs, Carbines and Greasegun are present in all American missions (so in Normandy).
K98k (plus its scoped version) and the Luger are present in almost all missions.
Lee-Enfield (unscoped/scoped ), Webley and Brengun are present in all British missions (so Africa and Normandy).
Mosin-Nagant (plus its scoped version), TT-33, SVT-40 (plus its scoped variant) and PPSh-41 can be found in all Russian missions.
The plan for the AVT-40 is to be included in all Russian missions except from the Moscow because AVT-40 was built in 1942 and Moscow mission is in 1941 (all other Russian missions are in 1942 or after).
The plan for the PPS-42 and PPS-43 is unclear yet. Historicaly these weapons were never used in Moscow or Stalingrad (so they shouldn't be in the SP campaign at all). I will think about them.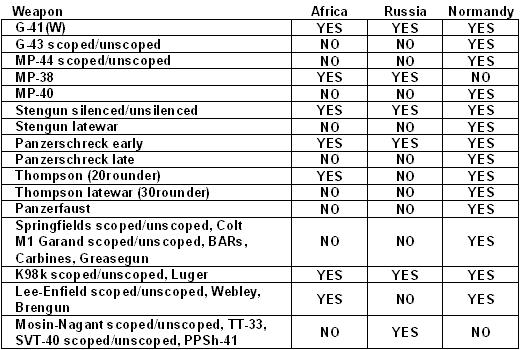 ---
Older development commentaries
Melee weapons
This is still mostly a WIP. There are 5 bayonet models - one for Italians (Carcano M91 bayonet), Germans (K98k SG84/98 bayonet), Russians (Mosin-Nagant M1891/30 bayonet), British (Lee-Enfield No4 bayonet) and Americans (Springfield M1 bayonet). Firearms that are going to be equipped with bayonets are these - Carcano, unscoped K98k, unscoped Mosin-Nagant, unscoped Lee-Enfield, both unscoped Springfields and Gewehr 41(W). The G-41(W) will be the only semi-automatic rifle that will be equipped with a bayonet (to compensate the slow reload).
Second group of melee weapons are knives. There will be 4 knife models - one for Germans (SG42 knife), Russians (SVT40 knife), British (Fairbairn-Sykes dagger) and Americans (M3 knife). Knives will be used as a melee attack with scoped weapons. I decided to do this because it will add a variety to the mod and also it makes the whole thing realistic (snipers do not bash with their precise rifles because they would harm the scope).
From left to right:
Italian bayonet, German bayonet, American bayonet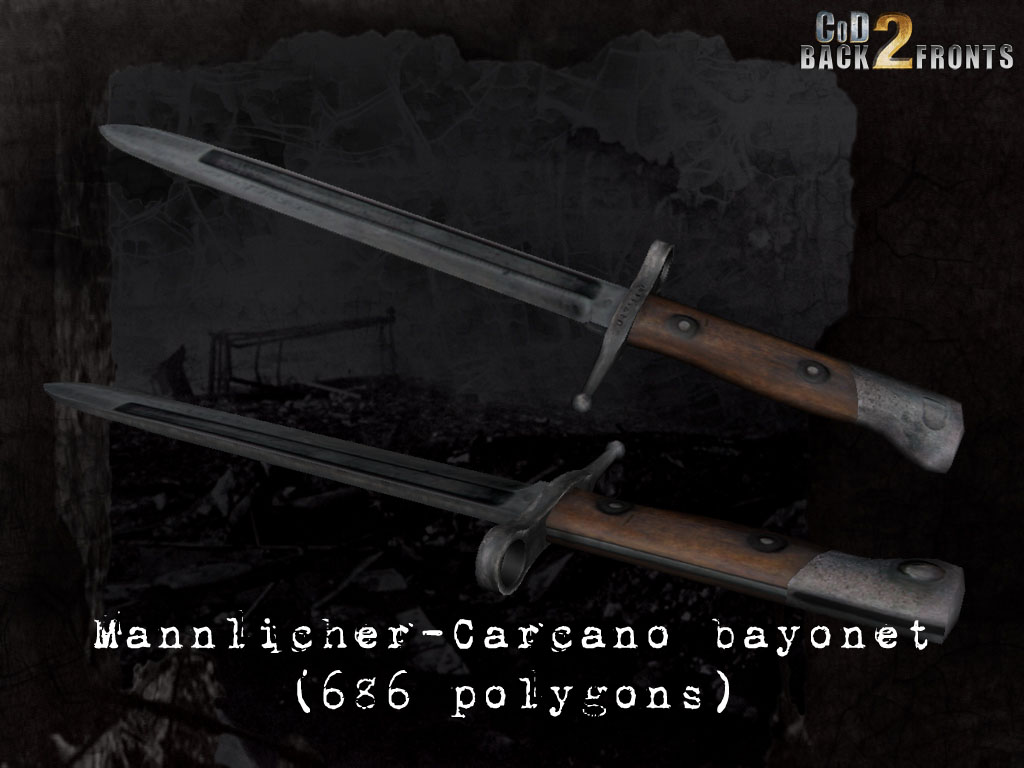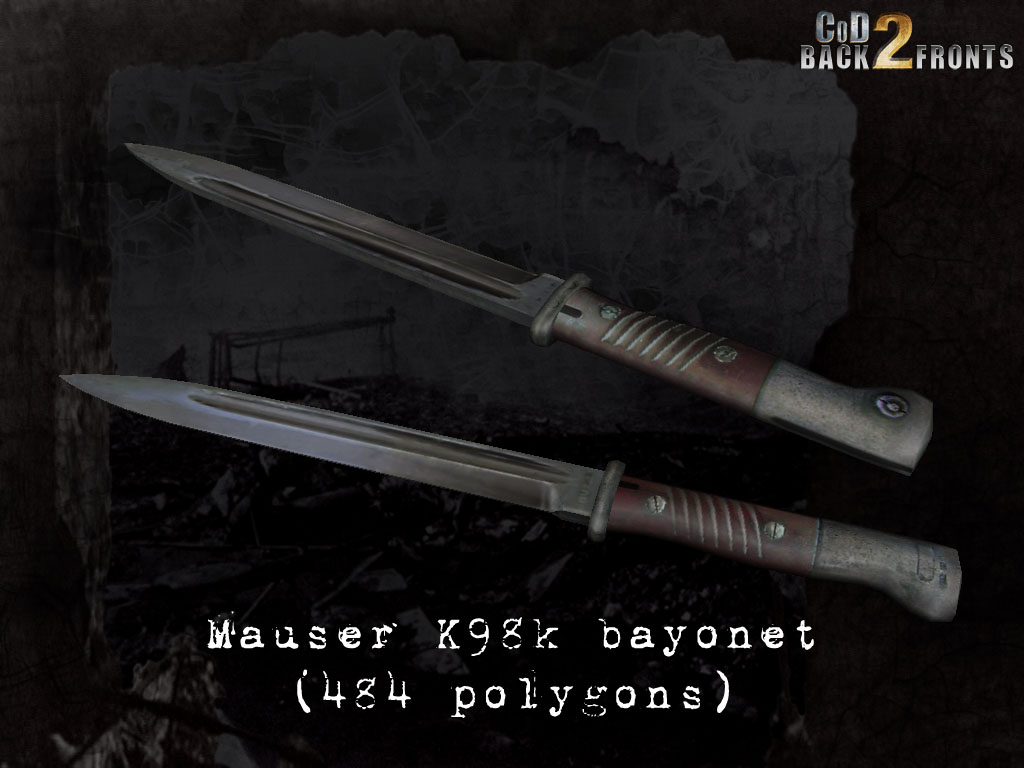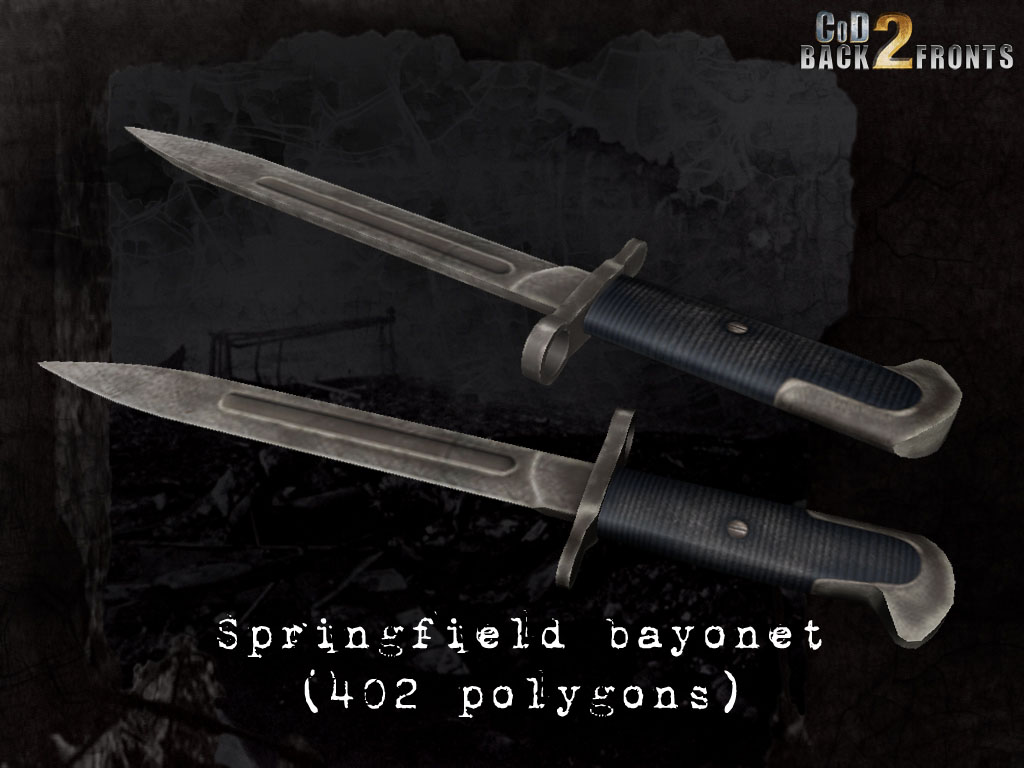 From left to right:
British bayonet, Russian bayonet, American knife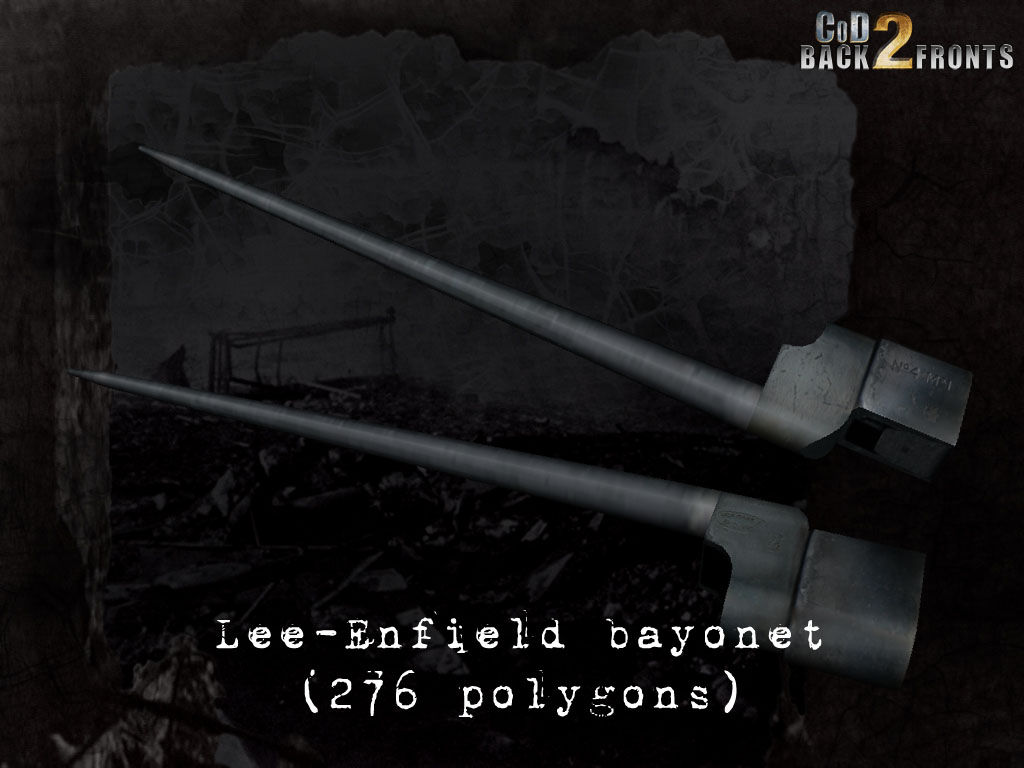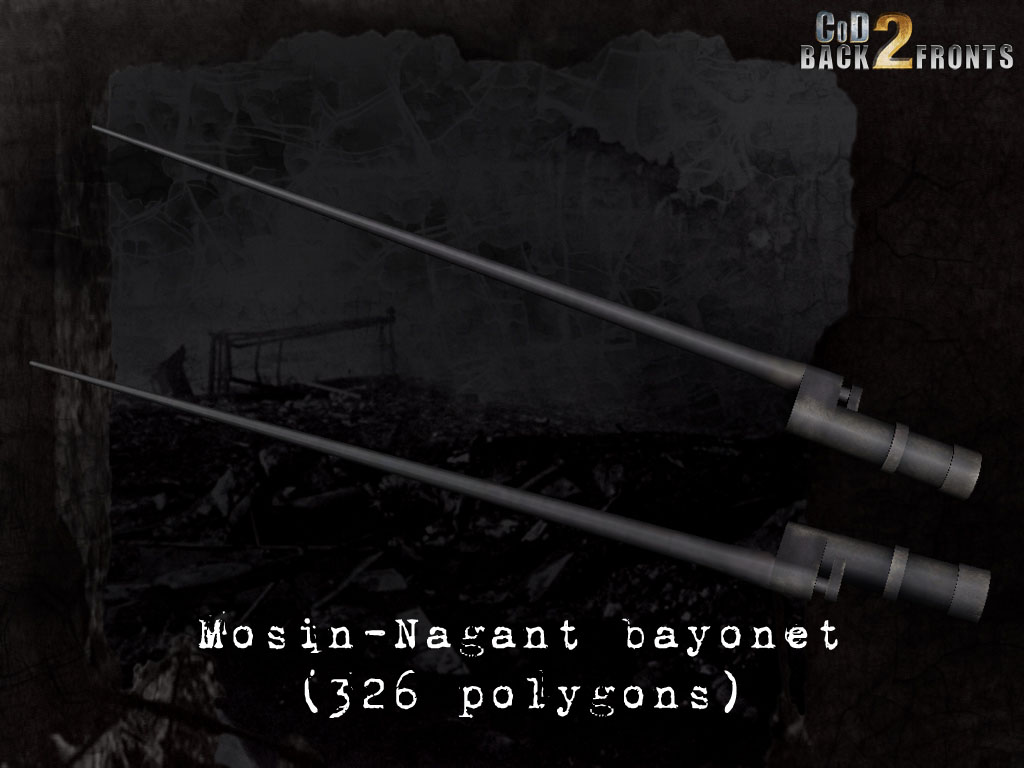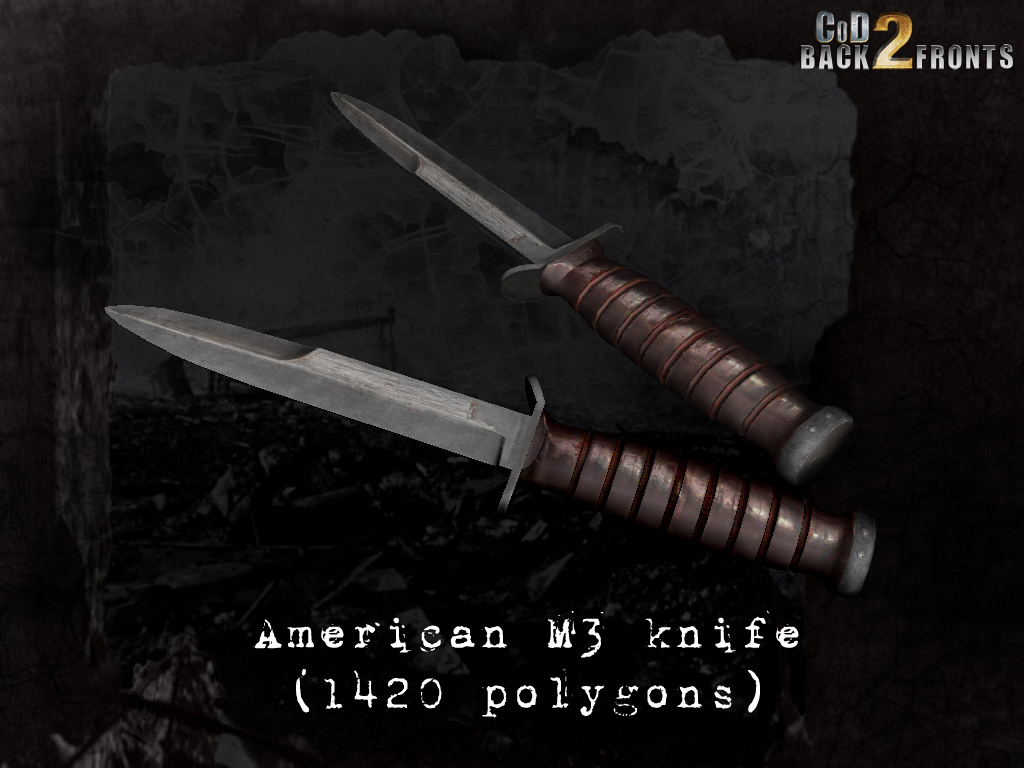 Unscoped Springfield


The unscoped Springfield comes into the mod in 2 different versions - the early 1903 and the late 1903A3 one. You can tell them apart easily by the sight (see pictures below). Other than that, there are no differences between them. They operate in the same matter as the standard German K98k bolt action. It is accurate and deadly. It is an excellent choice (along with the K98k) for snipers who can't find a suitable scoped weapon or don't want a scoped weapon. You can encounter this rifle in every American mission.

Graphical reworks
This came along with the optimalization. Many older models and other graphic elements in the mod were reworked either to better look or to more historical accuracy. To name few changes - all scoped rifles have accurate historical reticles (btw, shooting with them is much easier than with all the previous versions), MP-40 and MP-38 can be clearly told apart, added MP-41, scoped Springfield reworked and equipped with correct scope and so on

Optimalization
I haven't yet said anything about the optimalization. The point of it was to create models in 2, 3 or 4 levels of detail (LOD). The highest detail is rendered when player stands close to the model. The lowest detail is rendered when player is far away. This increases performance quite rapidly. In the future such optimalization is planned for SFX as well because there is a lot of potential for saving memory.


That is all for now. Cheers!
Martin a.k.a. MCh2207Cz