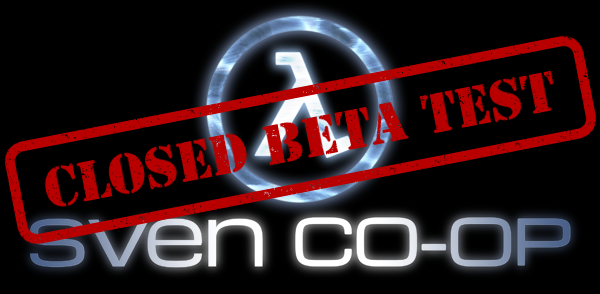 Closed Beta Testing Announcement
We're excited to announce that we will soon begin closed beta testing on Steam. We're looking for 50 dedicated gamers to join us in our testing sessions and to provide us with valuable feedback. An application form will be available next Saturday, August 29th at 12:00 PM EST (Convert time) so please mark your calendars! Sign up will close on Sunday, September 5th at 12:00 PM EST.
The fine print: Not everyone who applies will be selected. You must be at least 16 years of age to apply, have a valid Steam Account (you must provide us with your Steam ID), and have a valid Sven Co-op Forum account - sign up on our message forums (Forums.svencoop.com) if you haven't already! Additional requirements include participation (if selected) - inactive applicants will be removed to give others a fair chance. Please avoid emailing us to request access to the closed beta test - direct requests will be ignored.
Classic Mode for Half-Life Single Player
One of the more notable features coming in the Steam release is "Classic Mode" for the Half-Life single player co-op campaign. It's a special mode that will revert things like weapons and various gameplay mechanics to classic Half-Life. Some things won't be reverted (e.g. Co-operative changes to Barnacles, Player Medkits, the Gargantua's ability to feast on Players, etc.). We'll continue to refine this mode after receiving feedback from the community.
Current Changelog
Here's the current changelog in case you're wondering what we've been up to these past few months. We've made a decent amount of progress so far. The team has fixed countless numbers of crash bugs, memory allocation problems, engine issues, and provided a large assortment of new enhancements & features.
Current Changelog (August 22, 2015)
If you have any questions, feel free to post in the message forums. We'll continue to post more updates as we get closer to releasing on Steam. Have a good weekend!