The Middle Earth Project 0.4.1b Release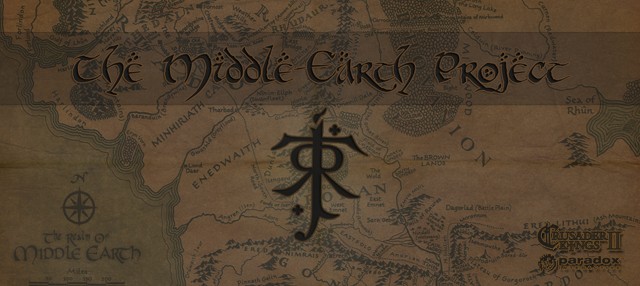 This is a full release of the Middle Earth Project mod for Crusader Kings II. This update is compatible with version 2.2.1 of Crusader Kings II. Please delete any old installations of the mod and replace it with the 0.4.1b full version. Make sure you install in My Documents/Paradox Interactive/Crusader Kings II/mod to work properly. For detailed instructions check the included readme.This is a beta and there will be bugs. Nothing is set in stone and we will appreciate any input that you think might improve the mod.
---
Installation Instructions

Delete any old versions of the mod and it's cache from "Documents/Paradox Interactive/Crusaders Kings II/mod/MiddleEarthProject Beta" and "Documents/Paradox Interactive/Crusaders Kings II/MiddleEarthProject"
Download the mod, and open the .rar file with Winrar or any similar software.
Extract all the files in the archive directly to your "Documents/Paradox Interactive/Crusader Kings 2/mod" directory.
Launch the game, select the mod and enjoy!
---
New Features
Give and recieve gifts as a Hobbit to make friends and gain popularity.
Reunite the Seven Kingdoms as a Dwarf Lord and become the High King Under All the Mountains.
Regain your true strength when you recover the Ring as Sauron.
Use the Index to learn extra information about gameplay and features.
Elven children now reach adulthood between the ages of 50 and 100, new special flavour for their upbringing and tutorship.
New Buildings System: each race now has their own unique buildings, thanks to the work of Athoen.
Northern Middle-Earth will now feel the effects of winter and snow.
Lorien now truly has a golden wood.
Racial descriptions including detailed info on bonuses and maluses.
And more...
---
Screenshots

---
If you would like to help with the development of this mod please inbox me or Lonhaldor here on the Paradox Interactive forums.