Have you often been troubled by the drop of your incomes due to guerrilla blowing your supply trucks sky-high? That's when you call CivicDelivery!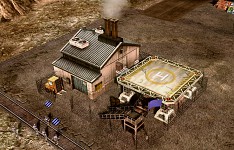 CivicDelivery is a global comprehensive enterprise which deals with the production, freight, sales and storage of a wide array of goods. We stands out in market with our high-quality goods, favorable prices,good reputation and highly praised service. With a series of service networks all over the world, we can deliver your purchase to literally anywhere, be it a quiet village in Mid-Africa, the Siberian wastelands where tanks roared by, or the toxic-gas filled New York City. Whether you are trying to sell a stack of second-hand rifles or looking to get a battalion load of main battle tanks, CivicDelivery can always provide its customers modernised logistics service with high efficiency and guaranteed safety!
remember, only the blazing flames of a nuclear explosion can stop our dedicated services!
(A word of advise: high quality services request reasonable offer - such as a well-trained Engineer Squad)
[side note: My apology on delaying the release date again. But for now I had decided to refine some of the models and code, at the same time add in some new stuff, like the aforementioned neutral resource structure, and maybe a neutral Barracks and a TV station next. Although someone has already dug out a prematured version of the Demo posted earlier on, so if you like, you can still get it here
to try it out. ]