The Circle of Eight is pleased to present additional bugfixes and assorted gameplay optimization for our version 7.5.0 releases. You can download the standard (left) and new content (right) versions below.
CHANGELOG
GENERAL
Overhauled worldmap: restored original travel locations, appended custom locations, redrew travel paths, tweaked map graphics.
Increased Ettins' run speed.
Scripted two weapon fighting for all ettins.
Added fix to give Weapon Focus: Ray and Greater Weapon Focus: Ray ability bonuses to ray based spells.
MOATHOUSE
Fixed bug with spider factions in the Lareth battle.
TEMPLE
Reworked Hedrack battle: added failsafe to prevent St. Cuthbert from participating in battles and Iuz from participating in battles after St. Cuthbert has appeared; added particle and sound effects for Iuz and St. Cuthbert routines; increased Hedrack's heartbeat detection distance so that he initiates party dialog further away; eliminated heartbeat detection distance for Hedrack when summoning Iuz so that this occurs regardless of party location; eliminated heartbeat detection distance for Iuz when speaking to the party so that this occurs regardless of party location; eliminated heartbeat detection distance for Iuz when spawning St. Cuthbert so that this occurs regardless of party location; made NPC speakers seek party leader; added numerous clear shitlist failsafes to prevent combat starting during or around conversations; removed KOS scripting from Hedrack allies so they don't initiate combat between stop combat routines; removed Iuz's particle effects because they don't go away after he's gone; made Iuz raise/heal gargoyles and Barkinar (if present) as well as Hedrack; replaced generic zombies raised by Iuz with type-specific replacements and added new meshes and audio for same; retimed Iuz and St. Cuthbert departure routine so that it occurs before combat reinitiates.
Attenuated some of Hedrack's audio.
HICKORY BRANCH (NC)
Fixed bug where Hickory Branch blockage would reappear.
ARENA OF HEROES (NC)
Restored CR of Arena owlbears and hill giants.
MOATHOUSE RESPAWN (NC)
Replaced invulnerable skeleton archer in Witch battle.
VERBOBONC (NC)
Gave Prince Zook a copy of the Gnome Tunnels key.
Standardized all gnome tunnels spider factions.
Fixed Verbobonc teleport destination errors with castle teleporters.
Overhauled castle resting and ghosts routine.
Eliminated repeat Boroquin charmed dialog and repeat associated quest evidence incrementation on same data.
Eliminated ability to increment Panathaes implication counter too far via repeat dialog.
Tweaked Captain Abiram dialog related to declaring evidence against tunnels suspects.
Fixed issue with Captain Abiram removing Panathaes from party prematurely and not recognizing you had captured him.
Removed gems from arena balors' inventories.
WAR OF THE GOLDEN SKULL (NC)
Fixed bug where Wakefield would not appear for WotGS.
Fixed bug where WotGS northwest patrol would not show as defeated.
Fixed bug where Fireforge would not appear in Archer's Eye after hiring him.
Removed bracers of armor +5 from Drow Ranger's inventory.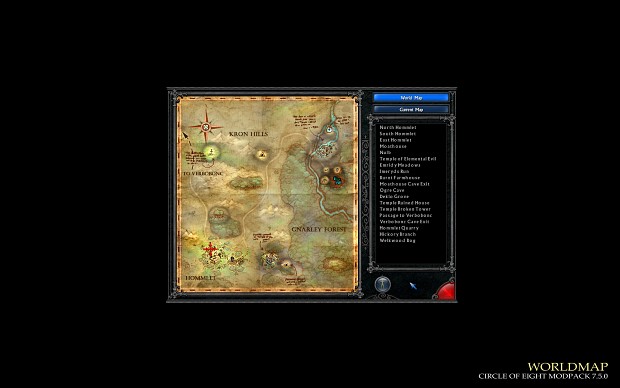 We sincerely hope that you enjoy this edition of The Circle of Eight Modpack.
- The Circle of Eight Team