The Circle of Eight is pleased to present the culmination of all the work spanning the 5.5 - 5.9 beta series modpacks - Circle of Eight Modpacks 6.0.0 and 6.0.0 NC. These releases are non-beta.
Both modpacks are identical, save for the major new content expansions included in the NC version. These include:
Welkwood Bog - where the undead menace Mathel the 'lich' leads his band of rogue raiders.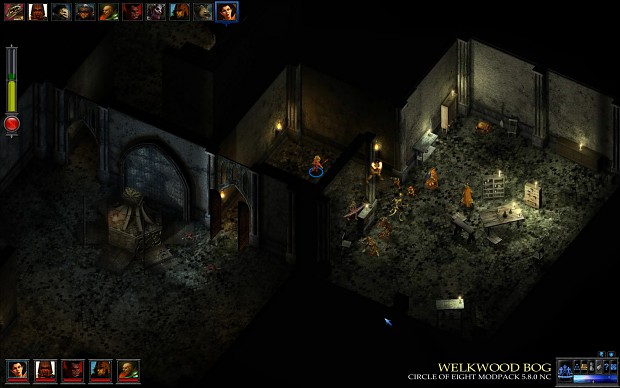 Hickory Branch - where Lord Hungous and his army of orcs, bugbears, ogres, gnolls, goblins, and
kobolds lies in wait to wreak havoc on the land.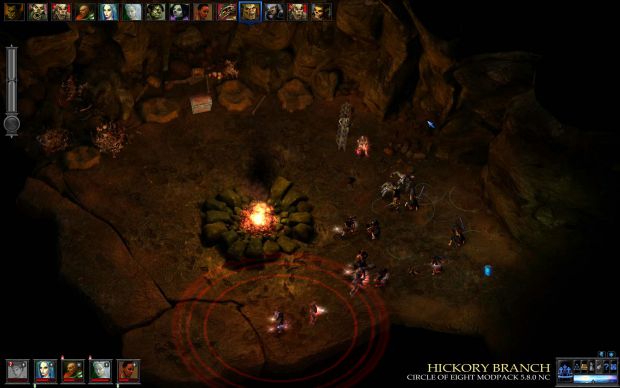 The Arena of Heroes - where three nebulous challenges from the mysterious Master of the Arena
await you.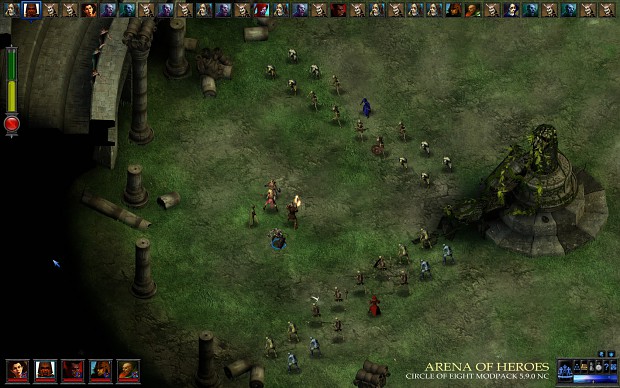 The Moathouse Respawn - where one loyal sister has taken over Lareth's old headquarters, while
her sibling has run into a little problem with the Drow in the Gnarley Forest.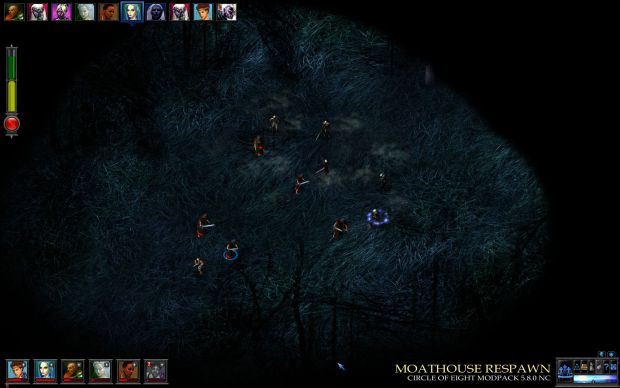 The city of Verbobonc - where intrigue of all types abounds ... from Lord Viscount Wilfrick and the
Verbobonc Watch to Lerrik and the Scarlet Brotherhood, from Canon Ramses of the Church of Pelor
to the shadowy Church of Hextor, from the overseer Triplets to the Verbobonc fugitives, from
dragons to Drow, and from Prince Zook IV and the gnomes of the Gnome Quarter all the way to the
fabled Slavers - all waiting to be discovered in one enormous new city quest-hub.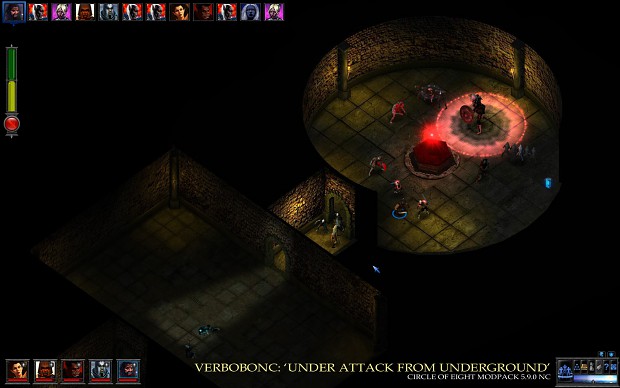 Meanwhile, in the standard modpack you can look forward to these new challenges:
A newly reactive Lareth and his Moathouse guards - who will no longer stay separated for your
convenience.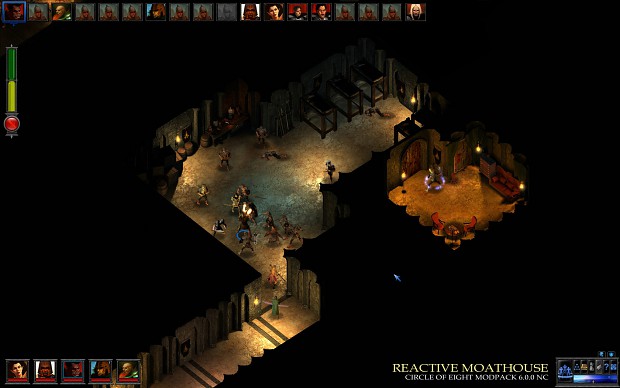 A reactive Air Temple led by the high priest Kelno, which will regroup when threatened.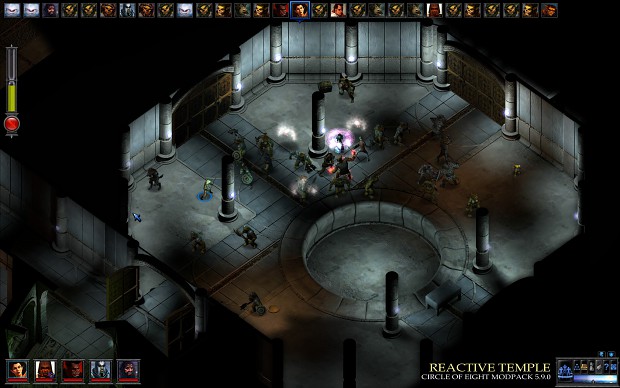 A reactive Water Temple led by the high priest Belsornig, which will regroup when threatened.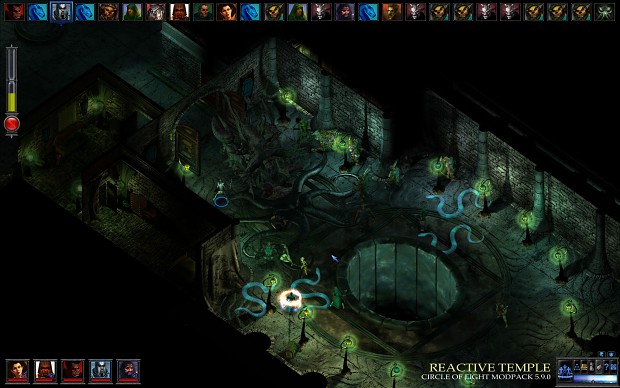 A reactive Fire Temple led by the high priest Alrrem, which will regroup when threatened.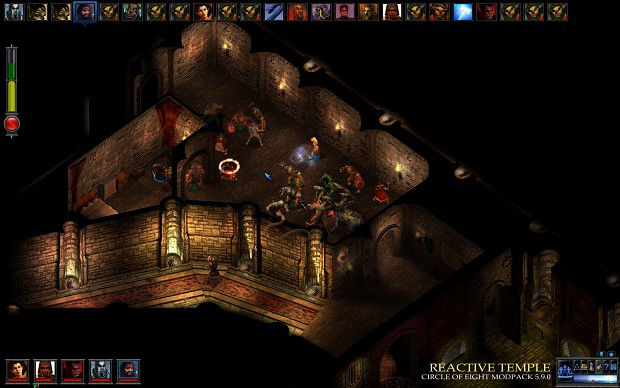 Updates in Circle of Eight Modpack 6.0.0 include:
GENERAL
- Fixed bug where only first instruction was being applied for reputations with multiple effects.
- Did quality check to ensure that all Hommletians count toward (if they are killed) and respond to Butcher of Hommlet rep.
- Made Butcher of Hommlet reputation trigger auto-attack only from Burne's Badgers.
- Made all generic villagers/citizens take no combat actions and flee combat.
- Made it so the following NPCs disband and attack you if you try to kill a generic citizen/villager while they're in the party: Elmo, Paida, Otis, Meleny, Y'dey, Murfles, Thrommel, Taki, Burne, Morgan, Pishella, Rufus, Spugnoir, Holly, Ronald.
- Overhauled Otello's scripting to improve all his routines.
- Added separate faction for Wat, Dala, Pearl, Rentsch, and his guards in the Waterside Hostel so all the Nulb villagers don't join in fight.
- Made it so Dala and Pearl don't fight and run off if fight starts in Waterside Hostel.
- Increased map limits for all remaining maps that could have issues with widescreen displays.
- Added help.tab spell entries for Extraplanar Chest, Gentle Repose, Horrid Wilting, Mass Hold Monster, Miracle, Polar Ray, Power Word Kill, Power Word Stun, Ray of Clumsiness, Warp Wood, Weird.
- Fixed bugs where Lareth would sometimes not surrender and his sergeant in the corridor would not run off if he did surrender in modified Lareth/Moathouse scenario.
NEW CONTENT
- Added all new content expansion areas to random encounter tables so they generate appropriate random encounter monsters for each area (NC modpack only).
ARENA OF HEROES
- Fixed bug where the Master of the Arena wouldn't appear in Arena of Heroes (NC modpack only).
VERBOBONC
- Made guest book in Spruce Goose Inn in Verbobonc useable (NC modpack only).
- Fixed bug where many Verbobonc citizens gave Butcher of Hommlet rep upon being killed (NC modpack only).
- Improved operation of Verbobonc killer reputations, arrests, incarceration, and sentencing (NC modpack only).
Circle of Eight modpacks 6.0.0 and 6.0.0 NC also come bundled with Temple of Elemental Evil Front End-X (TFE-X) version 3.0e, which includes various stability updates and adds functionality for changing screen resolution to the widescreen settings common in today's monitors.
For a full list of updates to both the version 6 series and the entire progression of the 5.5 - 5.9 beta series, please see the included release notes. It's a very long list.
We sincerely hope that you enjoy these versions of the Circle of Eight modpack! We've worked very hard to bring them to you.
- The Circle of Eight team