EDIT: Version 2 is now released! Download it here: Moddb.com
Over the last few months, I have been hard at work on 'Choose Your Own' Galactic Conquest V2.0. I'm pleased to say that, after much delay on my part, it is nearly ready for release! Before I do though, I wanted to announce all the changes and improvements I've been working on to give you the best Galactic Conquest experience possible. I'm currently anticipating the release to be within the next couple of weeks.
Highlights
Clone Wars era added
Added new maps and map packs
New Low Planet Mode added
No more Base planets (Hoth/Endor)
Added system for removing unnecessary stars
New paired planets (Hoth/Bespin, Coruscant/Invisible Hand/Nebulon-5)
Improved system for assigning starting planets
Fixed many connection bugs
Improved loading speed
Fixed space battle skies
Random victory/defeat credits for space battles
Clone Wars Era Added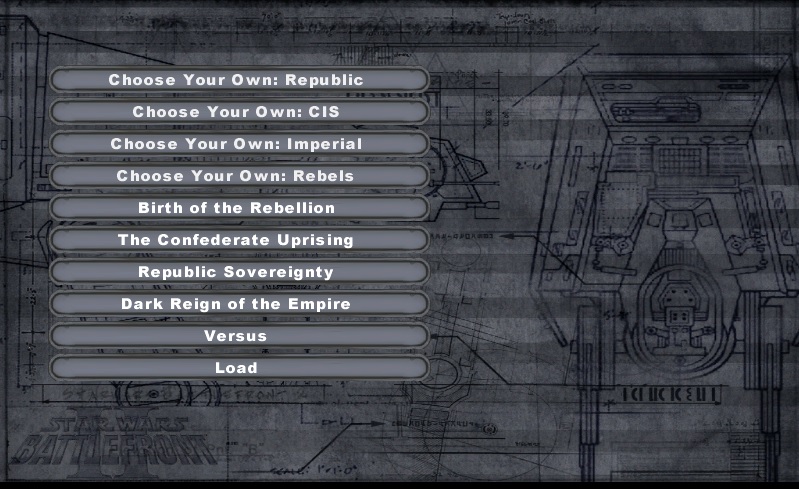 Firstly, perhaps the most noticeable difference – this version will include the Clone Wars era. In the menu you will have the option to pick from any of the 4 stock game factions to play out your galactic conquest exactly as you wish to. Do note that some mod maps only support one era, so you may not be able to play them in the other era.
Alongside the Clone Wars era, a host of new mod maps are now supported. Many of these are maps that only support Clone Wars era and therefore couldn't be included in version 1. Some of them have been released since version 1 came out. In total, 30 new maps are to be supported. Additionally, 4 new map packs are being supported: Dark Space, Dark Space Outtakes, Battlefront Zero and Battlefront Reforged. All of these map packs will be playable in both eras, though not every map will support both eras.
Also, you will be able to choose which maps you want from these map packs in the same way you could choose the maps from the 'Dark Times' mod in version 1 (full details of this will be explained in the release, or you can check out version 1 now). All these additions now brings the total supported planet count to 167, and the total maps to 369. A list of the new maps added are as follows: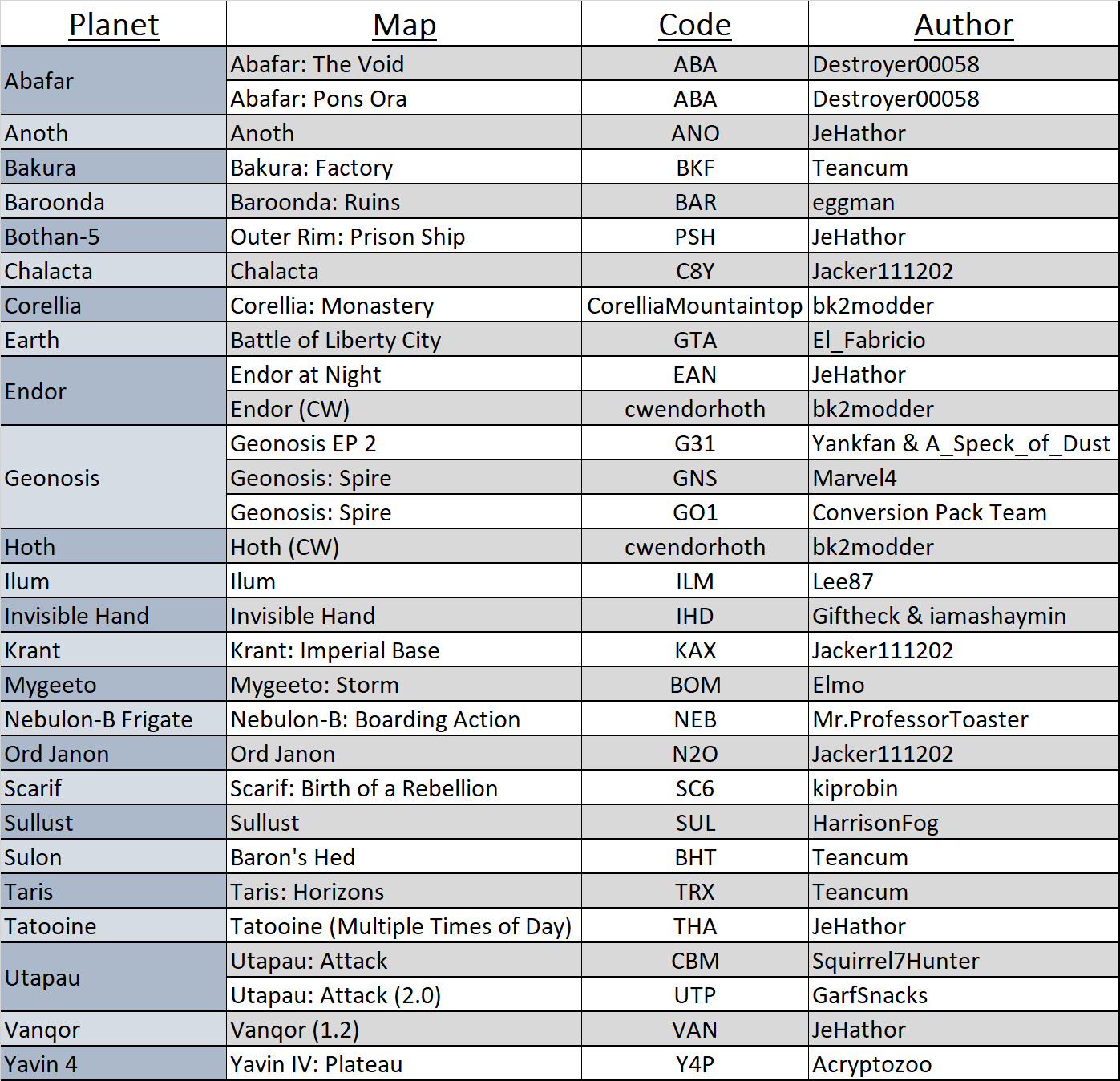 New 'Low Planets' Mode added
This new feature is the one I'm most excited to share with you. In version 1, there was always some planets that appeared on the grid as stars if you weren't playing a map from those planets. This helped me to build a grid for all the other planets to connect to. However, it meant if you only wanted to build a small GC with less than 10 planets, the grid often was very ugly and would have a lot of dead space that wasn't necessary.
Now though, I have created a 'Low Planets' mode. Essentially, if you play with less than 10 planets, a different system will be used:
If you choose to play with just 2 planets, the planets will be connected by a single line.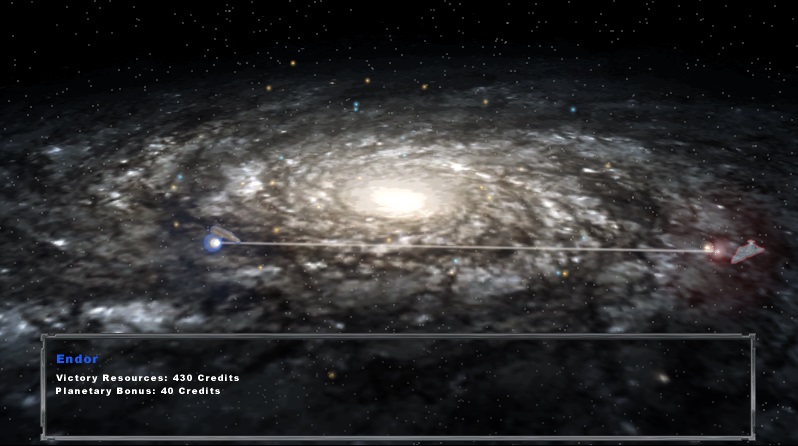 If you play with 3 planets, they will connect in a triangle.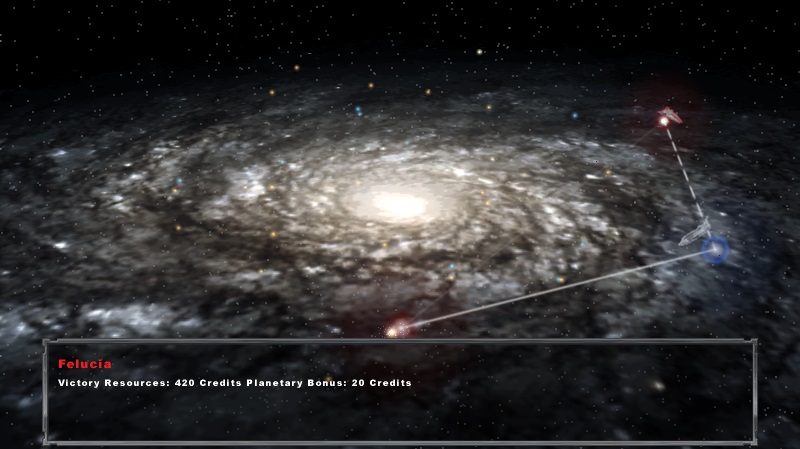 If you play with 4, the planets will connect in some form of quadrilateral shape, or possibly an hourglass form depending on what order the planets are loaded into the game.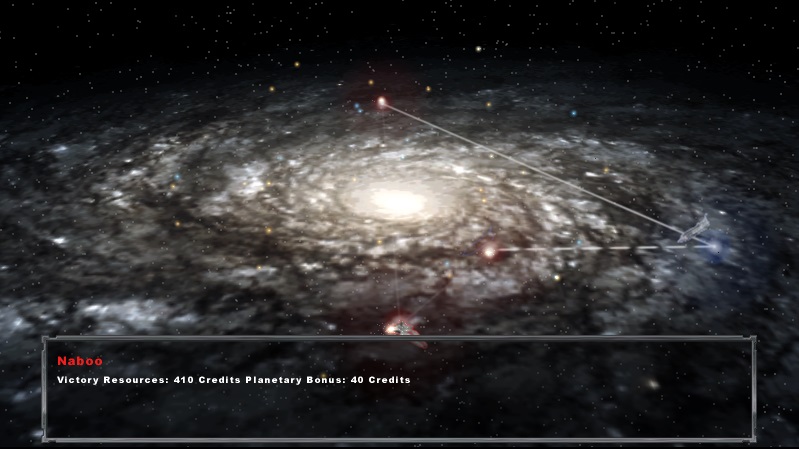 If you play with 5-9 planets, you will play on an entirely new grid system. This grid system is something akin to the stock GCs grid, in that it is made up of planets and stars. The locations of the planets are fixed, but which planet fills which slot will depend on which planets you choose to play with. Unlike in normal mode where I have tried to place the planets in as accurate a location as possible. This grid will grow and change depending on how many planets you play with; the 5 planet grid is much smaller than the 9 planet grid. Have a play around with it and discover everything it has to offer you.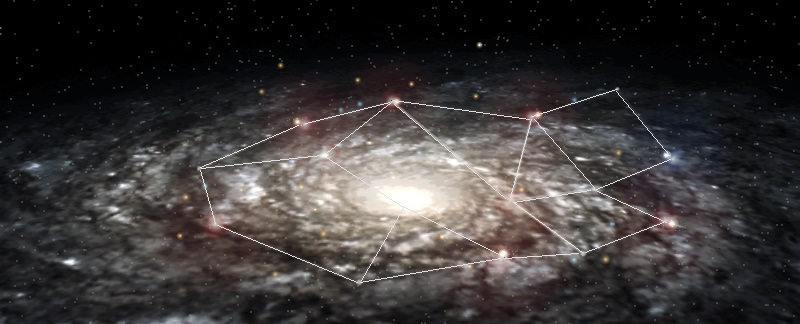 Other changes
Much like in my 'Absolute Battlefront Presents… The Dark Times' GC, I have removed the base planets (that were Endor and Hoth in version 1). This means that you are no longer required to have these 2 planets in your setup, and you can finally play your GC exactly how you like.
In addition to the low planet mode, I've made improvements to the code that builds the grid system in normal mode to remove stars that don't go anywhere. With Hoth and Endor no longer being required, these two have become permanent stars like Coruscant and Kashyyyk, so if you're not playing with those maps, they will instead appear as stars to build the grid. However, if no other planets are connected to these stars, the code will delete them so you don't have a row of stars that don't lead anywhere. This support has been added to a few of the 'less essential' stars. Hopefully you will notice this makes for a tighter grid system.
There are also new flexi-point stars – points where multiple planets can fill the fix star role (previous examples include Tatooine/Geonosis). Hoth and Bespin now make up a flexi-point star, as does Coruscant, and Invisible Hand / Nebulon-5, depending on which era you're playing in.
I have also fixed the naming issue for those playing with Anakin's remaster mod. As Anakin's mod changes the GC menu page, and allows for less characters than the default version, it was impossible to tell which version of Choose Your Own you were selecting (between Empire and Rebels - with 4 factions this becomes even more of a problem!) Those playing with remaster will now see on that version, the GCs will be in the format of 'CYO: faction'.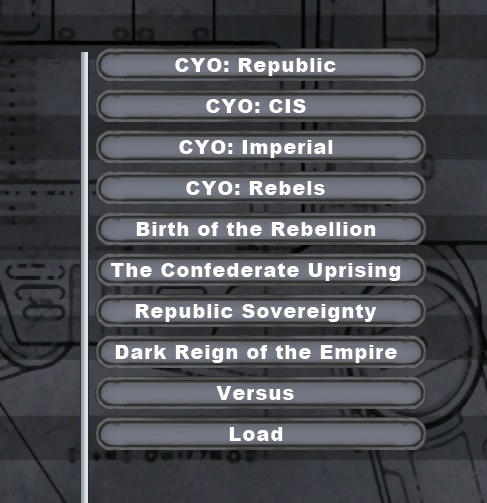 In other code changes, I have improved the system for assigning planets at the beginning of the game. As there are no base planets, you will now start on a random planet. That planet will always be assigned to your team. A low percentage of the remaining planets could also be assigned to your team, and this is capped (the number of which varied depending on how many planets you have). I have also fixed many connection bugs I came across when working on version 2. There should now be fewer occasions where planets aren't connecting properly, such as one way paths between planets.
Version 1 made the loading of the game very slow, as it loaded in all the planet models into the game before you'd even signed into your account. I have fixed this so that you now only load the models when you load the galactic conquest. Additionally, I've set it up to limit the number of planet models that must be searched through to load. The consequence of this is an increased file size, but I've tried to keep it as low as possible.
Again much like in 'Absolute Battlefront Presents… The Dark Times', I've done some work to improve space battles. A 'space sky' will now appear no matter what planet your space battle is over. The loading screen for this will also now show the proper name, i.e. 'Space Bespin'. However, not every planet is going to have a unique space sky with it's planet in the background. These backgrounds take a long time to make, and right now I just can't bring myself to make the over-100 I've still got remaining. Most planets for now will just have the plain space sky. Additionally with space battles, the amount of credits you gain from winning or losing is now randomised, as all planet battles were in version 1.


I only have a few small things to finish before I release it. I hope this little preview has got you excited to try out the new version. Be sure to follow my mod to get notified when it is released!