Hello once again, and Happy Halloween! My name is Mike Smith, and I'm the character designer for the indie brawler Paperbound. Last week we looked at Skull Soldier, a spear-toting skeleton from Skull Kingdom. This week, we dive into the wind swept sand dunes of "The Book of the Dead" to take a look at the conceptual development of our third character to hit the drawing board: Horus.
Below is the final design of the character, with his curved Egyptian blades, in various forms of production. Ink, paint, and final render.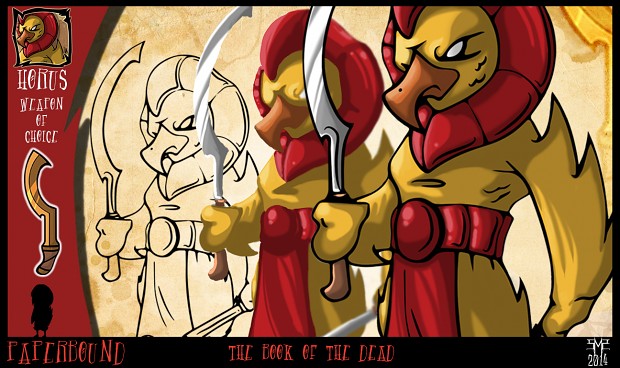 Overall, Horus came to fruition in a rather simplistic way. He was one of the few characters that needed very little sketch work. These types of characters don't come around often. But luckily, after only a few tries, his brooding hawk expression and pharaoh like adornments came almost naturally. As a matter of fact, just about all the conceptual work that went into Horus is displayed below, minus a few marker renderings and doodles. Yet, even though we had seemingly finished the god of war, Horus would soon go through a dramatic redesign.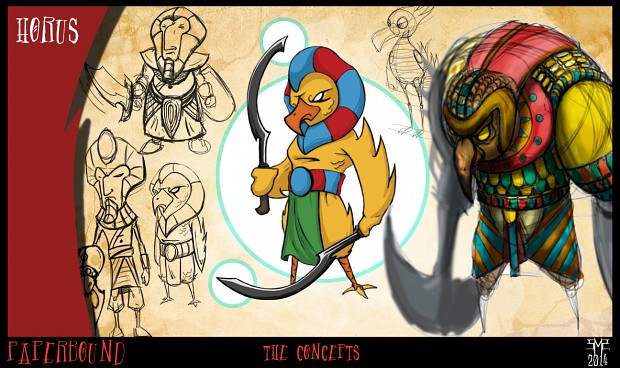 There were a couple of months spent during production, dedicated to toning down our characters. Their original designs contained too many details, and it was proving difficult to resize them at lower resolutions and retain their "readability". Hence...the 8-bit approach. Knocking down details, and simplifying the character became an overwhelming challenge for me. I had simply never worked with the traditional 8-bit characters, so there were many hours spent trying to figure out just how to put a design like this together. Thankfully, in the end, his original design worked best and the 8-bit approach was discarded. If anything, we were certainly able to create a few adorable versions of the god of war. Perhaps a few stuffed plushies would be worth looking into?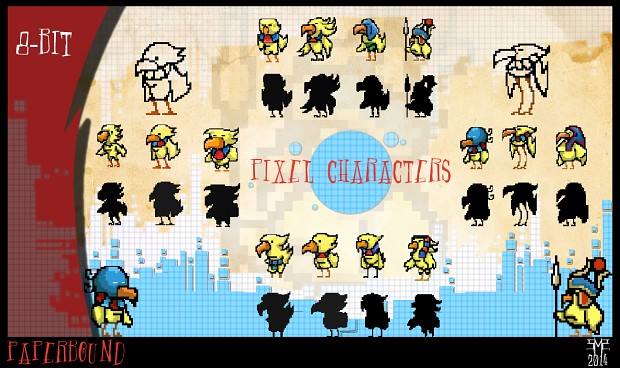 The final touch for Horus was creating the warriors curved swords. I spent many long hours looking at ancient Egyptian weaponry. I ended up sketching out many varieties of weapons including spears, axes, daggers, long knives and finally curved, and straight bladed swords. At one time I even considered putting him into a chariot, and have him run over the other combatants on the battlefield. Ultimately though, it came down to the curved blade, which added an extra edge to his personality and fit the Egyptian theme. Though...to be honest...I still like the idea of a chariot.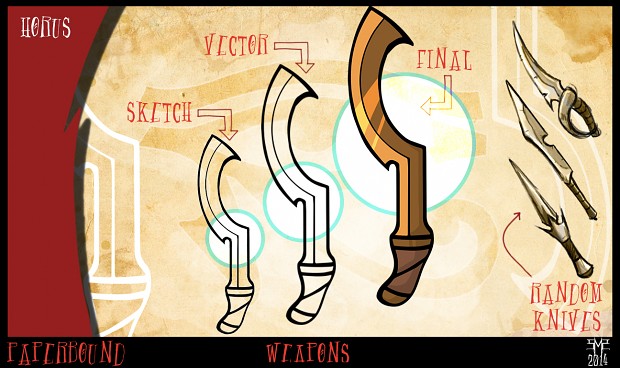 So that's all we have for this week. We hope you can pop in next week to check out our next character preview. Thanks for taking the time to look at our work, and make sure to check out our facebook page for additional updates and news!