Release 2 Information
Nod Infantry:
Added Tiberian Sun voices
Normalised ranking (Experience gained at normal rate)
New cameo: Tiberian sun style!
Special: Gains additional defence if GDI Composite armour upgrade is researched
Repair Bay:
Added experience! (before units got nothing for destroying a Repair bay, this has been corrected)
Moved to defensive queue. (It makes more sense it being there)
Fixed 3D Max pivot point issue which made it hard to select a large portion of the Repair bay
Changed shader to 'objectGDI', which allows the structure to blend better with other GDI structures.
Adjusted build time (previously the build time was shorter than the building price would suggest)
New C&C3 style texture!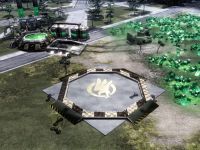 Predator tank:
Adjusted Heroic rocket weapon code to allow it to target better
Added garrison clearing ability to Heroic rocket weapon! (even more reason to try to reach the 'HEROIC' rank!)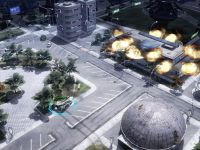 Titan:
Vision range decreased to prevent Titan from wondering long distances to engage enemies when in 'guard' mode
Changed animation code to lessen instances of the Titan playing it's 'idle' animation whilst firing it's weapon
Heroic 'Shockwave' power will no longer show a red cursor if your target cursor is outside the weapons range, instead the Titan will move to the correct range by itself and then fire the weapon. (Please note that you will still get a red cursor if you attempt to target in the shroud or if you target to close to the Titan)
Nod Turret:
Does 700 damage. (previously it did 350 base damage, but did 700 damage to a select group of Tier 1 vehicles)
Small adjustments to firing FX
Armour values normalised to compare with GDI Golum cannon (previously had slightly higher resistance to 'CANNON' damage and a slight vulnerability to 'ROCKET' damage)
Turret no longer spawns infantry when sold (previously the Turret would spawn GDI infantry!)
Scrin Shielded harvester:
Increased shield size by 10%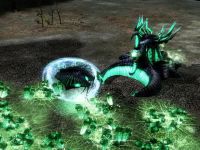 Humvee:
Reduced size by 10%
Added crude blood splash effect when weapon hits infantry
Fixed formation preview texture UVW
Changed voice from GDI Pitbull to C&C Generals USA Humvee
Nod Artillery:
Range increased from 500 -> 575 (still has a shorter range than GDI Juggernaut in order to lessen the strength of Nod defensive camping)
Standard side + rear damage scalars added to armour (previously the Nod artillery took the same damage no matter where you hit it!)
Heroic 'Cluster munition' weapon removed!
Size increased by 10%
Fixed formation preview texture UVW
New black texture variant
Removed:
Avatar Special power + Avatar (Nod can longer use the Avatar at all)
Mirage squad Special power and all associated units (shame has they were very useful!)
Blue Tiberium upgrade now costs $5000 and takes 100 seconds to research to reflect its increased usefulness.
More to come soon!