Hello all. Apologies for the lack of news this week, I've been a bit busy with all sorts of things. But I have still be working on the next patch with some new content and a load of bug fixes/ gameplay tweaks. So, on with the news.
Cave Level Design
So, one of the things I have been working on is working on the design of the second dungeon level. Currently, it looks a but like this: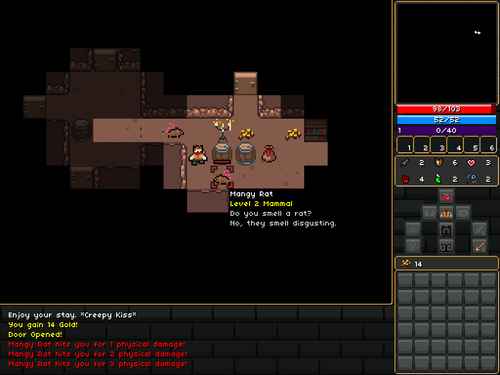 Of course, this is currently just a re-skin of level 1, so this will not be the layout, and there is a distinct lack of rocks, holes, and water. But it's the first step towards the next level.
Patch 1.0.5 Preview
And now for a quick overview of what is happening in patch 1.0.5 next week:
Rats: Two new enemy types. Beware the Ratmen.
Traps: Don't step on them, they spawn all over the place now.
Alchemy: Although currently limited, its a good source for health and mana potions until more potions are introduced.
Items: There's 4 new secret items.
Gear: More tweaking of gear stats, and a load of new gear graphics.
Stuns/heals: Pretty much all stuns and lifesteal/heals from skills have been reduced, either by duration, or effect.
Bugfixes: A load of bugfixes which I'll list in the changelog on release.
And that's a quick tour of the next patch.
~TheIndieForge