4th January 2015
Version 2.0 of California Megamod has been published in the official website (mods-gta.blogspot.com)
it features a lot of features listed in previous posts and some new features never mentioned before.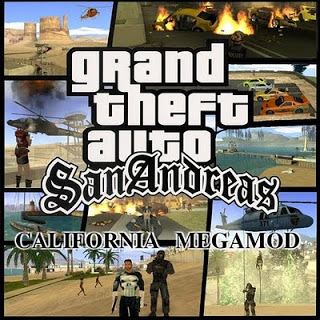 Download California Megamod 2.0 from the official website: Mods-gta.blogspot.com
The new version uses a new technology, a system not compatible with previous versions, it must be installed in its own separated folder. The new version 2.0 adds lots of improvements over previous versions, too many to remember all of them, some examples:
- New technology to install mods, easier to customize and allows more mods with less HD space.
- New Themed Mods and new GameModes
- Different GameModes available for same themed mods (freeroam, assault, gangwars, ...more later)
- New Mod Launcher, easier to add new mods, and shows info about each mod and special keys.
- mod's *.EXEs replaced with *.BATs to launch each mod, saving more than 100 MB.
- 49 .BAT files each one plays a different mod or combination between themed mod + game mode.
- More secure (.bat files are harder to be infected by virus than .exes and you can see what it does)
- Easy to add your own mods: create a folder, copy files inside, add a new .bat, edit gamesmenu.cfg
- Created new terrain, roads, roadsides and vegetation textures.
- Retexturized all the roads, country and dessert.
- Many textures replaced with HD version.
- Replaced most Peds with better ones.
- Replaced some vehicles, especially in mods that needed special ones (crysis, halo, starwars,..)
- Replaced player skins with better models.
- Added new superheroes and famous characters from games, comics and movies.
- More realistic special effects: fire, explosions, dust, smoke, etc.
- ENB Series with Shadows and transparency for low end machines (ON/OFF with SHIFT F12)
- Automatic installer very easy to use: select a folder and press install.
- Installer adds a desktop shortcut to the mod launcher menu (California Megamod.exe)
- Better Loading Screens, more spectacular images (will add more later).
- Many mod authors credited in loading screens, (i plan to add more later).
- New Cleo Scripts (will add more later)
- very STABLE, we are using only a few cleos now, we will add more once they pass a stability test.
- Many new characters that improves all themed mods (crysis, crime wars, halo, quasar, starwars...)
- New white CJ with better model, as in previous version can be customized in Clothes Menu (press 3)
- Customized ingame CHEATS MENU with a lot of features available in all mods (press CTRL X to display)
- in CHEATS MENU you control almost anything: vehicles and vehicle cheats, weapons, skins (player model), health, armour, money, stats, teleport, gangs, wanted level, time, climate, etc.
- etc, etc.
i also have already published:
- An English patch to translate some text into english that was only available in spanish in the main release, for example the cheats menu and descriptions of each mod and special keys in mod launcher They now will appear in english if you install the english patch into your megamod folder (small file).
- A patch to fix some bugs and improve some things. (i did 1 patch and later made a new one which includes the first one, so you only need to install the second one, and this is the reason there is only one patch available now for downloading)
Both patches are available here at moddb in the download section. The megamod is not yet available in moddb but it will be later, for now go to my website and download it there.
Mods-gta.blogspot.com
i will be releasing new patchs and updates soon.
i hope you all enjoy California Megamod as much i have enjoyed working on it.
This project is my tribute to the GTA MODDERS COMUNITY.
Thank you very much for your outstanding work. You are the best.
without all of you this project would have never existed.