I can't think of a time that's more troubling for a game developer than release. Even if it's for Early Access, it's a huge professional step forward for both myself and our small studio.
Starting with a few sketches at the age of 12, to look at our store page now is a weird and very invasive experience for me. This is my childhood dog we're talking about, I just made drawings with my brother and fooled around with the idea that one day we'll make a video game out of these drawings. So much time, money, effort, blood, sweat and tears went into making this game that it feels completely different to be where I am right now.
The Real Buck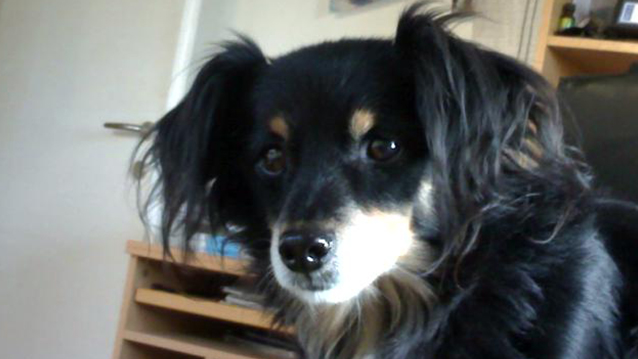 This isn't something one can explain in detail but for a young kid with a bad luck in grade-school "friendships", Buck was always there for me. He had a tough background; he grew up in the streets of my home city and was found beaten by a couple of nasty kids. As a result, he never liked people and especially children, but he was more than okay with me, for some reason. He was such a small little guy but he didn't let that get in his way, he always behaved to other dogs like they were nothing, no matter how bigger they were.
He was a character, that's for sure. It made so much sense to me to make a video game about him and so I nagged my brother to make some art of him for a "game".
Early Drawings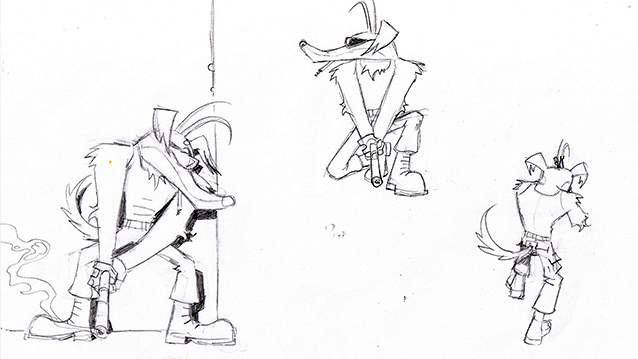 His character was originally designed from a 3rd-person perspective, as this was how I imagined the game at a young age. This was clearly before I had any idea how difficult it was to actually make video games. However that same amount of innocence is what allowed me and my brother to just keep rolling with the idea and create this universe of a game that I simply titled "BUCK".
The years went by as I sat in class, ignoring bible studies and other subjects I either hated or found completely boring. I started writing some kind of early design documents without realizing what I was doing. Looking back at them today gives me a great deal of appreciation for how dedicated I was to laying out all the different mechanics and logical structure of the game.
Drawing Locations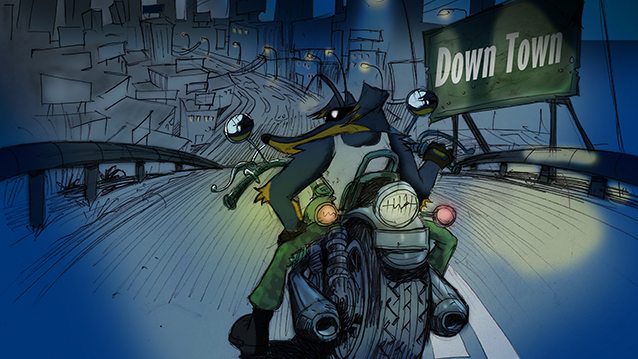 A few years forward and we started to work on actual locations. We settled on the "Noir detective" vibe of cool colors and a downtown area of a city which is nowadays called "Oldtown". We tried to capture a certain look and we went with references to my home town of Haifa which has a harbor area that is connected to an area that is literally called "Downtown".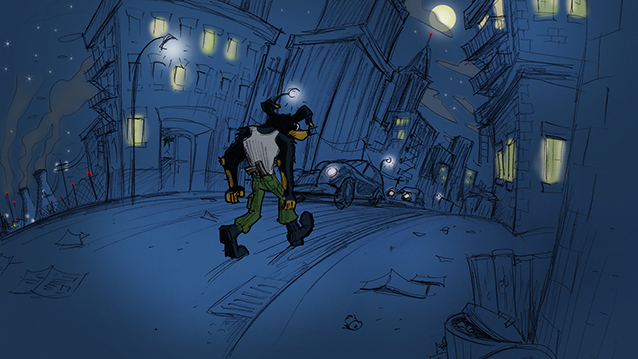 Having no idea how to design or plan levels for assets, we went with what we knew; story-boards! We planned out where combat encounters would take place and how the terrain would change during the player's progression through the level. Here's an example of the level Oldtown. Looking back, it's still pretty close to the original story-board: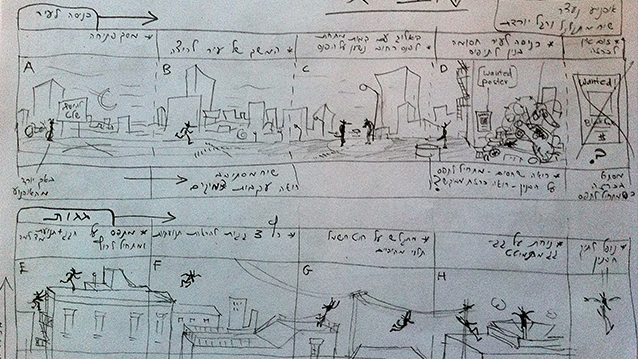 It should be around early 2013 by this point. I've met Amir, our programmer, a few months prior to these story-boards. He started working on a prototype for the level editor while myself and Adi where trying to figure out how best to create assets for the game. It was a long and tiresome experience as we had to essentially develop our own workflow for making a game, something neither of us had any idea how to do.
We've exported files that were too big, broke down assets into way too many unnecessary textures and not to mention that all animations where done frame-by-frame by Adi in Flash! True nightmare material.
I started messing around with the idea of combining post-apocalypse with our noir aesthetic. I've always had a fascination with abandoned spaces and my favorite video-games and movies would take place in a post-apocalyptic setting.
Reworking our Animation System
Drawing frame-by-frame in Flash was too much work for Adi. I decided to try what was then a new software that had just hit Kickstarter: Spriter 2D. It took us close to eight months to get Spriter to work within our Unity editing space but it was worth the toil.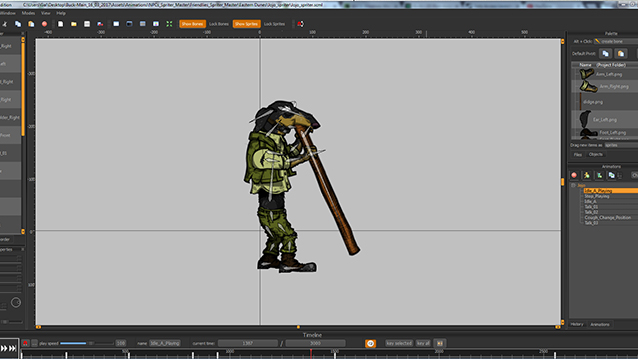 Spriter allowed me to take over animations while Adi could focus his attention on creating assets. This was by no means a small task and I am still improving my animations to this day. There are animated background items, NPC's, Buck's own animations which currently range over 90 animations and anything that actually "moves" in the game is made by spriter. The only thing we animate outside of Spriter are our cinematic scenes.
Cementing our style
Both Adi and myself have some background in visual editing and cinematic storytelling. We decided to focus on making our cinematic scenes resemble our usual gameplay style just in a bit more detail.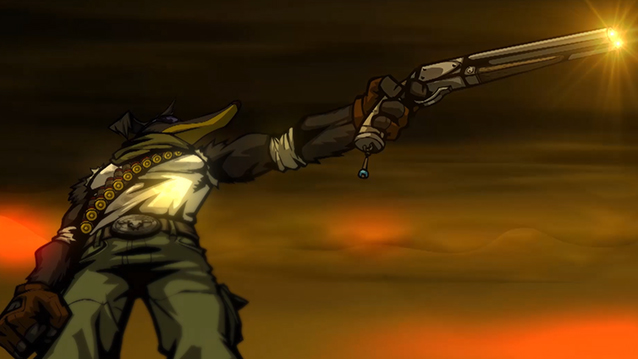 I think this ended up being a good artistic choice since it packages the entire game to feel like a living cartoon. It also limits the dissonance that some games create with their cinematic scenes as compared to the actual gameplay visuals.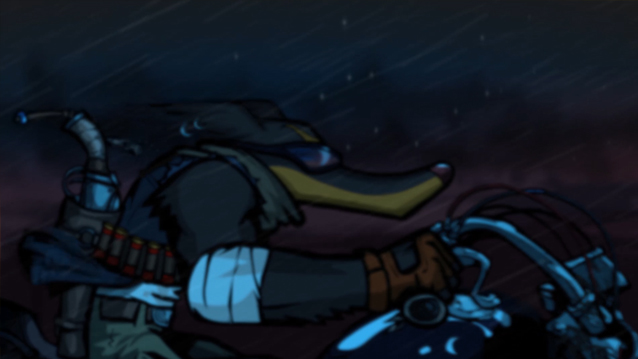 Adding, improving and fixing.
After our successful Kickstarter we pretty much went full blitz on code, systems and UI. I made a choice to focus on all the "close-term" polish instead of adding more levels and expanding the story. The goal is is to arrive to Early Access with a game that actually works. It runs at 60fps with partial controller support, keyboard re-binding options and most of the systems are working as intended (excluding a few bugs here and there). We missed our expected launch window by 2 weeks but that's game development ain't it?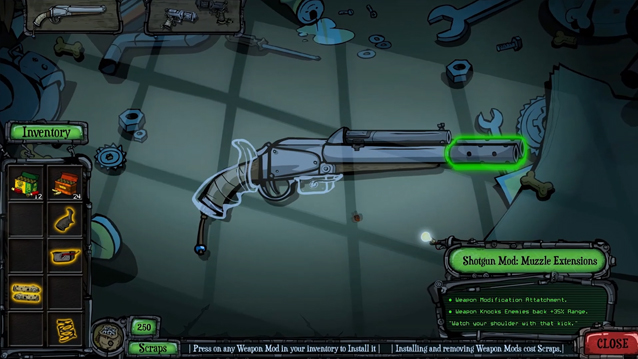 Early Access and looking forward
This has truly been the journey of a life-time. Now, if all goes well on Early Access, we'll be able to expand the story, content, features and fix whatever bugs the community throws our way.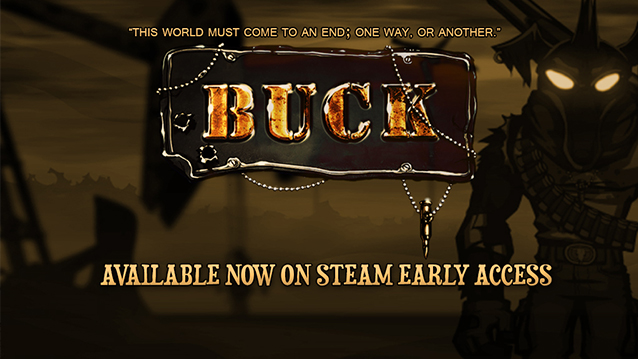 We want to add a new build at least once a month with minor updates to any major bug issues whenever we can.
If you'd like to give BUCK a try, there's a free demo on Steam.
Peace,
Gal.