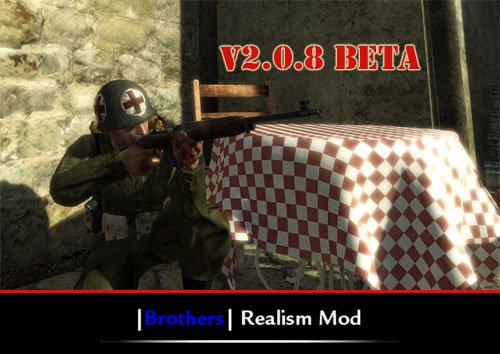 BRM version 2.0.8 continues the enhanced trend of BRM and contains the full squad system interface and includes a number of new and exciting features that will add life to your server's gameplay.
The 'classic' BRM style (with a CoD2 style weapon selection menu) is still available and can be enabled with a change to a single dvar. See the squad system documentation for more info.
This release concentrates on fixing some existing bugs and improving a number of minor code issues behind the scenes. Those of you who want some new 'stuff' (whatever that stuff may be) will not be disappointed however.
To create Class loadout configs for the new RO style loadout menus you will need to download the new Squad Builder from the BRM download page.
To enable the RO style class menus, change the value of the bro_squadbased dvar to "2". Please check out the included squadSystem.txt for more documentation about this new feature.
-----------------------
New Features:
Added Red Orchestra style loadout interface
Retrieval gametype
Deployable BAR added to classic mode
Dropped jammed weapons can be picked up again
Medic waypoints now track injured players
Ability to disable AT weapons on a per map basis
Auto join squads in enhanced squad mode (ret & S&D). Credits to bschiltmans for info about joinSquad
New dvar to allow NCO's to designate mortar target
Tactical crouch mode added - advanced punishment code by [509th] LoneWolf
Dvars added to scale earthquake effects
Added dvar to disable weapon for first # seconds of round
New clan icons: 1eBPC
Improvements:
Removed arm waving animation when suppressed
Updated squad builder
Magazines are preserved correctly on dropped weapons
Updated objective mover for S&D and Retrieval
Added correct weapon names to scoped rifles on pickup
Admin panel has the stock / custom button prefixed with word "Toggle"
Dvar to exclude maps from the admin map switcher
Red Medic! shout text
Spawn shooting warning moved to center screen
Increased burn fx time for b3 !burn
Dvars added to control times / scales of impact effects and weapon disable time.
Bugs Squished:
Fixed loadout menu interface, can now have duplicate primaries
fixed bug where extra items might not be assigned to correct weapon
Multiple objective mover configs (i think!)
Closed 2 menu exploits
Firemode / bayonet toggle option no longer disappears
Fixed supply drop rearming for full clip weapons
Medic waypoint size reduced correctly
Fixed duplication of maplist in admin panel
Sniper hit-reg improved (thanks to PzgR3 and 34th ID)
Fixed round time conflict with HQ reinforcement timer
Fixed napalm damage inflicted while inside
Strafing planes now target enemies correctly