Hi guys,
Another week has gone and I hope it was similarly productive for you as for us.
As you know, you need to protect your train from bandits and native americans attacks. But sometimes it is pretty difficult to accomplish by your crew only. It is good to have revolvers and rifles but sometimes you need something bigger... That's why today I want to present you our brand new development - train turrets!
Cannon carriage
Actually we have made it some time before, but recently we have added animations to characters and projectiles count.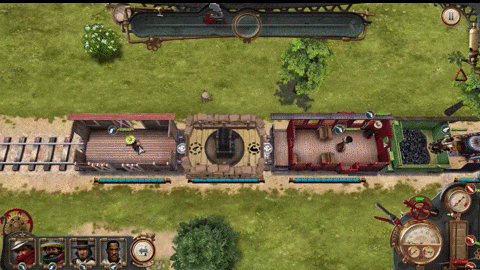 To use cannon you need 2 characters to shoot and to reload. Places for them are marked by circular icons. When near the cannon there is only 1 character – it is not active and has a grey colour. Once a second character is on its place, cannon change its colour and now you can shoot. Just tap and point and you can forget about the enemy.
Cannon is very powerful weapon, especially versus structures so you have limited ammo. Ammo can be restored in any city you visit.
Gatling gun
Another deadly weapon and only one character to control!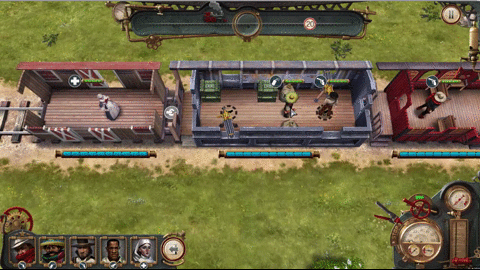 Gatling is a smaller turret so just one character can handle with it. When a character stays on a proper place near a gatling gun - you can control it (the gun). Unlike cannon you do not just tap and point, but also are dragging a target while shooting thus changing shooting direction. The same as for cannon you have a limited ammo.
Gatling gun is very useful against enemy characters. Especially it's good versus horse rides, because you can deal with several enemies at once.
P.S. Bonus as we promise - inside game development
That's all for now. We continue our work to provide you with something new next week.
See ya!
Twitter.com
Facebook.com
Bountytrain.com