Welcome to Bounty Devlog - Update 9
This week, we take a look into impact hits, muzzle flashes, character leveling, and weapon inaccuracy. Welcome to the world of Bounty.
First, we look at the impact hits. Impacts hits are very important to a game such as this because it allows the character to see what they have hit with their bullet. It also add immersion into the game as well. We are using the 20+ Gun Impact Particles from the Unreal marketplace. We feel like they are top notch and really fit the game.
Next, we take a look at the new muzzle flashes. The Muzzle flashes are the 101 Muzzle Flashes from the marketplace as well. We think that really provide some realism and nice asthetics to the game. There are plenty of options to choose from and will make each gun type have a unique spin to them.Now we take a look at the new leveling system that is in the game. A lot of the actions that you do in the game are going to have XP that comes with them. That Xp accumulates and in turn determines your level. Leveling will allows you to buy new weapons and gadgets, access new weapon blueprints, get new abilities, and craft new craftables.
Next is weapon inaccuracy. Before this update, every bullet that the player shot was very accurate although there was recoil. Now every bullet will have inaccuracy to them when shooting from the hip and slighter inaccuracy when shooting aiming down the sights. Muzzle attachments do not effect the weapon inaccuracy, only how much recoil the weapon has. This is demonstrated in the video above.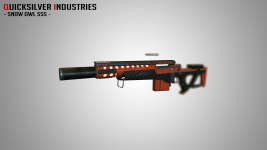 Lastly, we take a look at a new weapon for the game. It is the Snow Owl from The Quicksilver Gun Manufactor. Its going to be a great weapon for those players that want to dominate the battlefield from afar.