The new theme has the name "Tutorial Theme". Later i will use this theme for some tutorial level to lern how to play this game and how to use the extras in the right way. For now, this theme has 6 different maps, where you can play and use all new extras.
Hier is a screenshot of the theme: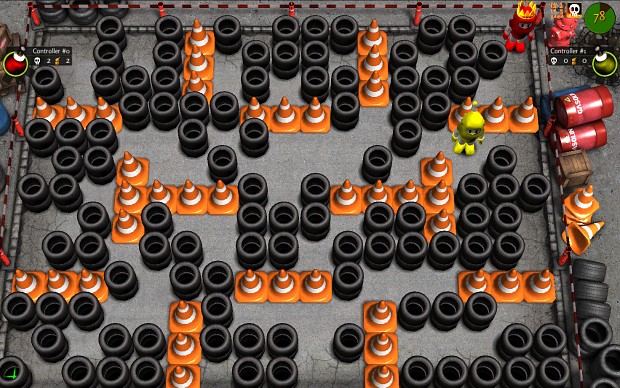 When playing the classic theme, you can only use a handful of extras, because i want to keep the original bomberman feeling in this theme. But on one map you can use more extras, it calls "extrem" map. Here you can use all new dangerous extras like cluster, abomb, pitcher , boxer, ...
The graphic of this map looks a little bit different. It's more darker and dangerous. Dirt and dust is blowing all over the playfield and fire burns around it.
Here is a screenshot of the classic extrem map: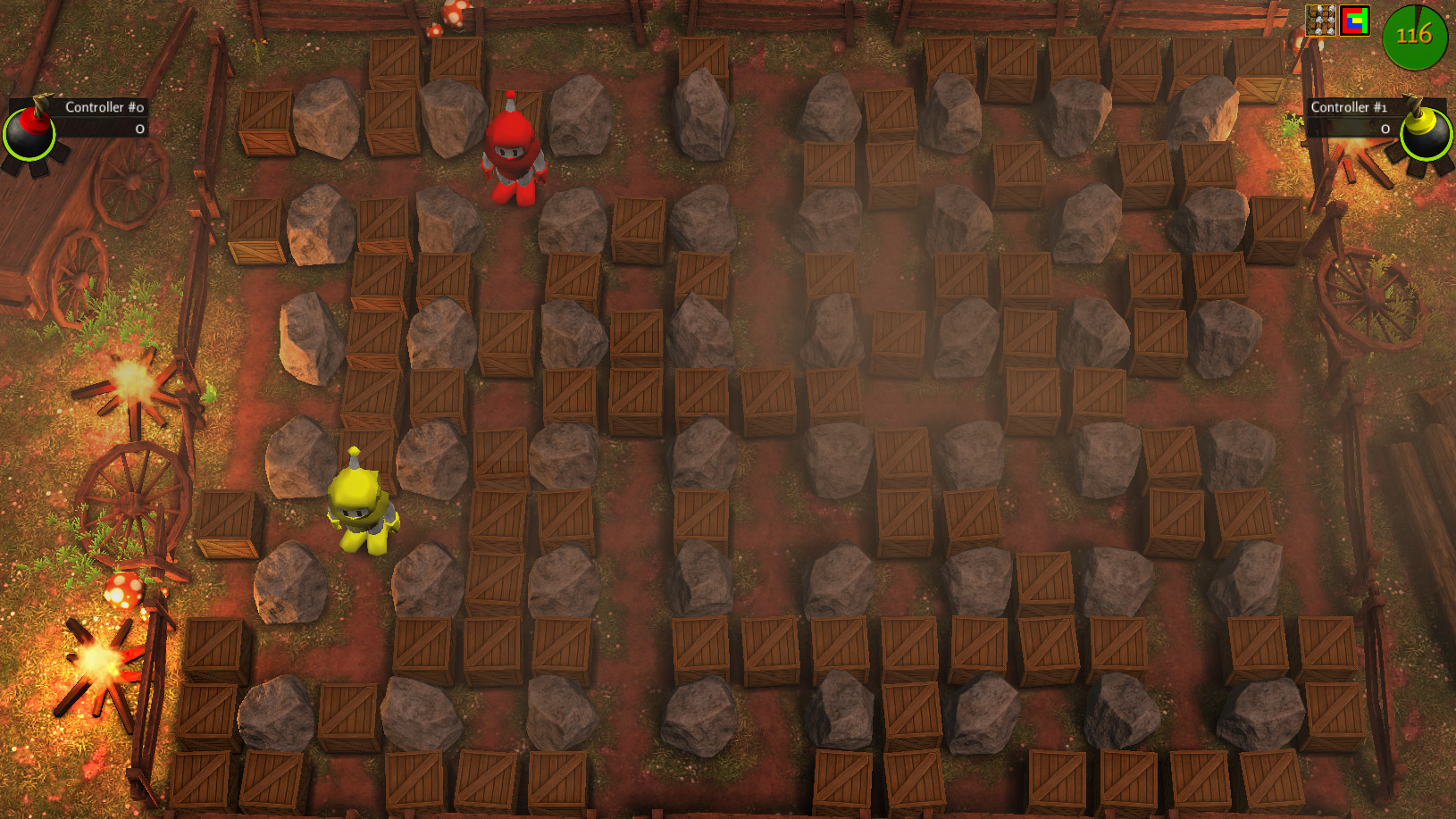 But the best thing about the new version are all the new extras.
Here is a list of all extras, you can collect:

Jelly Bomb - rolling bombs will not stop at obstacles, they will roll in the opposite direction


Trigger Bomb - bombs can by busted by playeraction


Superman - player can boxes


Stopper - all player can't move for a short time (expected the collector)


Shoe - player can move faster


Snail - player moves slower


Shield - player survived one flame


Pitcher - player can throw own bombs


+5s - adds 5 seconds to roundtime


-5s - reduces roundtime by 5 seconds


Multibomb - player can drop a row of bombs


Mine - player can drop a mine, other player will lost all collected extras and get slow-disease


Health - In healthmode, player gets 25% of health back


Klickbomb - when bomb will touched, the bomb will explode immediately


Kicker - player can kick bombs, bombs start to roll


Ghost - player becomes invisible, only eyes and a small shadow will be visible


Goldbomb - maximizes the explosion-radius


Flash (aahhhhaaa) - Screen flashs


Gift - if collector is ill, gift will stopp illness, if collector is not ill, gift gave all other a disease


Digger - player can dig and move under blocks and other obstacles


Flame - increase the explosion-radius by one field in all directions


Skull 1 - player get a disease


Skull 3 - player get 3 diseases


Clusterbomb - if activated, the exploding bomb will throw 4 new bombs in all directions


Controllerbomb - player can move one bomb in all directions


Boxer - player boxes bombs in adjacent field away


Bowler - rolling bombs can't be stopped by other bombs. other bombs will encountered to other fields


Bomb - player can drop one more bomb


A-Bomb - explosion will not be stopped by boxes or bombs
And finally, two new gameplay video from our weekly test sessions.
The first shows the classic extrem map (deathmatch mode) and the second one shows the tutorial theme (colorize mode).