Apologies to all for the long silence.
First the good news: Ladies and Gentlemen there is no cause for alarm. We had a minor problem in the boiler room, but everything is now under control. Also, a new level designer and texture artist on board, rikhanz who has done some really excellent looking work with DX.
Bad news: The reason for the absence of update, apart from a sudden spike in IRL traffic, was that my workstation's hard drive went AWOL like an Afghani Police trainee, nearly took out my entire mod in a shower of sparks and grinding magnetic disk platters. Completely died. Thankfully I backed MOST of Terminus Machina up on an external. I've been gunning to get this mod out ASAP but the hard drive going out has been like the primary battlecruiser going down during the all-out planetary assault. Had to diagnose, reinstall, re-download, re-everything. Had to remake a character and patch up portions of level lost to the void.
But anyway, back on track now. Making the textures actually seems to be the choke point in the pipeline right now, for me, as almost all of Terminus Machina requires a revamp of the palette of Deus Ex. But with the new help from Rikhanz I'm still hoping to get the alpha out by the end of the year.
I've recently written up a bunch of new narrative specifically for the game and will be releasing a series of short stories taking place within the world of Terminus Machina officially, as the game release draws nearer. (Some inquiring minds may have located the writing already)
Below are some of the characters I've been recently working on, as well as a new area. They've taken some time but finishing this most recent material has helped to solidify the world visually, I think.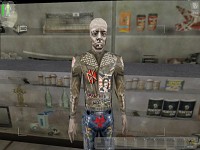 The 80-year-old punk rocker!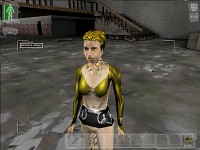 Had to recreate Mizz Genesplice.
Everything the body needs.