Hello there!
My name is Beau "Protroid" LaManna, and I am one of the devs for Bloodcrusher II: WITTY SUBTITLE. You may have noticed that it has been a little while since we updated here, and I hope to explain both that and what projects that we have been working on in the meantime.
To start on that first bit, we're sorry that the past few months haven't been filled with blood exploding updates and progress reports. Instead, our development team has decided to explore more aspects of Bloodcrusher II that we were unsure of how to handle, most specifically being the prospect of online play and miscellaneous netcode. That provides an excellent transition into our side project, Freefall Arena.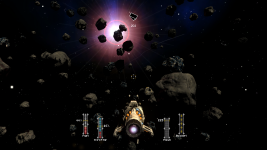 In space, no one can hear you careen into an asteroid. Be happy for that.
Freefall Arena is the perfect way for us to run and conduct tests of the online infrastructure that will be present in Bloodcrusher II. Specifically, it'll let us investigate both multiplayer stuff and icky marketing and distribution without having to muck around with BCII and potentially screw it up. I won't bother talking about the gameplay of it too much here, as Freefall Arena now has its own page on Indiedb!
The other projects we have been working on fall into the realms of Tabletop Gaming. Derek "open_sketchbook" Chappell, occasionally assisted by yours truly, has been putting his creative mind to work building more experiences for players to try, both in the form of his two short Terminator based RPGs, and in the form of Must be Tuesday, Buffy the Vampire Slayer's weird half cousin.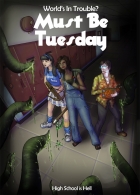 Aliens, Vampires, and Robots, oh my!
You can find links to all three of his creations here, as well as in depth descriptions of the game playand finer points of each.
That really brings this post to a close. I would like to thank everyone for their patience, and hopefully we can see both Bloodcrusher II and Freefall Arena in the 2014 Indie of the Year Awards (Hey! A dev can dream!)
If you want to hear more from us, follow us on Twitter; @open_sketchbook, @protroid, and @r3ven. If you don't want to hear more from us, hey its a free universe (unless you live in Detroit, which is governed by a deity known only as Robocop).
Crush on guys!