The Grunt, the backbone of any evil army. Known for their low health benefits, abysmal pay, and high willingness to fire large quantities of ammunition around random targets. All expenses have been spared in equipping and training these entry level positions, making them basically useless for actually hurting you. The primary task of the Grunt is to absorb ammunition and attention while actually dangerous enemies attempt to kill you.


Grunts can be found almost anywhere, and have numerous configurations designed specifically to distract you with firepower; anything from shotguns to machine guns. Some grunts that show above average capability are even given some grenade launchers, giving them an explosive kick. Certain grunts are also known to scrape together what little armour they can salvage in order to better defend themselves from attack, although this is often a futile effort when faced with an adversary as dangerous as [INSERT YOUR NAME HERE].
Grunts are not given advanced orders once placed on the battlefield. Instead, their only order is to kill, which they try to accomplish by walking towards you, menacingly. Occasionally, they remember that they possess a gun, and quickly fire at you. More rarely, they remember that they can throw a grenade. This however doesn't necessarily mean that all grunts are equipped with grenades, and a grunt attempting to throw something it doesn't have typically results in an awkward situation for all parties involved.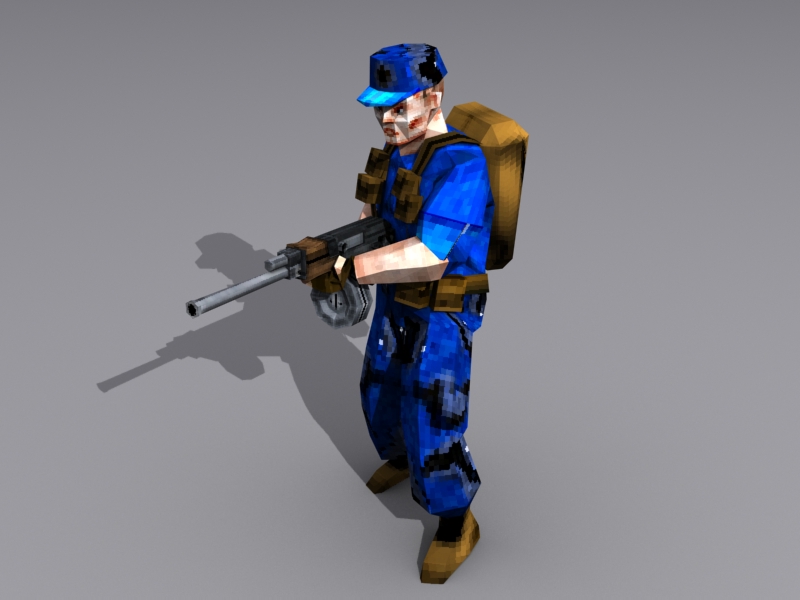 Automatic Grunts tend to focus a little more on the shooting part.
In the end, to you Grunts may be thought of as complex mobile vending machines, dispensing guns and health after bullets have been deposited to various facial/pelvic regions.