Welcome to the party!
................
Okay, I've talked enough, now on to...
Tiberium Crystal War 2.0
We're testing all kinds of things! But we can't tell you about most of them... Hmmmmm....
I'll just let Mauler handle it.

Mauler's Minute
This week's blog was to include two remade units, but I have been having issues with both of them. So this week will only feature some images

but i can assure you next week will be fun hehe!
First up is the Nod Attack Bike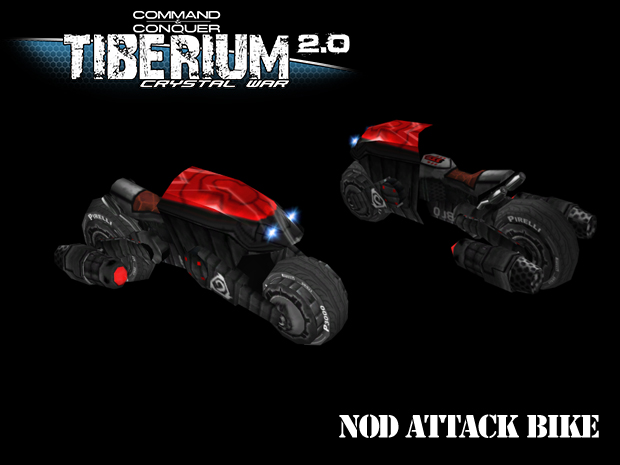 Added HID lights

, reboned to match motorcycle bones from renegade, so the tires and wheel arms will move around when driving it, fixed up the texture a tiny bit.
And more on that in the next Blog!
Fighters ARM UP!
The door is still open for all those with interest in joining our ranks! Be it as a tester or a developer, we need your talent and skill to make this Mod even better. See the poster below, and spread the word!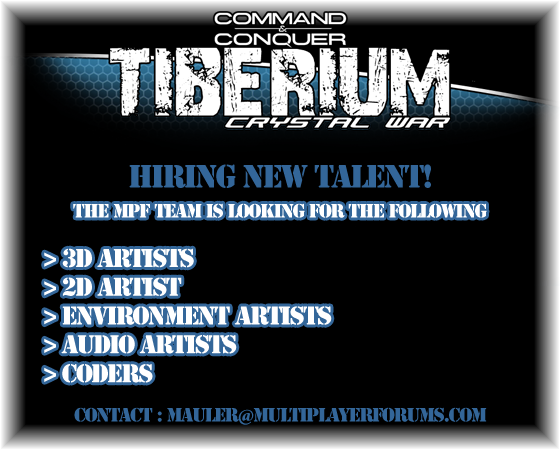 *Remember*: Testers are expected to have the means to get on IRC and be registered on the Forums, aside from getting team approval. For rules regarding Developers, ask Mauler for details.
Let's give them their PROPS
Here's a video Mauler threw together for you guys, so you can see the snappy new attack bike in action.
Tech Corner
Well, not much to report here. I'll give you new guys out there a tip instead.
When driving a stealth vehicle, you will be seen on your enemies radar unless you are a Nod Shadow. But if you are a Nod shadow in a stealth vehicle, you will be truly invisible. Just thought I'd throw that out there.
It is Day of Judgement.
Wrong game.
We have a Dev night coming up this Saturday! So be there, or else. Check out the post here:
Multiplay...1670#entry11670 .... Wow, that's a long link.
Also, for those of you who want to show support for this mod, we've made up some wallpapers for you. Get these while you can, and we'll try and keep you stocked in future posts.
Send me the link to one you've made, and we might feature it in a future blog!

God bless all, and happy playing!
Greetz, the TCW Dev team.