Welcome to this must needed and awaited blog 6. We've got a lot that's been updated and finished and here's what we've been up to!
---
The GDI Sniper Rifle model has been touched up and improved by Fz007 due to him feeling that the model was lacking and that he could better.
---
The GDI Rocket Launcher has also had some touching up, as you can see the model is based on the sidebar icon and not the model the infantry carries.
---
Much like the GDI Sniper Rifle and the GDI Rocket Launcher, Fz007 felt that the Nod Calico model was just not up to his current standards. Here is the older model and the new model so you can compare the two.
Old model: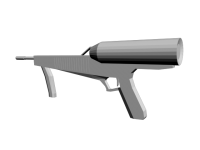 New model:
---
Fz007 has also been busy working on the GDI Mammoth Tank. As you can see this is a early WIP but we feel that it is a great start.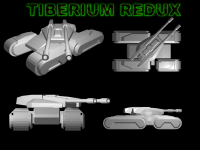 ---
DJTHED has been working on the map Deadly Sertao. As you can see, it's almost finish apart from adding in some props and finishing off the main terrain to make it less flat.
DJTHED: "An overhead view of the map without the blockers, the black textures on top of the mountains will apear as grass, and the black textures near ground level are going to be shown as "Earth Rough" ingame."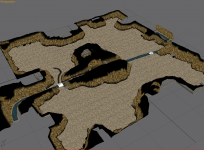 DJTHED: "Just a snapshot from the top view in Wireframe."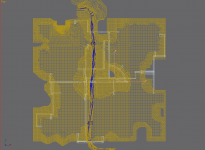 DJTHED: "This snapshot is just a veiw of the map, the basics like the textures and the terrain."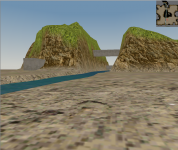 DJTHED: "This is a snapshot of the outside of a tunnel entrance, there is a location of where it is on the top right of the image."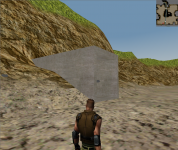 ---
TeamWolf has been working on the map Bastow Badlands, a nice little 1v1 map from C&C 3/KW. It's a simple map with a Tiberium Spike in the middle between the two bases which are connected by two bridges. The middle is filled with Tiberium and there are 3 routes to each base, two at the sides and one through the middle.
---
This movie shows how a team commander can cycle through the different main factions and the sub-factions. After this is done, you can see that the buildings get placed accordingly (the cubes are placeholders for those).
In normal renegade, the team played would be GDI. As you can see all buildings placed are Nod buildings.
---
That's it for this blog, be sure to keep watching us here and over at our forums, untill next time!