Bionicle Heroes: Myths of Voya Nui 1.4 Release!
Hey again folks! After a few more ideas were brought to my attention, I sorted out more fixes and improved gameplay for one of the Toa heroes who received a little less love. Before we get into it, don't forget to join the official Bionicle Heroes modding Discord: Discord.gg
Visuals
More changes with canon in mind (one big one in particular!) have taken place, plus a few other mixes of both canon colouration and consistency with prior releases.
-Made Ignika silver - Whilst at the time the canon for the Ignika was not super solidified, we find out later that the Ignika's colouration changes depending on the state of Mata Nui at the time. Given this new canon, I have adjusted the Ignika that comes out of Vezon at the end of his boss fight to be silver for storyline consistency
-Made Ignika unlock images consistent - The boss level is not the only place the Ignika appears, and so the other unlock images were adjusted to make sure all the bases are covered
-FIxed black space on the Nuparu Level 2 weapon - As with other weapons, black space here was replaced with a gradient (red in this case) that helps the visual consistency of the model a bit better
-Fixed black space on Nuparu Level 1 weapon - Nuparu's level 1 weapon also received a red gradient, but the half-sphere on the palm was also retextured because the previous texture was stretched and low quality by comparison to the rest of the model
-Fixed black space on Matoro Level 1 weapon - Matoro's level 1 weapon was the last weapon to fix, and had the space filled with a white and blue gradient that fits in quite well through using existing elements on the texture
-Made Hahli's level 3 weapon accents dark silver - Hahli's actual laser sword in real life is dark silver. Whilst the Toa weapons aren't generally coloured directly in accordance with the sets (they have elemental colouring, like the Piraka), I decided to make the lighter silver accents dark so that the elements that were more like the sets would be more accurate
-Made Jaller's level 3 weapon accents golden - Ditto with Hahli - the silver accents on Jaller's level 3 weapon were made pearl gold, and of the two are probably more noticeable as an addition
Examples: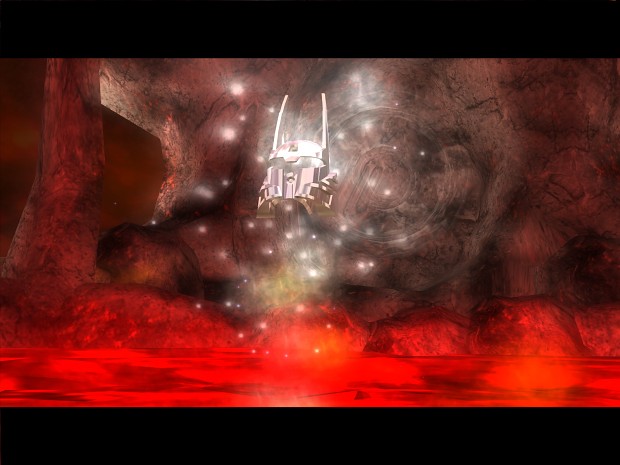 Silver Ignika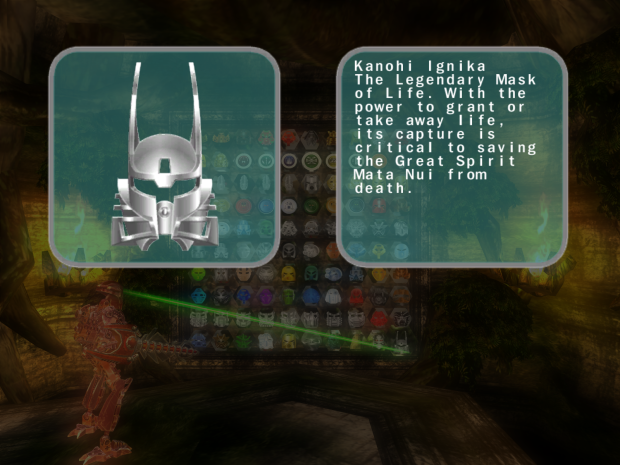 Silver Ignika unlock images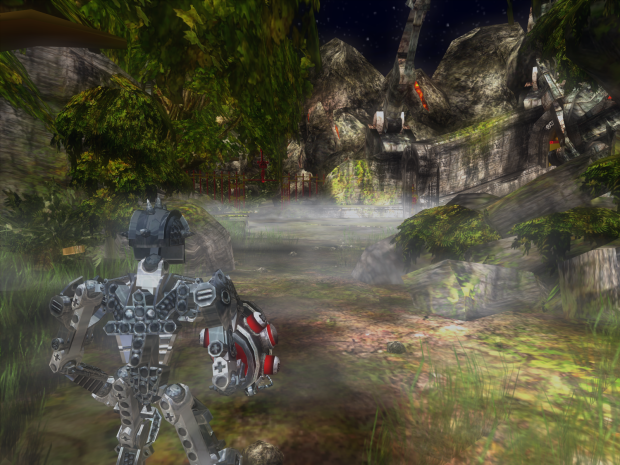 Nuparu level 2 weapon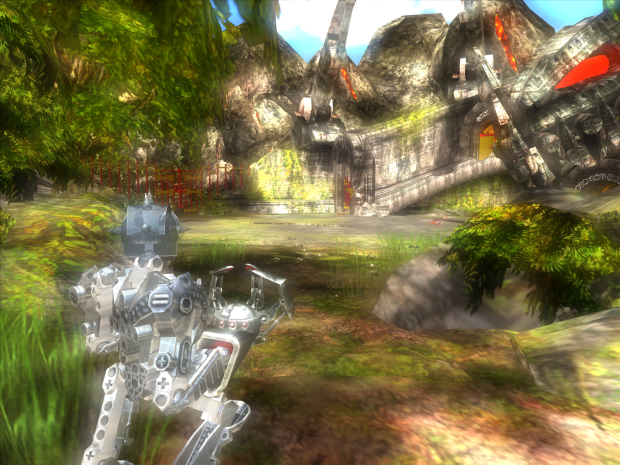 Nuparu level 1 weapon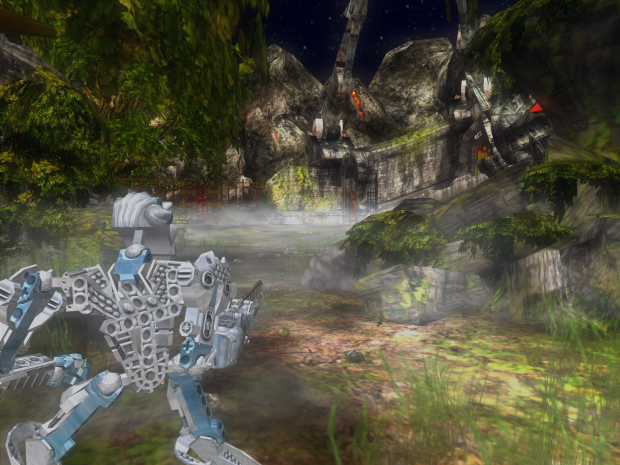 Matoro level 1 weapon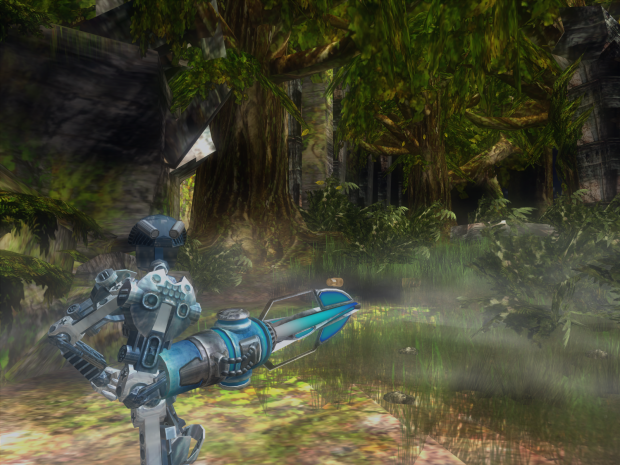 Hahli level 3 weapon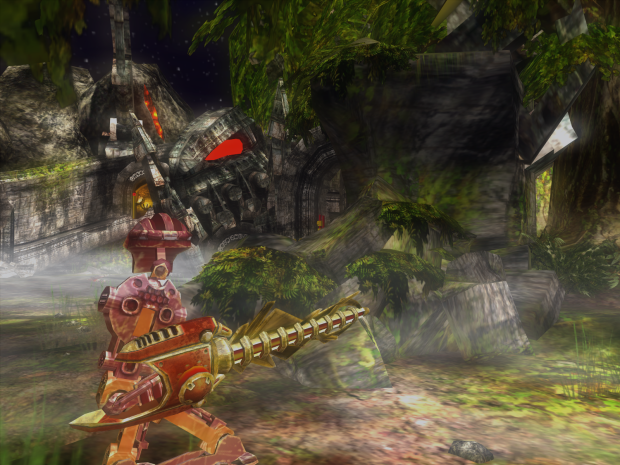 Jaller level 3 weapon
Gameplay
MOVN's gameplay is reasonably tight at this stage, but one big exception was brought to my attention, and some investigation revealed better fine-tuning was possible.
-Hewkii level 1, 2, and 3 buffed - When designing the initial sandbox for MOVN, the Toa were each designed to be as powerful as Kongu, who had a real tendency in the base game to outshine the others. Hewkii's only buff, unlike Nuparu, was the movement speed and FOV increase that all Toa received, mainly because the power of his projectile was theoretically good enough as it was. However, in actuality, Hewkii's rocket travelled so slowly with so much spread and could be fired so slowly that he loses a lot of actual combat use in MOVN, being used solely for constraction. Now, in 1.4, his rocket speeds have all been buffed by almost 100% and his firing speed increased by 0.5 seconds. The end result is Hewkii is about to hold his own a lot better and has more versatility across the game.
Examples:
Misc
The last change is an icon update.
-Changed mod icon - Whilst a prior release saw the icon changed to the Ignika, this version saw the icon adjusted to silver to be consistent with the other changes in this update
Examples:
Closing
Thanks everyone for reading this update! Whilst I've hit a bit of a plateau with MOVN as it currently stands, further development in the field of Heroes modding will open up the door for more updates in the future. As well, I have plans for another Heroes mod that will take things in a different direction, so keep your eyes peeled for that! Don't forget to join the official Bionicle Heroes modding Discord to see updates from around the community, or learn how to work the magic yourself! Discord.gg
Get in touch on Discord at Kralich/David#0901 if you'd like to learn more. In the mean time, remember - Unity, Duty, Destiny!