Bionicle Heroes: Myths of Voya Nui 1.3 Release!
Hey everyone! It's been a while since the last full release for MOVN - ten months, in fact! - and in that time I've mostly been modding other games and getting to grips with my job at DBolical. However, I'm back with a reasonably sized update an a new philosophy for MOVN going forwards to discuss. Let's get into it!

The Changing Mask of Destiny
Firstly, a quick note on how MOVN will work going forwards - given the mod's intent to be a "definitive edition" with many improvements and fixes across a variety of fields, I've decided to change MOVN into being a sort of "generational project". Because we learn more about Bionicle Heroes modding every week and enhance the scope of a Heroes mod on the regular, I've decided to always leave the door open for MOVN to get further improvements, fixes, and adjustments down the line. Hopefully this will mean many more updates for MOVN going forwards! Also, I've never explicitly mentioned it here, but MOVN is open for use for any other Heroes modder to use as a foundation! If you're a prospective Heroes modder who wants to get onboard with the game, contact me at Kralich/David#0901 or join the official Bionicle Heroes modding Discord here: Discord.gg
Fixes
One major bug existed still in MOVN and that was a bug regarding Vezok's boss level, which is now fixed.
-Fixed vezok crash bug (thanks KRcanondorf) - the new development between MOVN 1.2 and 1.3 is that the game becomes vastly more unstable if the CFGC file is not the same size as the base-game CFGC. I modified many entries and as a result MOVN's 1.2 CFGC was not the same size. Thanks to KRcanondorf, this is now fixed!
Visuals
As with all previous releases for MOVN, changes involved modifications within Bionicle Heroes' style but also canon consistency changes.
-Kongu colours adjusted for canon consistency - Kongu's 3D model has incorrectly coloured arms and legs, with arm and leg pads the wrong colour too, as well as an incorrect chest piece marbling. Kongu now has dark silver arm and leg pads, green arms and legs, and a marbled green and dark silver chest piece

-Toa face colours/HUD icons - Hahli, Nuparu, Hewkii, Jaller, Matoro, Kongu - changed for canon consistency - All Toa icons had some small level of inconsistency with set variants. The main change was the addition of the white "teeth" that exists in 5 out of the 6 Toa in their set variants due to the under-mask skull piece. Kongu received the dark green organic elements instead where his mouth should be, and Hewkii received a HUD mask colour change to be consistent, though the 3D model was already mostly correct

-Toa shop icons made consistent with other changes - This change is pretty simple - the shop in the hub area has a different set of texture data for the shop icons. These were corrected to be consistent with the other HUD changes

-Mask swap icon made consistent with other changes - The mask swap icon, used when walking up to a constraction that given Toa is not suitable for, has also been changed for consistency

-Hahli 3rd level weapon black space - Hahli's 3rd level weapon has black space at the back of the weapon model, just like some of the other level 3 Toa weapons. This was not caught in 1.2 of MOVN, but has now been rectified in 1.3

-Kuurahk Kraata now canon accurate - A breakthrough in how levels handle texture data for different objects revealed the reason why Kuurahk's Kraata was not correctly coloured by the same method used to fix the other five Rahkshi. This is now fixed and all six Rahkshi now have canon-correct Kraata colours
Examples: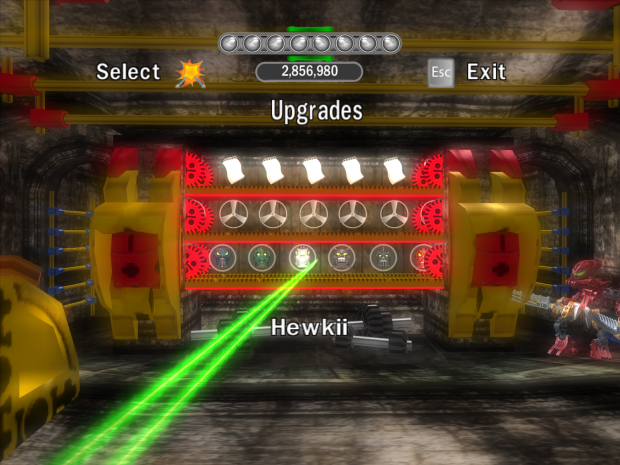 Toa shop icons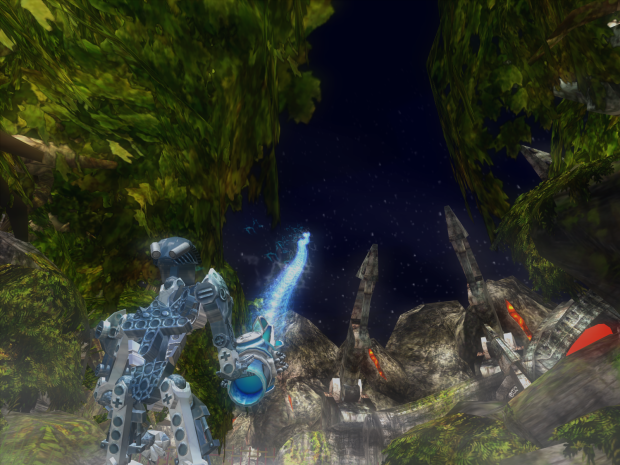 Hahli level 3 weapon retexture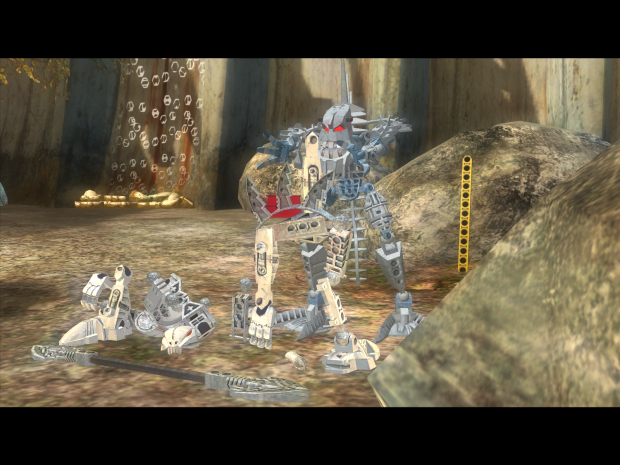 Canon-correct Kurahk Kraata

Gameplay
For the most part, MOVN's gameplay was already tried and tested and is widely regarded as a significant upgrade over the original game. However, one element still needed a bit of tweaking.
-Rebalanced Reidak attack - Reidak was sort of the least useful Piraka since his new fragmentation grenade attack regularly bounced off of enemies harmless and did no damage. However, the grenade is now much heavier which means it bounces less, and the shockwave range and damage has been increased to make it more effective even if it does bounce off of a group of enemies.
Audio
One big and awesome audio change happened with MOVN 1.3!
-New main menu music (thanks Petya Krasavin) - In celebration of Bionicle Heroes' 15th anniversary, Petya Krasavin remastered and recomposed the title music for Bionicle Heroes. I contacted him regarding the track and he was very interested - so interested he made an impeccable looped version so it works perfectly in-game! It is now implemented and can be heard on the main menu as well as in the bonus levels Here's the non-looping version of the remaster from his YouTube channel:
Misc
The last change is an update to the credits.
-Updated credits - Petrya Krasavin has been added to the opening credits as thanks for his work on the new main menu track!
Examples:
Closing
Thanks everyone for sticking with the mod! More updates will come as and when it's relevant and in the mean time, I have a lot of exciting plans for Heroes modding on the whole! Don't forget to join the official Bionicle Heroes modding Discord to see updates from around the community, or learn how to work the magic yourself! Discord.gg
As stated above, MOVN will continue, and it's open as a foundation for anybody to use. Get in touch on Discord at Kralich/David#0901 if you'd like to learn more. In the mean time, remember - Unity, Duty, Destiny!