Here's the thing with He Came From Beyond: it's my first real project of this kind. I don't know if I'm doing the "right" thing. I know what I want to see in the game, and then I try to find a way to make it happen. So maybe my breakthroughs aren't breakthroughs at all, but for me, they're extremely important.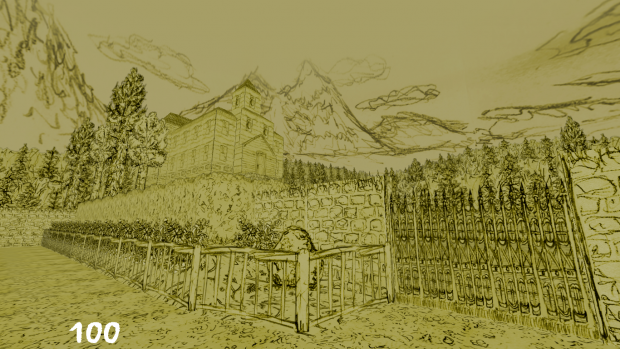 1. I disabled 'fake contrast'. By default, in Doom it makes walls have different levels of brigthness to accentuate angles. That was good for low-res Doom, but not for me, because I wanted every frame to look like a pencil drawing on a piece of paper. The 'shader' was breaking it a bit. Now I have the even look, and what I need to do is to fix some colors - the background mostly. That's time-consuming, but not really hard.
2. I added more animation frames to the 'weapon' and the enemies. It's now nice, smooth and responsive!
3. I am preparing to show you one of the enemies, and a larger chunk of the gameplay by the way. A tour of the town, let's say. This will be a big reveal for me, so I want to have it polished before I show you anything. Maybe next week, maybe in two weeks.
4. In general, the town is about 80% done, then it's about scripting characters and off we go to another place!

I'm quite excited!